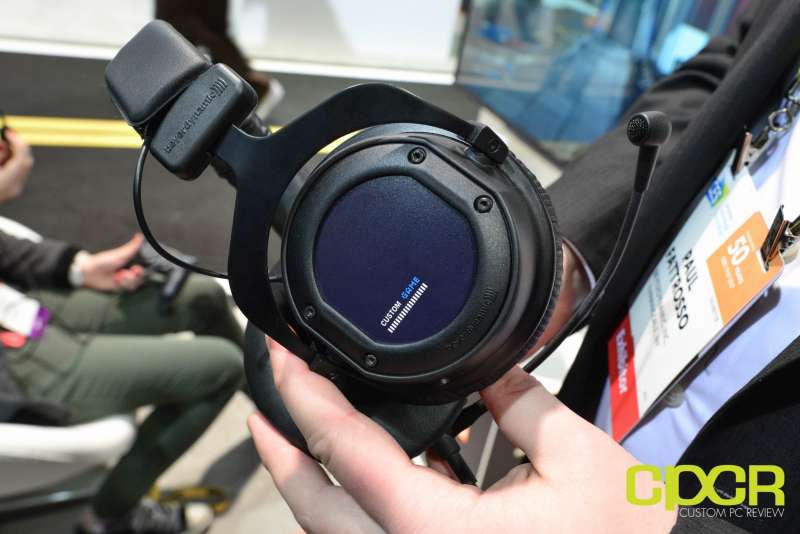 As gaming has become significantly more popular over the past few years, several high end German audiomakers have taken notice including Beyerdynamic, a company which has long been heralded as one of the top companies in high end audio. For CES 2017, Beyerdynamic showed off their new 2nd Generation MMX300 and CUSTOM GAME gaming headsets.
Beyerdynamic MMX300
The first of the two headsets unveiled at CES 2017 is the 2nd Generation Beyerdynamic MMX300. The updated headset features a full metal frame, 45mm drivers, condenser microphone, replaceable earpads, replaceable headband, and a replaceable cable with in-line microphone. Connectivity will be supplied by a single 4-pole  3.5mm plug with a Y-extension cable provided for PC connectivity.
The Beyerdynamic MMX300 will be available in February for 299 Euros (~$316 USD).
Beyerdynamic CUSTOM GAME
The second headset is the Beyerdynamic CUSTOM GAME, which is a gaming headset developed from Beyerdynamic's CUSTOM series headphones. Like the MMX300, the Beyerdynamic CUSTOM GAME will feature many of the same features including a metal frame, 45mm drivers, replaceable earpads, replaceable cables with in-line microphone, etc., but will also feature replaceable condenser microphone (attached to the cable), customization of the earcup backs and the ability to adjust how open the headphones are using a selector switch at the bottom of the headphones.
For those who enjoy using open back headphones for certain applications and closed back headphones for other applications, the CUSTOM GAME will be a very compelling choice. With the removable microphone, the CUSTOM GAME can also be used as normal headphones without making you look silly walking around with a boom microphone coming off your headphones.
The Beyerdynamic CUSTOM GAME will be available in February for 199 Euros (~$211 USD)