At CES 2017, we recently stopped by to speak to our friends at Mushkin to take a quick look at what they're planning on doing for the upcoming year and so far, it's looking to be an exciting one. Not only is the memory giant launching a few new storage solutions, it's also heading into the peripherals market with a great looking keyboard.
Mushkin Helix PCIe SSD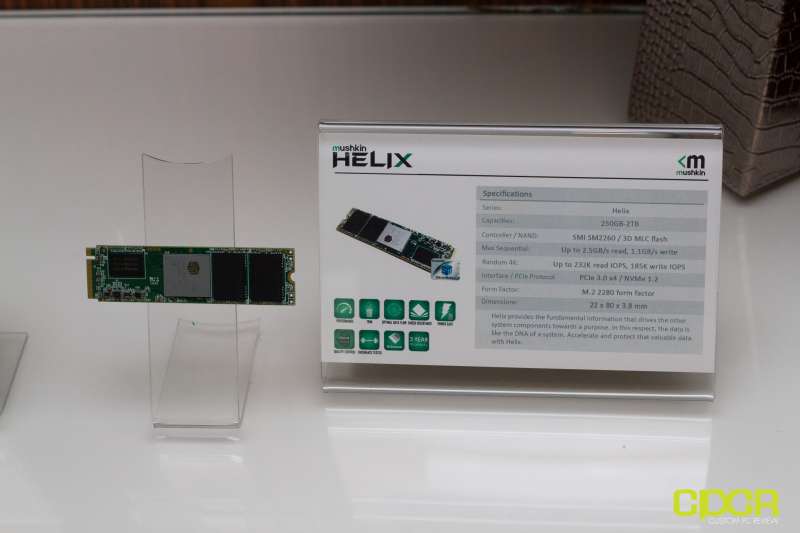 First up is the Mushkin Helix PCIe SSD, which is Mushkin's first M.2 PCIe NVMe SSD. Powered by the Silicon Motion SM2260 in combination with Micron 3D MLC NAND, the Helix has a sequential read speed of 2.5GB/s and a sequential write speed of 1.1GB/s. Random I/O performance is rated to be 232,000 IOPS reads and 185,000 IOPS writes. By using both sides of the PCB, Mushkin is able to achieve a maximum capacity of 2TB. Mushkin has also added a metal heat spreader over the controller to help with thermals.
Mushkin Reactor WiFi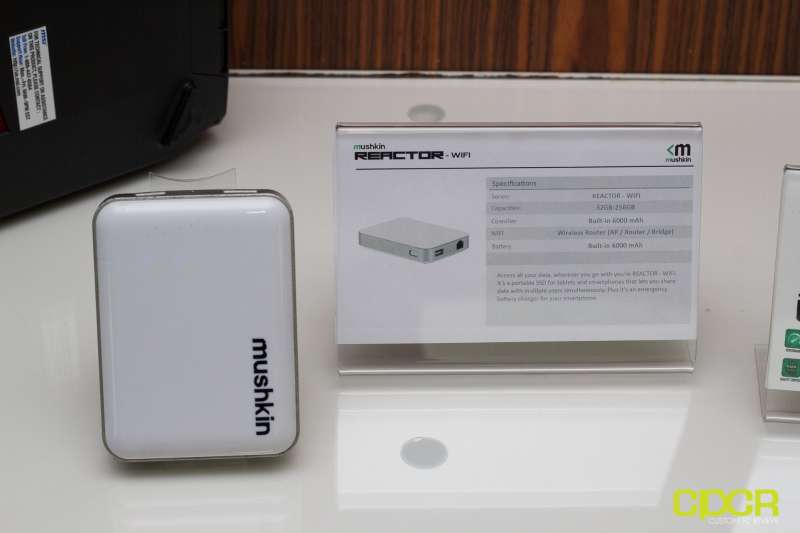 Next up is the Reactor WiFi which is a pretty similar device to the Kingston MobileLite Wireless, but uses a SSD rather than memory cards. The device allows sharing of data onboard through WiFi to other devices on the same network and it also has a built-in 6,000mAh battery bank to charge your mobile devices.
Mushkin Reactor and Triactor
Mushkin's Reactor and Triactor SSD series have been expanded to included 2TB variants. The Reactor Armor3D 2TB will use Micron's 3D MLC NAND while the Triactor will use Micron's 3D TLC NAND. Both drives will use the Silicon Motion SM2285 controller and can hit up to 565MB/525MB/s in sequential read/write speeds. Maximum 4K Random speed is set at 90,000 IOPS. While Mushkin didn't specify if that's write or read, it's a safe assumption to think it's read speeds. The drives also have Dynamic SLC caching technology which emulates SLC NAND by only writing to the first cell of each MLC/TLC first.
Mushkin Carbon KB-001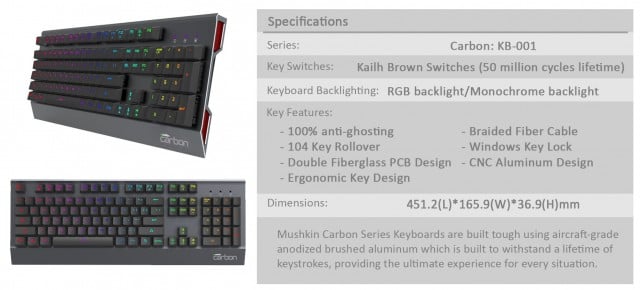 Mushkin is also entering the peripherals market using its new Carbon KB-001 as the spearhead. It features an aluminum frontplate, NKRO, and RGB Khail Brown switches at a pricetag ~$70.