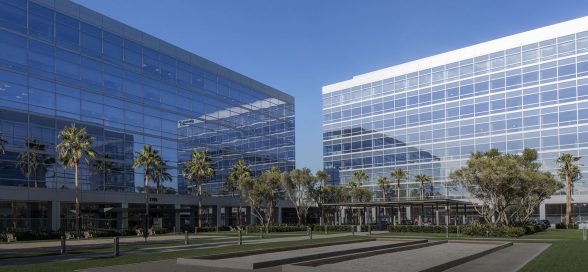 It's no secret that AMD is doing a lot better than they were for many years. They recently launched several great new graphics cards, their upcoming Zen CPUs are looking quite promising, they've won custom design contracts for both Playstation and Xbox, and their stock has practically tripled since last year.
With all this success, it's only natural that a new headquarters is needed to house the new and improved AMD, and that's exactly what they did.
According to a recent announcement, AMD entered into a long-term lease agreement with The Irvine Company for the new Santa Clara Square building which will be the site for AMD's new headquarters. The new building will be a 220,000 square ft, 6 story building which can accommodate up to 1,000 employees. AMD expects that the new building will be able to accommodate both current needs and future growth.
Designed by renowned architectural firm Pei Cobb Freed & Partners, the 1.7-million-square-foot Santa Clara Square workplace community features sleek, modern architecture, floor-to-ceiling glass for superior natural light, and efficient floor plans for maximum flexibility. It also features two Irvine Company signature amenities: The Commons, an open-air gathering place featuring casual workspaces, the Commons Café, an outdoor living room and complimentary Wi-Fi; and KINETIC, which blends state-of-the-art fitness centers and wellness services. The development also will also offer a Whole Foods® market, restaurants, open space and parks within walking distance of AMD building.
AMD's new headquarters building is still under construction at this time. AMD expects to begin moving in starting 3Q2017.
Image Source: Santa Clara Square