Officially launched in several international markets in November of last year, the Huawei Mate 9 is finally making its way to the US!
The Huawei Mate 9 is one of Huawei's latest smartphones featuring a 5.9-inch 1920×1080 resolution display, Octa-Core Hisilicon Kirin 960 processor (ARM Cortex A73, ARM Cortex A53), 4GB RAM, Mali-G71 MP8 GPU, and 64GB of UFS 2.1 storage expandable via microSD. Connectivity options include the typical Wi-Fi, Bluetooth, LTE, GPS, Infrared and NFC. Battery capacity is rated at 4,000 mAh and is compatible with Huawei's SuperCharge technology.
Physically, the device is fairly traditional with a curved unibody chassis constructed of aluminum. As usual, it's fairly bare with rocker buttons on the side for control volume, power button on the side, and a fingerprint scanner located at the back.
Thanks to the quick processor, the Huawei Mate 9 running Android 7.0 Nougat and Huawei's EMUI 5.0 is very quick with very responsive and a very good overall experience. Along with the US launch, Huawei is also integrating Amazon Alexa into the Mate 9 which will give the smartphone to Alexa's smarts, similar to the Amazon Echo.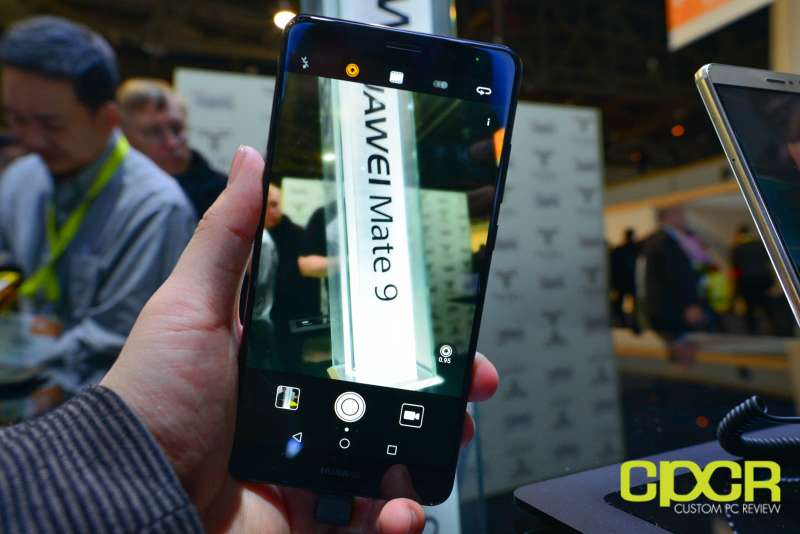 The big feature of the Huawei Mate 9 is its dual rear camera configuration developed in partnership with the famed camera company, Leica. Featuring both a 20MP, f/2.2 monochrome camera and a 12MP, f/2.2 color camera, the dual camera setup allows better low light capabilities, and allows additional functionality such as its "dual zoom" feature and wide aperture mode which helps produce some very nice bokeh. At the front, the Mate 9 also features an 8MP, f/1.9 front camera. In our brief hands on testing, image quality was quite good despite shooting in the dark booth. Huawei also offers the ability to use the Mate 9 camera in a "Pro" mode which allows manual control of camera settings.
The Huawei Mate 9 is now available at a MSRP of $599.99 in both Moonlight Silver and Space Gray.