CES 2017: Razer Demos Project Valerie Triple Display Laptop, Project Ariana Gaming Projector
At CES 2017, we got a chance to visit the Razer booth before all their stuff was stolen. Two products are under the spotlight at Razer's CES booth included Project Ariana and Project Valerie. While both products are considered to be proof of concept, Razer did have the prototypes to show off.
Project Valerie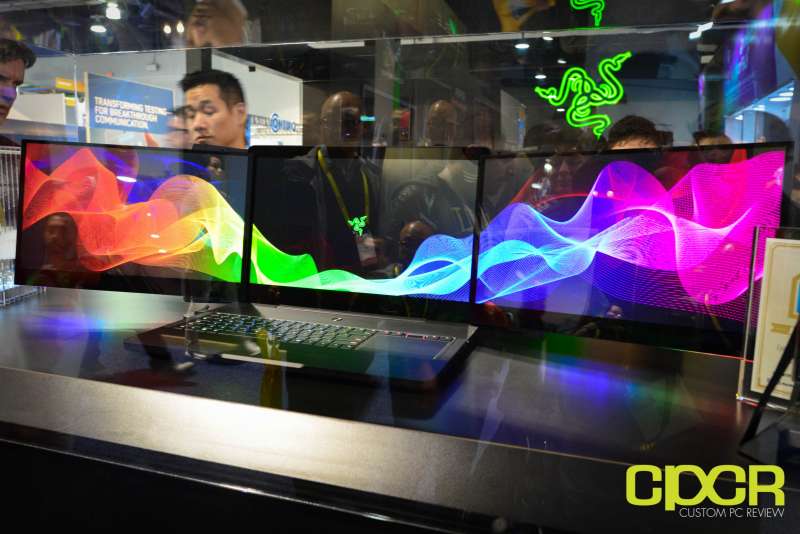 At the very front of the booth is Razer's biggest eye catcher: a gaming laptop featuring triple 4K displays dubbed project Valerie. This 12lb colossus is Razer's solution of making a triple monitor setup as compact as possible. In the private press booth, Razer had a demo running Battlefield 1 at practically 12K.
The prototype in the demo room had a slideout display, but Razer explained that everything will be automated in the final model. This means that the displays will extend and retract automatically at a button press or when the screen is unfolded. One of the challenges Razer is currently facing is managing the weight of the displays when the screens are deployed. Evidently, a triple monitor standing on a single two-point hinge is very improbable.
Getting the thermals under control is another problem. Razer didn't have final hardware specs of Valerie, but seeing how it would have to run Battlefield 1 smoothly on triple 4K G-Sync enabled displays, it'll need some serious horsepower. At the show, the prototypes were running quad core Intel Core i7's with a GTX 1080, but this may change down the road if Razer decides to actually build this thing. The demo unit got abysmally hot, so much so that we were unable to keep our hands on the keyboard for more than a couple minutes at a time.
Believe it or not, Project Valerie actually still contains a battery. The battery is rated to be 90Wh, the biggest capacity you're supposedly allowed to carry on airplanes. According to Razer, it's supposed to last about 4 hours, but things are still being tweaked around so the final battery life is still unknown. Honestly, you're not gonna purchase this to be used on the go.
At the end of the day, Project Valerie is still far, far from production. Once Razer get all the engineering kinks sorted out, there's still manufacturing cost to take into account. But from what we've seen at CES so far, things are looking promising. Fingers crossed that Valerie will be able to evolve beyond just a mere concept.
Project Ariana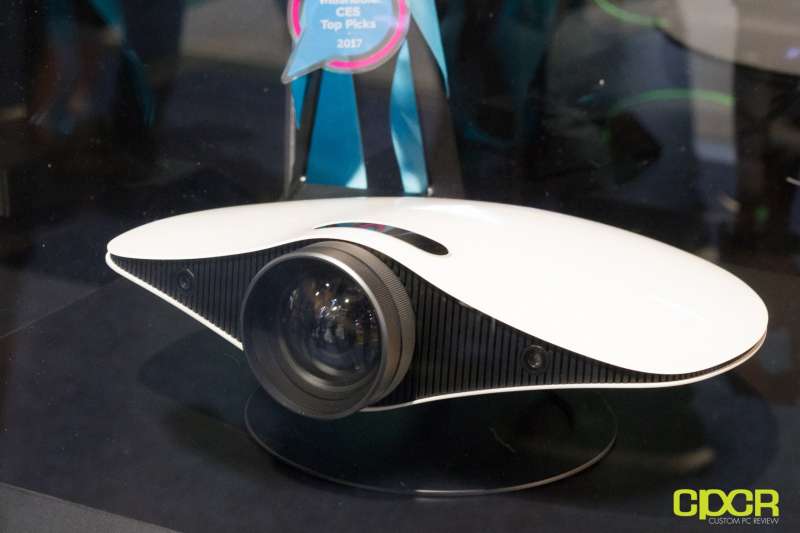 Project Ariana is Razer's way of integrating the Chroma lighting into more than just peripherals such as keyboard and mouse. One of the products it showed off this year is a Chroma projector that works as a standalone projector OR in conjunction with a monitor and TV. Razer had a gaming room set up to demo the prowess of its Chroma lighting feature using a run through Shadow Warrior 2.
The demo started off fairly tame. The game was running on 4K HDR monitor, but at certain special segments of gameplay (such as when a powerup is activated), the projector kicked in and filled the wall with a much wider shot than the screen. The edges of the TV lined up perfectly with the projection from the projector which helped create a more immersive experience of the game. Lighting nodes were also set up around the room which pulsed with dominant colors on the screen.
As with all custom Chroma effects, its needs to be programmed into the game using the Chroma SDK. Razer explained that it's always actively making its Chroma feature easier to integrate, and that the developers for Shadow Warrior was able to whip up the demo in just a day. What's more is that Razer claims that its projector is able to adjust the size of its projection by scanning the size of the monitor and distance from the wall.
Overall, Project Ariana is what I'd consider a collective group of technologies that makes gaming in the living room more immersive than ever before. It's definitely not for everyone as the cost for a complete setup won't be cheap, but it's seriously cool.