At CES 2017, AZIO is spicing up the keyboard market with some eccentric keyboard designs.
AZIO Retro 2 Mechanical Keyboard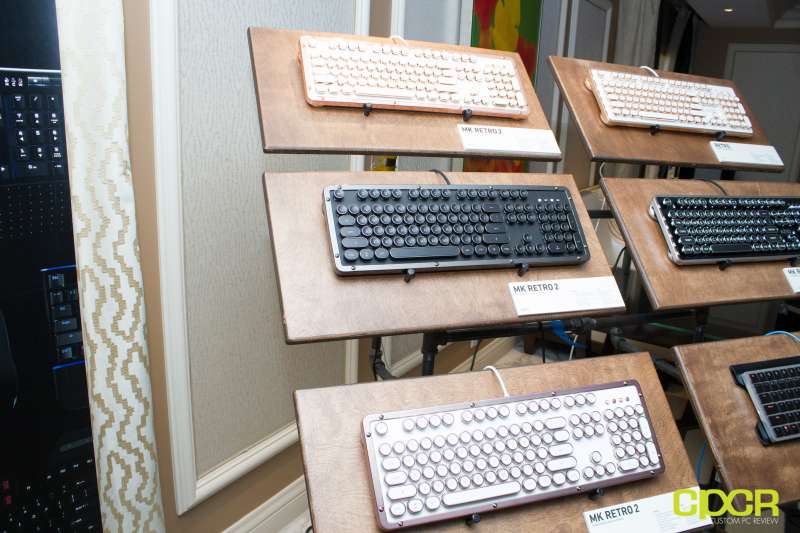 Say what you want, but Azio's MK Retro 2 sports the most interesting keyboard designed we've seen at CES 2017. The Retro 2 is inspired by the vintage design of the timeless typewriter and sporting the tactile Kailh Blue switches, the keyboard simulates the tactile feel and the sound as well. The Khail Blue switches on the Retro 2 have custom mounts with the LED embedded directly in the center. Though this design does help with lighting distribution, it also means that it's incompatible with standard Cherry MX keycaps.
Other features include a leatherette-covered front panel, metal bezels, and LED backlighting.
Azio MK Hue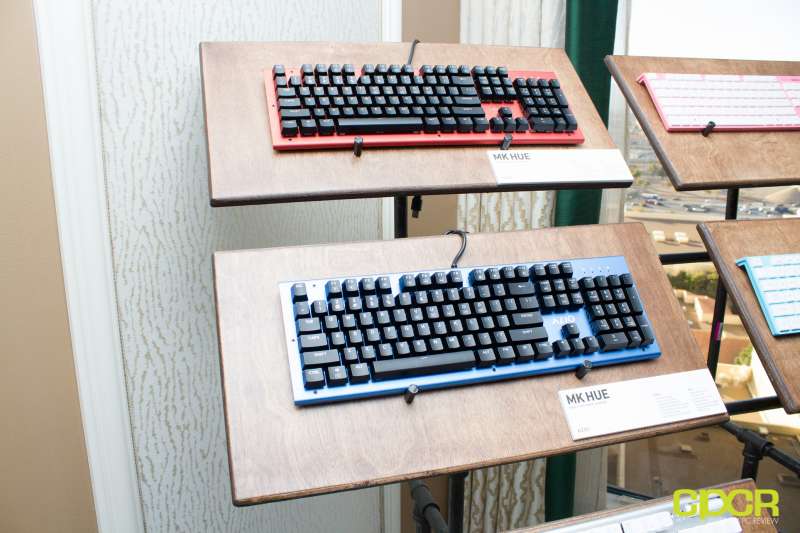 The MK Hue focuses on bringing more features to budget mechanical keyboards. It sacrifices LED backlighting but brings on an aluminum front plate, 5 programmable buttons, and NKRO. The MK Hue uses a Brown switch sourced from Outemu, a Chinese competitor to companies such as Gateron and Kailh. As its name suggests, the MK Hue is offered in different colors. Its current color options include blue, red, and black. Pricing for the MK Hue will be $70.
Azio MK-C

The Azio MK-C is designed to be as compact as possible without sacrificing performance.  It features RGB backlighting, a full aluminum chassis, and a stylish carrying case. It's possibly the flattest mechanical keyboard we've seen other than the Razer Mechanical Keyboard Case designed for the iPad Pro.
The switches on the MK-C were interesting. Though the specs sheet says that it uses the Kailh Blue switch, key travel felt shorter compared to the regular height Kailh Blue switch however, that's based on some quick first impressions. More testing needs to be done to reach a conclusion.
Azio Armato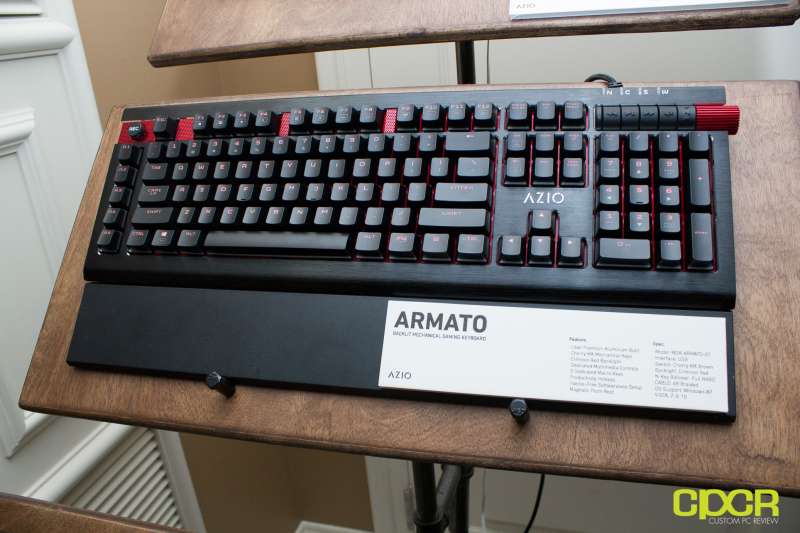 Azio's high-end keyboard offering is the Armato, a heavy duty, feature packed mechanical keyboard. One of the few things that separates the Armato from the rest of the pack is its industry-standard Cherry MX Brown switches. It also carries 5 dedicated programmable macro buttons, a volume scroll wheel, and a magnetically-attached palm rest. Unfortunately, only red LED lighting for this one.