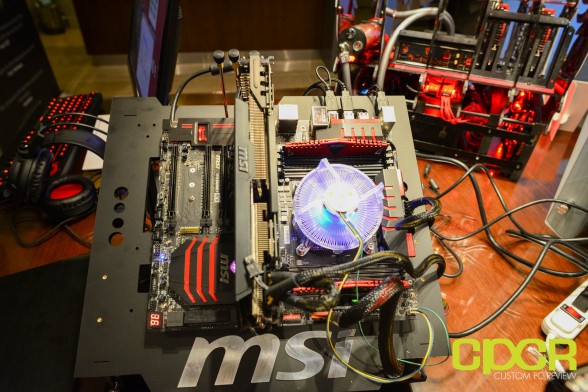 MSI recently unveiled the world's first USB 3.1 certified motherboards at CES 2015 with the MSI X99A Gaming 9 ACK and the Z97A Gaming 6. The USB 3.1 standard doubles USB transfer bandwidth to 10Gbps from current generation USB 3.0's 5Gbps.
The first board on display is MSI's X99A Gaming 9 ACK, which will be a flagship motherboard in MSI's X99 gaming motherboards lineup. The upcoming motherboard includes several USB 3.1 ports although it'll be outfitted with the more common Type-A connector rather than the new Type-C reversible connector. MSI demonstrated the USB 3.1 ports to be capable of over 650MB/s sequential reads and 620MB/s sequential writes using a custom made USB 3.1 demo.
As for the rest of the motherboard, the MSI X99A Gaming 9 ACK has all the bells and whistles any enthusiast system builder could want. Besides having support for USB 3.1, the MSI Gaming X99A ACK comes with 5 x PCI-E 3.0 x16 slots (supports up to 4-way SLI/crossfire), 10 x SATA 6Gb/s ports,  1 x M.2 slot, and 8x DIMM slots that can handle up to 128GB of DDR4 RAM. It also has MSI's streaming engine, a dedicated screen capture chip that can record at 1920x1080p at 30fps.
MSI expects the X99A Gaming 9 ACK to be available 1Q2015. Pricing information is unavailable at this time.
Another USB 3.1 certified board MSI had on display is the MSI Z97A Gaming 6. Unlike the X99A Gaming 9 ACK however, this one also includes the new Type-C connector (port above the two USB 3.0 ports and the LAN port, but below the HDMI and optical port), which is a pretty big deal. Not only can it deliver more power, it's also more durable and has a smaller footprint than the current USB Type-A ports. It's also fully reversible as well so it can be plugged in any way you like, if you catch my drift.
Other than USB 3.1 support, the Z97A Gaming 6 is identical to the MSI Z97A Gaming 5. Designed for LGA 1150 CPUs, the Z97A Gaming 6 comes with 4x USB 2.0 ports, 3 x PCIe 3.0 x16 slot, 6 x SATA 6Gb/s ports, 1 x M.2 PCIe slot, and 4 x DIMM slots capable of handling up to 32GB of DDR3 memory. A perfect choice for anyone looking to build a mid to high end gaming rig.
MSI expects the Z97A Gaming 6 to be available 1Q2015. Pricing information is unavailable at this time.
Speaking of USB 3.1, MSI also surprised us with the MSI GT72 Dominator Pro gaming laptop which also features USB 3.1 support operating under a USB Type-A connector. MSI ran the same USB 3.1 demo on the GT72 Dominator Pro as the X99A Gaming 9 ACK with similar speedy results. More on that when we cover the laptop in more detail.