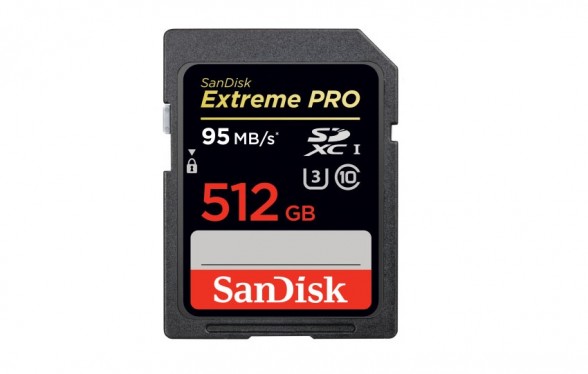 According to a recent press release, SanDisk is announcing the world's first 512GB SDHC/SDXC UHS-I memory card, the SanDisk Extreme PRO, designed for professionals shooting 4K video, HD video, and high speed photography. Previously, the largest capacity SDXC memory cards on the market were 256GB and were only offered by a few companies such as SanDisk, Lexar and PNY. As far as I know, currently the largest NAND dies on the market is 128Gb, which means SanDisk has managed to cram a staggering 32 dies into the Extreme PRO to reach a 512GB capacity. This is likely why SanDisk is currently the only company on the market to reach this capacity.
Given that 4K video can easily be 5-6x larger than the same video in 1080p, these larger capacity memory cards make a lot of sense. With even mainstream cameras such as the GoPro Hero 3+ Black Edition already having 4K recording capability, typical 32GB or 64GB memory cards simply wont carry enough capacity for a full day's worth of recording down the road.
 "As an industry leader, SanDisk continues to push the boundaries of technology to provide customers with the innovative, reliable, high-performance solutions they have come to expect from us," said Dinesh Bahal, vice president, product marketing, SanDisk. "4K Ultra HD is an example of a technology that is pushing us to develop new storage solutions capable of handling massive file sizes. The 512GB SanDisk Extreme PRO SDXC UHS-I card is a tremendous advancement that enables professionals to reliably store more content on a single card than ever before."
Along with high capacity and performance, the SanDisk Extreme PRO UHS-I SDHC/SDXC cards also feature a durable design that's temperature proof, water proof, shock proof, and x-ray proof. Backing that up is also SanDisk's limited lifetime warranty as well. Additionally, SanDisk also offers RescuePRO software to recover missing or accidentally deleted files.
The SanDisk Extreme PRO UHS-I SDHC/SDXC cards should be available now in capacities of 128GB, 256GB, and 512GB, but I wasn't able to find them at any retailers online just yet. The SanDisk Extreme PRO 512GB SDHC/SDXC UHS-I is expected to MSRP for $800.
Source: SanDisk