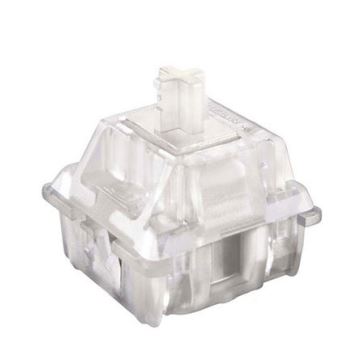 Cherry Corp, the German-based keyboard technology leader, has just introduced a new switch into its Cherry MX mechanical keyboard switch line-up.
The Cherry MX RGB Nature White switch is the first Cherry MX switch to feature a translucent housing. Traditionally, LEDs for keyboards are mounted next to the switch stem. With a clear housing, the LEDs can now be mounted into the base of the switch for a more even luminosity.
The Cherry MX RGB Nature White sits in between Cherry MX Blacks and Cherry MX Reds terms of feel. Because it has a linear travel without a pressure point, it's not as noisy as the Cherry MX Blues. The Cherry MX RGB Nature White has an actuation force of 55cN (approx. 56g), which is slightly lighter than Blacks but heavier than Reds.
Currently, Ducky Keyboards is the only keyboard manufacturer looking to implement the Cherry MX RGB Nature White in its keyboards. The company's signature Ducky Shine 5 will have the option of being outfitted with this new switch. But with the ever increasing popularity of mechanical keyboards and RGB lighting, it will only be a matter of time for other peripheral companies to inter integrate this switch into their products.
Press Release: Cherry Corp