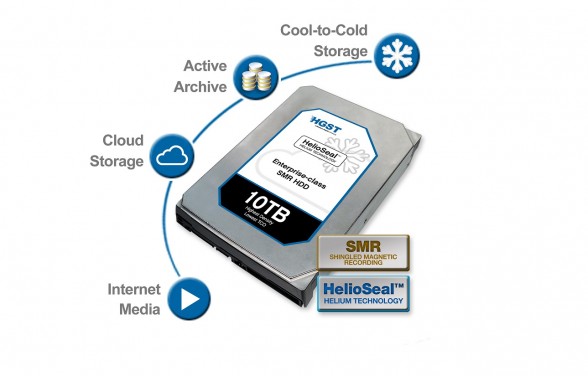 Several weeks ago, Seagate announced that had begun shipping the world's first 8TB HDDs, taking the high capacity crown from HGST's 6TB Ultrastar He6 helium filled HDDs unveiled in late 2013. Although it was a valiant effort made by Seagate, it seems like HGST had another trick up their sleeve.
Earlier this week, HGST announced the world's first 10TB HDD, effectively taking back the capacity crown from Seagate for the time being.
In order to reach the magical 10TB capacity, HGST is employing two key technologies – HelioSeal and SMR (Shingled Magnetic Recording). HelioSeal is one of HGST's next generation HDD manufacturing technologies that allows HGST to hermetically seal and fill HDDs with helium. Since helium has one seventh the density of air, less air friction within the drives allows platters and data tracks to be stacked closer together allowing higher capacities and reduced power consumption. Additionally, HGST is also using SMR technology which stacks data tracks a bit like the shingles on a house's roof. By doing so, more data can be crammed closer together thereby increasing capacity.
HGST's new 10TB drive is currently aimed at the enterprise for cold storage applications. No word on pricing or availability, but HGST claims that their drive offers not only the lowest $/TB, but also the lowest watt/TB. HGST is currently sampling their new 10TB HelioSeal SMR drives.
In another bit of HGST HDD news, HGST is also now shipping their second generation helium filled drives, the Ultrastar He8, which will be available in both 6TB and 8TB capacities. HGST claims that the drives will offer as much as 23% lower power consumption than first generation Ultrastar He6 drives. Leading companies such as Netflix, Huawei, Inspur, Promise Technology, etc. are currently qualifying the new drives.
Source: HGST