Warning
: Undefined array key "width" in
/var/www/vhosts/custompcreview.com/public_html/wp-includes/media.php
on line
1381
Warning
: Undefined array key "width" in
/var/www/vhosts/custompcreview.com/public_html/wp-includes/media.php
on line
1386
Warning
: Undefined array key "height" in
/var/www/vhosts/custompcreview.com/public_html/wp-includes/media.php
on line
1386
Warning
: Undefined array key "width" in
/var/www/vhosts/custompcreview.com/public_html/wp-includes/media.php
on line
1381
Warning
: Undefined array key "width" in
/var/www/vhosts/custompcreview.com/public_html/wp-includes/media.php
on line
1386
Warning
: Undefined array key "height" in
/var/www/vhosts/custompcreview.com/public_html/wp-includes/media.php
on line
1386
Oh why thank you Chinese forums!
Today we have a first shot of the elusive Nvidia Kepler GTX 680, also known as the GK-110. This new GPU is a part of Nvidia's next generation 28nm graphics cards which are supposed to go on sale at an unknown time and date sometime between now and Q2 because, well Nvidia isn't telling us squat.
Anyway, the leak comes from a forum called http://diybbs.zol.com.cn where a user by the name of "xxxxz1" posted a picture of the new GPU's die as well as a GPU-Z screenshot. Of course, as leaks go at least half the important information is censored, but apparently the GK-110 will be named the GTX 680, so earlier rumors of the generation skip to the 700 series is unlikely.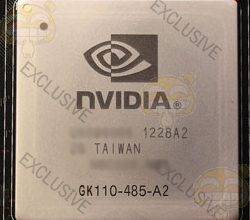 Leaked die photo. We notice that the GPU is codenamed GK110-485-A2.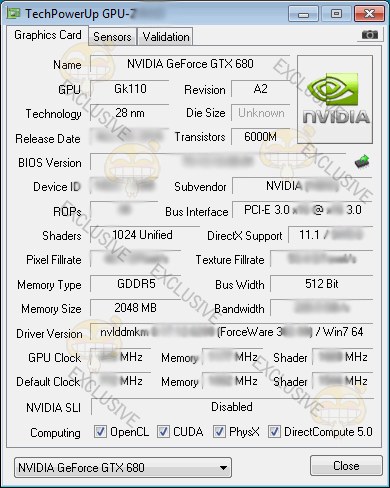 According to this GPU-Z screenshot, the GTX 680 will be running 2GB of GDDR5 on a 512 bit memory interface. It will also come with 1024 shaders which gives it roughly double the amount included in the GTX 580. Unfortunately, core, memory, and shader clocks speeds are censored at this time.
As far as leaks and rumors go, this one seems pretty legit based on past rumors, but I'd still take it on a grain of salt until Nvidia announces the real deal. We'll be sure to keep our eyes open on any more news regarding the new chip, but Nvidia's soon-to-come graphics card is looking pretty good.
Source: diybbs.zol.com.cn