Belkin's Flagship Powerline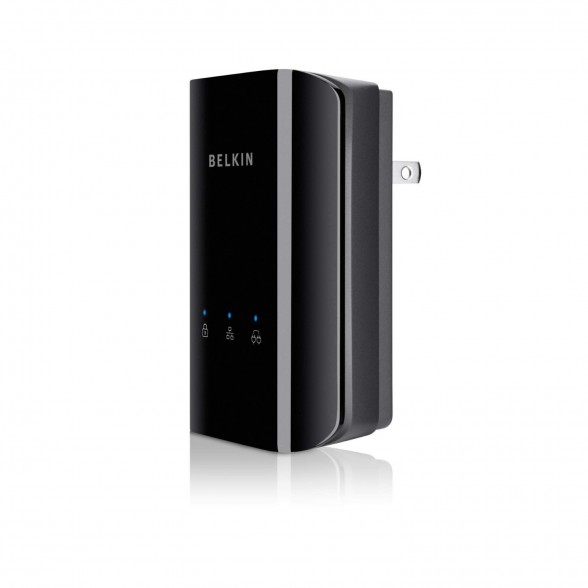 Nowadays everything in the living room is networked. My Xbox 360, my PS3, my TV, my cable box, my WD TV Live Media Player, and even my freaking home theater receiver. Traditionally, you only had two options for connecting those devices.
Run a wire. Problem is, if there are three walls and a floor between the the device and the router, that may be a bit tough to do.
Use wireless. Yes, wireless is pretty good for many devices, but a lot of them only have an RJ-45 port. Additionally, I like playing on my PS3. I sometimes also like to play online, but I don't do it very often. Reason being, I use the integrated wireless and there's nothing more rage inducing than a random ping spike.
So, today we're going to take a look at a possible solution to all these problems, the Belkin Powerline AV500 kit. With advertised speeds of up to 500Mbps over a house's internal wiring, it seemed like a sure winner, but did it perform as expected? Let's find out!
Powerline AV500 Specifications
| | |
| --- | --- |
| Standard: | IEEE 802.3/802.3u HomePlug AV-certified Compatible with HomePlug 1.0 |
| Link Rate | Up to 500Mbps |
| Encryption: | 128-bit AES Encryption |
| Operating Range: | Up to 1,000 ft. (300m) via home wiring |
| Maximum Connected Devices / Endpoint: | Up to 8 |
| Ports: | 1x Ethernet |
A Closer Look at the Powerline AV500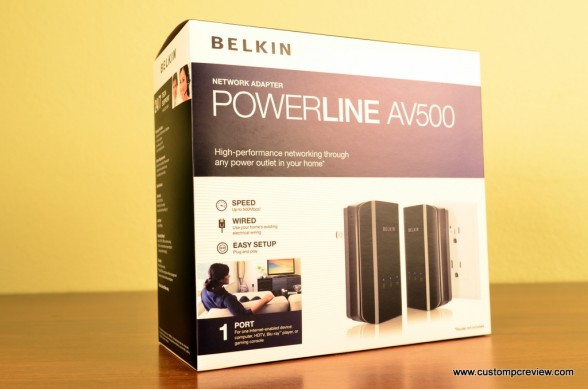 Front of the box. You get a picture of the product itself along with a couple of the major features. 500Mbps… wonder if it'll get anywhere near that.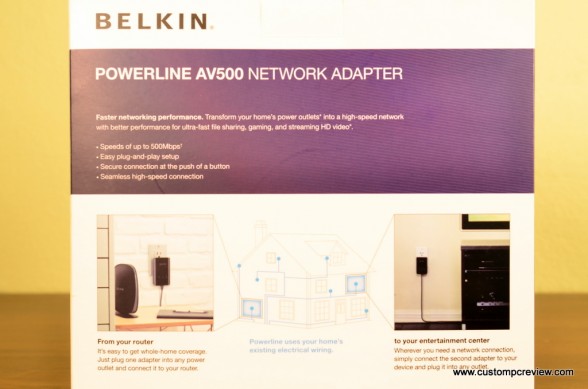 The back of the box gives you a quick and easy explanation of how this thing works. Connect one of the adapters into the router and the other adapter to whatever you need connected. Looks easy.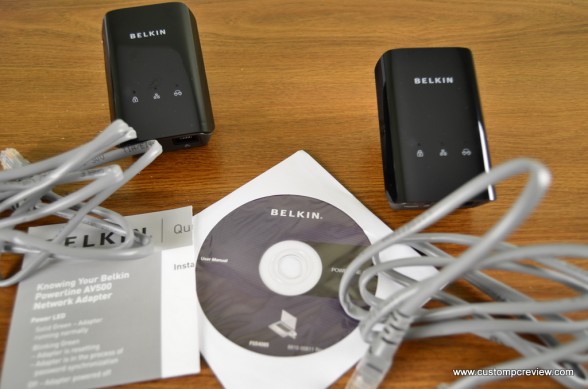 Here's what you get inside. The CD is misleading. You don't actually need drivers for this. Woot!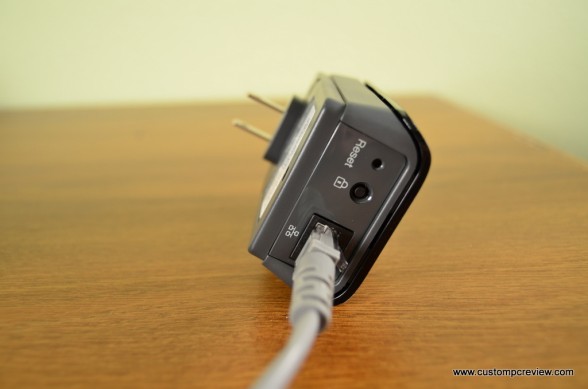 Here's the bottom of the unit. You get a reset button, a security button which encrypts your connection with 128-bit AES encryption, and a RJ-45 port.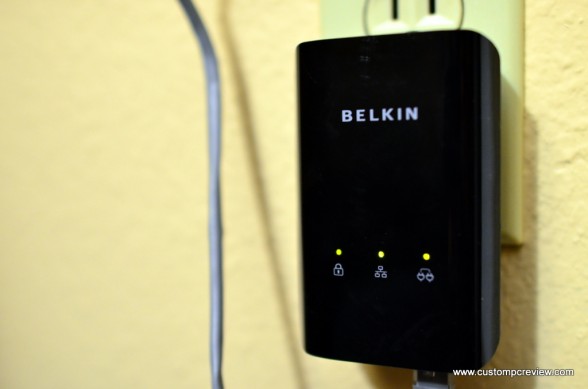 Looking good. Very classy black color with bright green status LEDs up front. What's up with the network cable color though?
Testing Setup
Server PC
Intel Core i7 2600K MSI Z68A-GD65 (G3) Realtek 8111E Gigabit LAN Connected via 25ft Cat5e
Client PC
Alienware M17X Gaming Laptop Intel Core 2 Duo P8600 Motherboard Unknown nForce Gigabit Lan Intel 5300 AGN Wireless Router: Cisco E3000 running DD-WRT v24-SP2 (04/13/11) big The router is a dual band router which means we will have Wireless G running on the 2.4GHz band while simultaneously having the Wireless N running on the 5GHz band.
Testing Methodology and Software
For throughput testing, we will be using the PassMark Performance Test 7.0 Advanced Network Test where we will run a 20 second sustained transfer (send operation) to get a good idea of connection throughput. We will run the test a total of 3 times and if the tests are consistent with each other, we take the result from the third test as our final result. For ping testing, we will be using Pingtest.net. We will run 3 consecutive runs for each connection, Wireless G, Wireless N and the Belkin AV500 connected through the client PC's LAN port. The results for all 3 tests will be logged here. Obviously, the lower the ping and the lower the jitter, the better. For those interested in what these networking terms mean, please visit this page. Please note that I am running these tests over the internet, so inconsistencies may be a result of internet congestion. However, that being said, these tests were run at 2AM in order to minimize this issue.
Powerline AV500 Performance
Location 1
The first test location will be conducted in what will be known as "Location 1". The test laptop will be placed approximately 10 feet away from the router in the same room with only furniture to obstruct the wireless signal. PassMark Performance Test 7.0 Advanced Network Test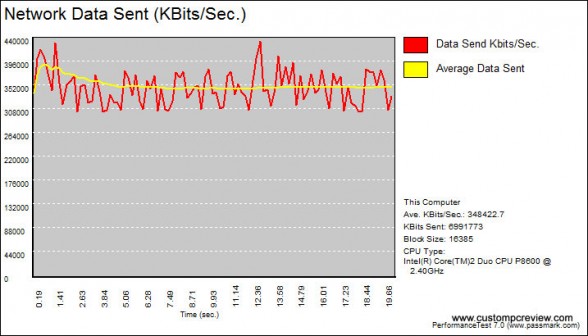 This is the test with a wired connection. I wanted this to serve as a reference test, but it dominates way too much. If you have the choice, go wired.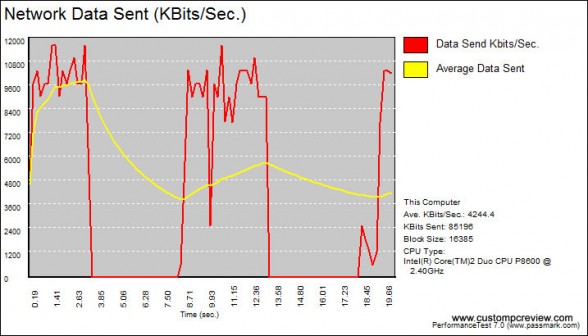 Moving on to wireless G, we see some pretty slow speeds, ~4.2 Mbits/sec. Notice the connection drop to zero midway. While the exact cause of this is unknown to me, but it is probably due to interference caused by other wireless devices around the area. This is very bad for both file transfers and especially deadly when gaming.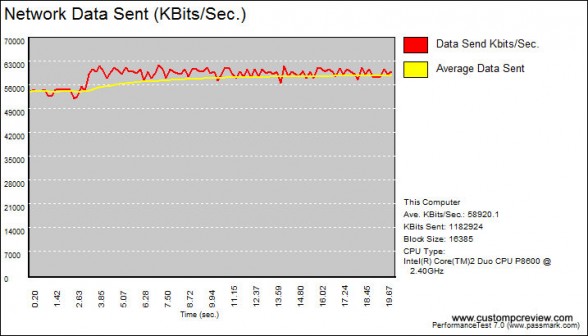 Here, the Wireless N's transfer rate was actually very good, very consistent at approximately 58 Mbits/sec.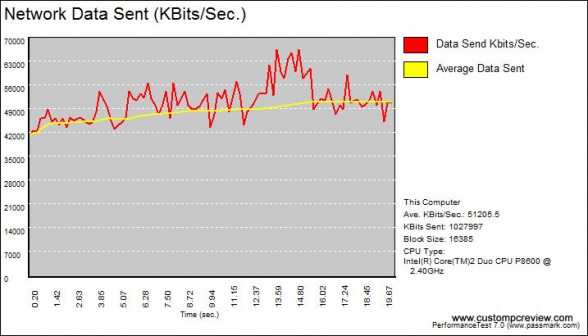 The final test is with the Belkin AV500 and it averaged about 51 Mbits/sec which isn't too bad. Slower than Wireless N, but still respectable. Nowhere near the advertised 500Mbits/sec transfer rate though. Not even close.
Pingtest.net
| | | | | |
| --- | --- | --- | --- | --- |
| Location 1 | | Test 1 | Test 2 | Test 3 |
| Wired [7ft Cat5e] | Ping | 34ms | 34ms | 34ms |
| | Jitter | 2ms | 1ms | 1ms |
| Wireless G | Ping | 35ms | 130ms | 39ms |
| | Jitter | 2ms | 197ms | 7ms |
| Wireless N | Ping | 40ms | 36ms | 34ms |
| | Jitter | 9ms | 8ms | 2ms |
| Belkin AV500 | Ping | 34ms | 33ms | 34ms |
| | Jitter | 3ms | 1ms | 1ms |
As we can see from above, the wired connection and the AV500 performed very well with the lowest pings and jitters. Wireless N performed decently, but it does show a little bit of inconsistency. It seems like the interference that was causing problems with Wireless G when I ran the throughput test is still present here.
Powerline AV500 Performance
Location 2
The second test location will be conducted in what will be known as "Location 2". The test laptop is placed on the floor next to a wall socket in the room. It is approximately 30 feet away from the router and in a different room. Two walls and miscellaneous furniture are obstructing the wireless signal.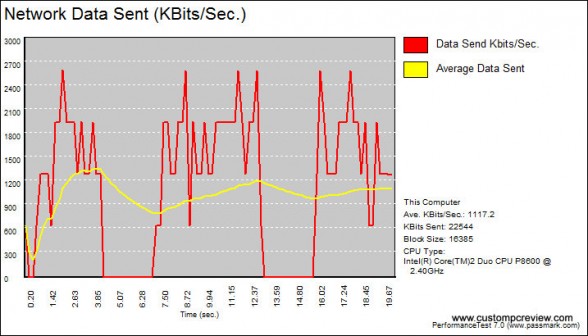 Again, we will start with Wireless G.As you can see, the results are quite similar. Amazingly, throughput has gone up despite the additional distance, most likely due to the source of interference getting weaker. Again, the transfer drops out midway. Imagine you sneaking up on somebody ready to go in for the shank and that happens….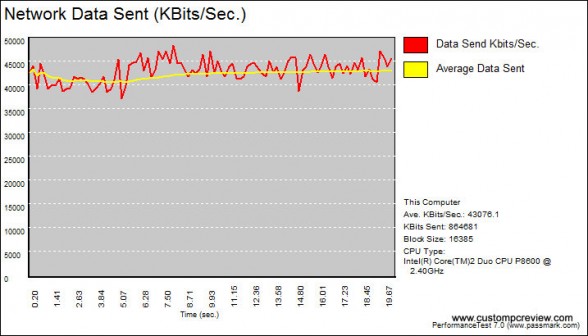 Wireless N doesn't look as good as the last run, but it still looks decent nonetheless. Throughput numbers are still high and data transfer seems quite consistent.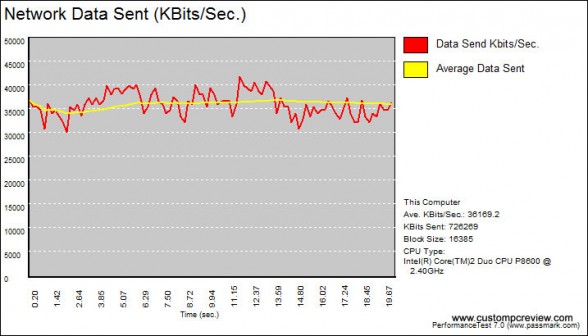 Here's a run with the AV500 and it looks pretty good consistency wise, but throughput is so-so especially since Wireless N is still faster this round.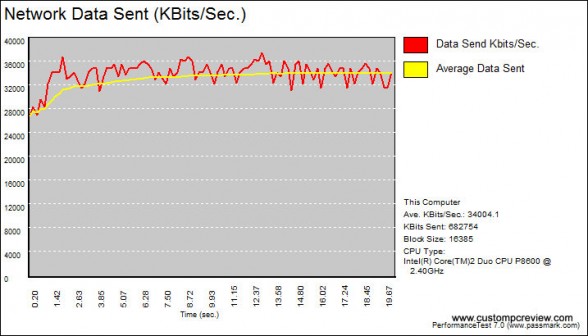 Since I had some photography lights around, I decided to plug one in to the socket right next to where the powerline was connected to see if some other device suddenly drawing a lot of power made any difference. Well, turns out the throughput dropped ~2 Mbits/sec. I'll note it, but it's within the margin of error.
Pingtest.net
| | | | | | |
| --- | --- | --- | --- | --- | --- |
| Location 2 | | Test 1 | Test 2 | Test 3 | Special |
| Wireless G [1% Packet Loss] | Ping | 35ms | 36ms | 37ms |  n/a |
| | Jitter | 2ms | 3ms | 4ms |  n/a |
| Wireless N | Ping | 34ms | 34ms | 35ms | n/a |
| | Jitter | 2ms | 2ms | 2ms | n/a |
| Belkin AV500 | Ping | 34ms | 35ms | 34ms | 34ms |
| | Jitter | 2ms | 4ms | 2ms | 2ms |
So, just like last time I did another round of pingtests and this time both Wireless N and the Belkin AV500 had quite stable connections. The jitter on the AV500's 2nd test did jump to 4ms, but I'm going to attribute that to the margin of error or just general internet congeston. Additionally, I also did a special run on the AV500 where I turned on a 500w light on the same circuit as the AV500. The load on the electrical line did nothing to affect ping times or jitter. The only connection with a problem this test was Wireless G, not because of ping times, but this time because I had 1% packet loss during the second run.
Powerline AV500 Performance
Location 3
The third and final test location will be conducted in what will be known as "Location 3". The test laptop is placed on a coffee table next to a wall socket in the living room. It is approximately 30 feet away from the router in a different room and a different floor. Two walls and miscellaneous furniture are obstructing the wireless signal.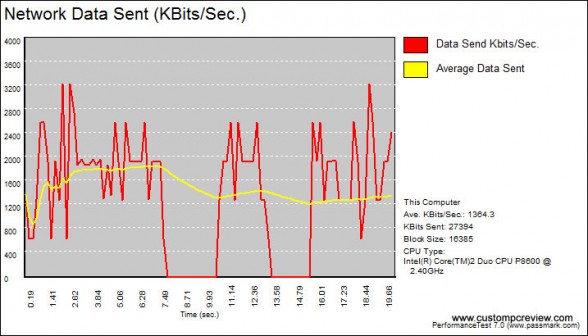 Starting with the Wireless G, this is the worst throughput we've seen yet. Additionally, we're still seeing those deadly drops mid-transfer.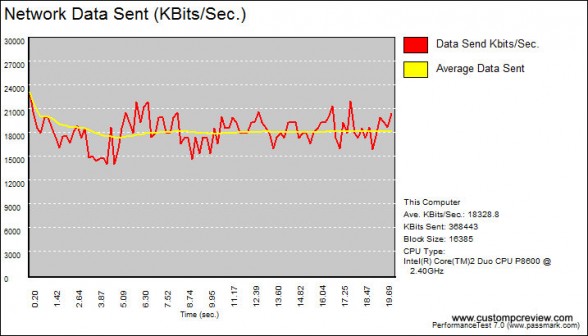 Wireless N on the other hand seems to be much more stable compared to the Wireless G connection. Here, it's still getting a nice 18 Mbit/sec transfer rate, which is still pretty good considering how stable and consistent it is.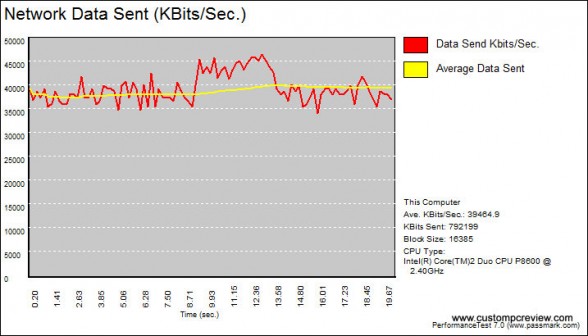 Here, the AV500 is able to keep a very stable 39 Mbit/sec connection whereas the distance and interference factor is causing problems for the wireless connection.
Pingtest.net
| | | | | | |
| --- | --- | --- | --- | --- | --- |
| Location 3 | | Test 1 | Test 2 | Test 3 | Special |
| Wireless G | Ping | 36ms | 36ms | 42ms | 37ms |
| | Jitter | 4ms | 3ms | 14ms | 5ms |
| Wireless N | Ping | 34ms | 34ms | 39ms | 35ms |
| | Jitter | 2ms | 2ms | 7ms | 1ms |
| Belkin AV500 | Ping | 34ms | 34ms | 34ms | |
| | Jitter | 2ms | 2ms | 2ms | |
This time the AV500's ping times and jitter were very good and 100% consistent yielding the exact same results every time. Wireless N and Wireless G were pretty good as well (With Wireless N consistently performing better), but both run into higher ping and jitter results on Test 3.
Powerline AV500 Conclusions
The Belkin AV500 was extremely easy to use and the setup process took mere minutes. Once both sides are plugged in, it takes less than 30 seconds for the powerline adapters to recognize each other and establish a connection. During testing, the Belkin AV500 Powerline kit output consistently excellent results in our ping/jitter tests. The connection speed was decent as well, providing us with a very stable 39 Mbit/sec to 51 Mbit/sec transfer rate. In some real world testing, I hooked the AV500 up to my WD Live Media Player and I was able to stream 1080p and 720p movies with no lag or stuttering.  However, in testing, the AV500 performed nowhere near its advertised rate of 500 Mbits/sec. While it is expected that you won't receive transfers at the maximum speed advertised, actual transfer speeds at ~10% of that advertised speed was not expected. Additionally, in 2 of our 3 tests, Wireless N was able to achieve higher throughput than the AV500 despite the AV500 being marketed as 500 Mbits/sec and Wireless N only around 144.4 Mbits/sec to 300 Mbits/sec. One thing to note is that in powerline technology, multiple simultaneous transfers may increase throughput, however, when we doubled the number of connections, we simply saw the first connection's speed drop resulting in transfer speeds similar to running a single connection.

In my opinion, while all users may benefit from this type of product, there are two specific types of users who reallyneed it. The first type is the gamer. These are the people consistently need low ping times, but don't necessarily care about transfer rates. They need small packets to be sent and received as fast as possible and as you've seen from the performance tests earlier, that's exactly what a powerline setup provides. Whereas a wireless connection is susceptible to interference from cell phones, microwaves, etc. the powerline is not so if a full wired connection is unavailable, this is probably your best solution. The second type of user who would need this product is the person looking for a device to hook up their home entertainment system. For most of us, the living room is probably pretty far from where the router is located and running a wire into the living room is typically not a feasible option. Yet, many of our TV's and media players are now equipped with HD video streaming services which require a fast, stable internet connection. In this case, the AV500's transfer speeds were more than adequate for streaming 720p or 1080p content.
Bottom Line
Overall, I found the AV500 to be an excellent product. It delivers solid speeds, consistency and its sub $100 price for a full kit isn't too bad either. Yeah, I was pretty disappointed with actual transfer speeds compared to what was advertised, but the throughput is more than enough for most home networking applications. Obviously, if you're hooking up a server in the next room, I'd recommend you go buy that 100ft of Cat5e and a power drill, but if the wireless connection on the PS3 is seriously jacking up your game, you might want to invest in the AV500.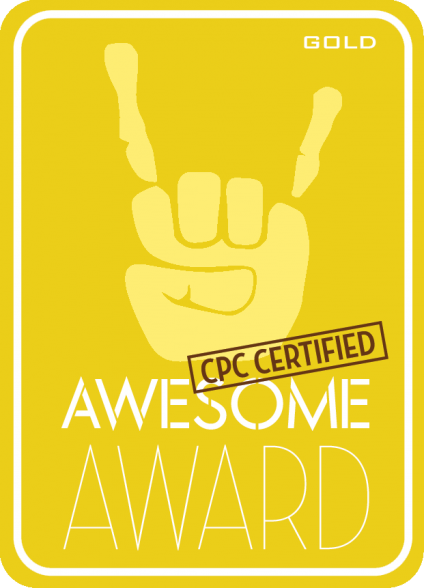 Special thanks to Belkin for making this review possible. The Belkin AV500 Powerline Kit is currently available on Amazon.