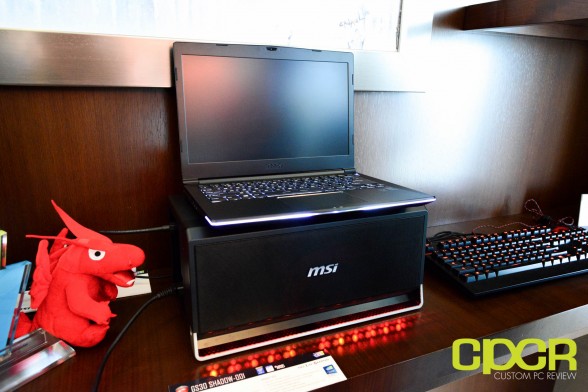 While thin and light gaming notebooks do exist these days thanks to power efficiency improvements on both the CPU and GPU fronts, if you're a serious PC gamer you probably still have several PCs – a high powered desktop PC for gaming and a portable notebook for class, for work, or anything else that requires a PC on the go. Notebook graphics simply can't compete with high end desktop graphics and it just isn't right having to purchase a dedicated desktop computer when what you really want is your laptop with better graphics when you're in front of your desk.
This is an issue MSI is trying to tackle with their latest 13.3″ GS30 Shadow gaming laptop that was recently displayed at CES 2015. Unlike most gaming notebooks on the market today, the MSI GS30 Shadow has a trick up its sleeve in that it may be used with a unique Gaming Dock accessory that promises to give GS30 Shadow owners the ability to utilize full desktop graphics when the system is docked in the Gaming Dock.
The way this works is fairly simple. Both the MSI GS30 Shadow and the Gaming Dock have a proprietary connector that allows the two devices to be connected. Once attached, the GS30 Shadow can tap into the power of any PCIe desktop graphics card installed in the Gaming Dock.  MSI explained that their GamingDock trumps the competition by being able to take full advantage of 16x PCIe 3.0 lanes as opposed to just 4x lanes.
Although just the fact that the GS30 Shadow can dock onto the Gaming Dock to unlock additional performance is pretty awesome, what's also pretty awesome is the fact that the GS30 Shadow is a 13.3″ mobile powerhouse in its own right. Featuring a Crystal Well Intel Core i7-4870HQ CPU and Intel's Iris Pro 5200 graphics, it's ready for even the heaviest of day-to-day tasks. Complementing the CPU is 16GB of DDR3L RAM and two 128GB SSD in RAID 0 configuration. The screen is a 13.3″ 1920 x 1080p TN panel with matte surface. According to MSI, the GS30 Shadow can last up to 4 hours on a single charge.
In terms of I/O ports, the GS30 Shadow has 2x USB 3.0 ports, Gigabit LAN, HDMI 1.4b, 3.5mm headphone/microphone jacks, and a 3-in-1 card reader. Connectivity includes Intel's 7260 wireless chipset with support up to 802.11 ac and Bluetooth 4.0. The GamingDock further extends the functionality of the GS30 Shadow with a 3.5″ hard drive bay, 4x USB 3.0 ports, a 3.5mm audio/mic in, Killer Gigabit LAN, and a pair of integrated speakers.
The MSI GS30 Ghost and the GamingDock is expected to hit stores this month with an MSRP of $1,899.99.