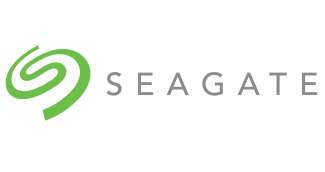 For FMS 2017, Seagate made a slew of new announcements including a new 64TB NVMe PCIe SSD, updates to the Nytro SSD lineup, a new RealStor storage appliance, and Nytro Q-Boost technology.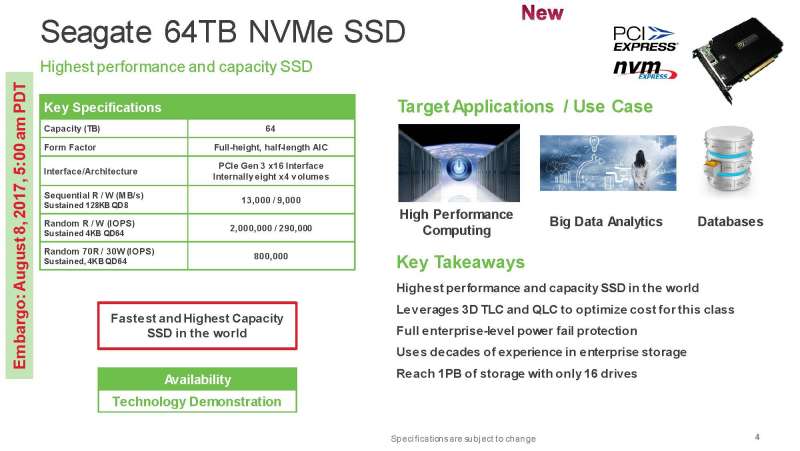 When Seagate announced their 60TB SAS SSD last year, it was an impressive feat however, Seagate and its partners quickly realized that there were limited use cases for the SSD. The capacity was simply too large for the relatively performance limited SAS interface.
For 2017, Seagate went back to the drawing board and announced a new 64TB NVMe SSD which is simply a full height, half-length form factor add-in card containing eight M.2 22110 PCIe Gen 3 x4 SSDs.
Using either a software RAID or JBOD configuration, maximum performance of the 64TB NVMe SSD array is 13,000/9,000 MB/s sequential reads/writes and 2,000,000/290,000 IOPS 4K random reads/writes.
Sampling of the Seagate 64TB PCIe SSD is expected sometime next year.
Seagate is also revamping their popular Nytro family of SSDs with the new Nytro 3000 SAS and Nytro 5000 NVMe SSDs.
The Seagate Nytro 3000 will be the new naming scheme for Seagate's SAS SSDs, replacing the 1200.2 name. For 2017, Seagate is launching their first 15TB 2.5-inch SAS SSD under the Nytro 3000 series name. Additionally, Seagate will also offer the Nytro 3000 in both single and dual/wide port SAS 12Gb/s configurations. Seagate will begin sampling the Nytro 3000 series in 4Q2017 with production beginning 1Q2018.
The Seagate Nytro 5000 will be the new naming scheme for Seagate's NVMe PCIe SSDs, replacing the Nytro XM1440 series name. The Nytro 5000 series will feature capacities up to 2TB and random read/write performance up to 245,000/67,000 IOPS. The Seagate 5000 series is now sampling with production beginning 3Q2017.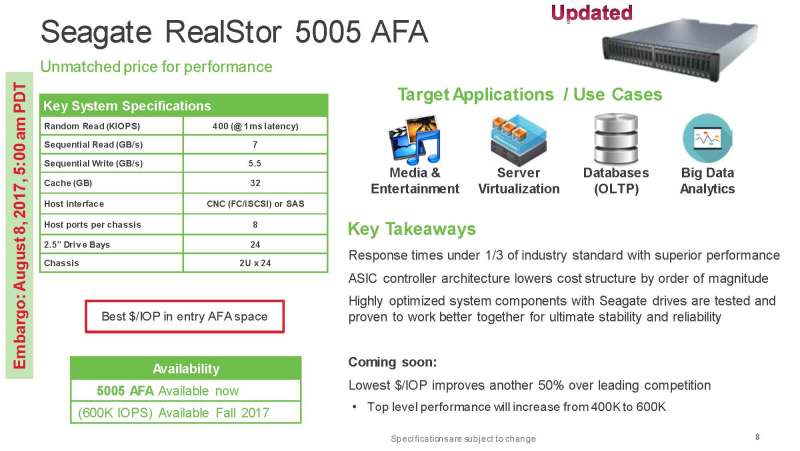 Seagate is also releasing a new RealStor 5005 AFA appliance which has been updated for FMS 2017. The appliance is a 2U form factor featuring 24x 2.5-inch drivebays and boasts maximum sequential read/write performance up to 7,000/5,500 MB/s.
The Seagate 5005 AFA is now available with their 600K IOPS version coming in Fall 2017.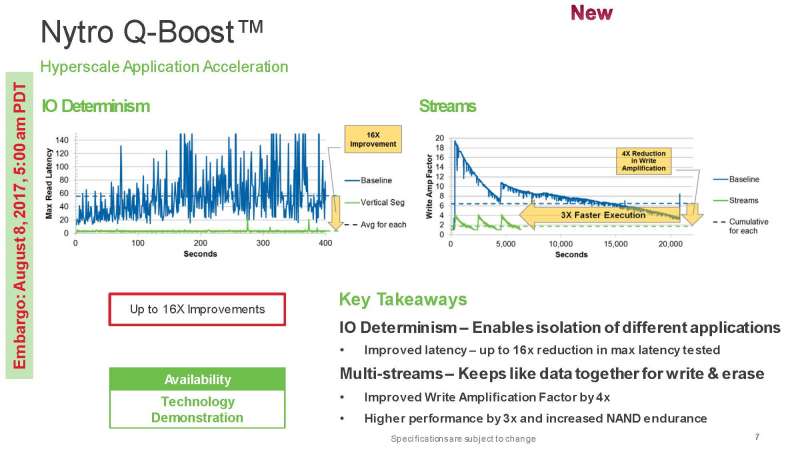 Seagate also introduced their new Nytro Q-Boost technology as a technology demonstration for FMS 2017. The new technology helps improve latency and reduced write amplification by utilizing IO Determinism and Streams technology.