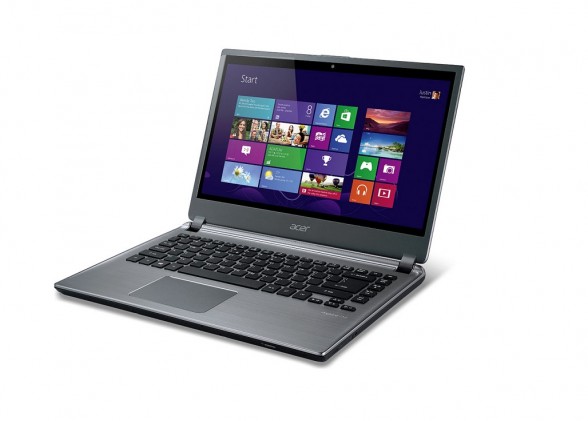 Press Release
Acer America today announced the Aspire M5 series of Ultrabooks, available exclusively at Best Buy stores in the United States. Featuring Windows 8, the slim and stylish Aspire M5 series combines the portability of an Ultrabook with powerful performance, 8-hour battery life and outstanding value. Select models also include 10 point touch for easily navigating digital media and Windows 8 touch apps.
"Many consumers desire the mobility of an Ultrabook, but still require the larger displays, optical drives, all-day battery life and value offered in a more mainstream notebook PC," said Scott Ledterman, vice president of retail sales, Acer America. "The Aspire M5 series delivers that perfect combination of portability and performance for mainstream consumers, and goes a step further with premium features like touch input. We are delighted that Best Buy will offer the M Series line exclusively to their customers this holiday season."
Premium Touch Interaction
Offering consumers a premium Windows 8 touch experience in a traditional clamshell notebook design, the 14-inch Aspire M5-481PT features a 10 point multi-touch display, allowing users to efficiently open and close programs, browse online, and breeze through applications using nothing more than a simple touch. The Aspire M5-481PT features a vivid HD display with a frameless, edge-to-edge design, which provides a larger viewing area for the Ultrabook's intelligent multi-touch interface.
The combination of a touch display and Windows 8 creates a faster and more fluid working environment. Users can quickly zoom in or out to customize their screen view, swipe in and out of applications and commands, or scroll, flick, pinch and rotate motions to accomplish tasks more quickly.
Robust yet Thin and Light
At less than one inch thin, the slender profile of the Aspire M5 Ultrabook series delivers a minimalist and modern look. The 14-inch Aspire M5-481PT comes dressed in an elegant silver cover made of aluminum alloy, while the 15.6-inch Aspire M5-581T non-touch configuration is housed in a dark gray magnesium alloy cover, both which add to the systems' overall sturdiness. The Aspire M5-481PT is just 4.6 pounds, while the M5-581T is about 5 pounds, keeping the Ultrabooks light enough to tote all day.
These no-compromise Ultrabooks provide up to 8 hours of computing on a single chargevia the PowerSmart long-life battery pack, which provides up to three times longer battery life cycles than traditional batteries (1,000 vs. 300 cycles). These batteries also maintain 80 percent capacity after the 1,000 cycle count, which means the battery will last longer, reducing the need to replace it. In addition, advanced thermal technology keeps users comfortable even when the Aspire M5 Ultrabook is placed on a lap.
Featuring the innovative "Acer Green Instant On" and "Acer Always Connect" technologies, users can manage their multimedia and data on all their Ultrabooks at anytime, anywhere.
Acer Green Instant On resumes the Aspire M5's computing session from sleep in less than 2 seconds and from deep sleep in 6 seconds; the 20GB SSD drive returns to the PC's state just as it was left. Turn the PC back on, and any websites, emails or documents that were left open are instantly restored and ready.
Acer Always Connect connects to the web in 2.5 seconds by remembering previously used Wi-Fi spots. When they come within range again, the Aspire M5 instantly connects to the Internet, so consumers can immediately access instant messaging, Internet services and email after the system resumes.
AcerCloud technology gives users cloud storage with wireless access to manage photos, music, videos and documents, making it easy to manage and enjoy media from all their devices anywhere.
Ultra-Responsive Performance and Enhanced Features
The Aspire M5-481PT and M5-581T Ultrabooks are equipped with 3rd Generation Intel® Core™ i5 processors with Turbo Boost Technology 2.0. A 500GB hard disk drive offers plenty of space for large files, while a 20GB integrated solid state drive enables instant-on capability.
Featuring two USB 3.0 ports, consumers can charge external devices when the Aspire M5 Ultrabook is in sleep, hibernation or even when it's turned off. Transfer speeds will be up to 10 times faster than older generations of USB.
Backlit keyboards make it easy to game or type in low light conditions, while the professionally-tuned Dolby Home Theater v4 and premium speakers deliver high volume, clear dialogue and crisp sound effects for games, music and movies.
While still maintaining a thin and light design, the Aspire M5 Series features a built-in optical drive, allowing consumers to burn file copies of their data for safekeeping, or pop in a disk to enjoy movies or music. An HDMI port allows for easy connection to a big screen TV or monitor.
All models in the Aspire M5 Series also include Acer AntiTheft, a free software based solution. When enabled, the Ultrabook recognizes the distance from a designated WiFi signal source, and if the system moves beyond 10 feet of the signal, a loud siren will sound from the Ultrabook's speakers. This feature can easily be enabled and disabled, and will be especially useful when traveling.
Pricing and Availability
The Acer Aspire M5 Series of Ultrabooks will be available at Best Buy stores across the U.S. on Oct. 26. Prices for the Aspire M5-481PT featuring Windows 8 and touch support begin at $799.99, while the 15.6-inch Aspire M5-581T configurations begin at $699.99.