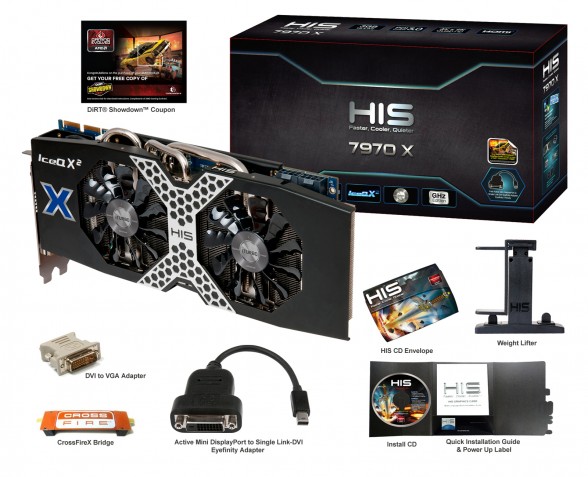 Press Release
Introducing HIS 7970 X ! Break the 3Dmark Vantage & 3Dmark 11 World Records and Won OC Competition! The Best of the Best design with unique X elements!
Hightech Information System (HIS) today introduces HIS 7970 X. The card is not only of HIS top class but is also the best of the best among 7970 cards.  The 4-way crossfire HIS 7970 X achieved the number 1 world records on both 3dMark Vantage and 3Dmark 11 with 84669 and 29937 marks respectively. The card also won the ASRock Z77 Overclocking Competition on 3D mark.com
HIS 7970 X is overflown with special features such as X elements, IceQ X², iTurbo, PowerTune with Boost, OC equipment and more.
The card carries the special X elements,  including the extra 18+1+1 PWM phrases, LED indicators, outputs that support  both Eyefinity 5 & Eyefinity 6, making HIS 7970 X one of the most luxurious cards in the market!
HIS 7970 X is also cooler and quieter with the innovative and performance-leading IceQ X² cooling solution. The card is cooler than reference design and is below 28dB when watching movies, surfing Facebook, working. The card remains quiet whether you are gaming, online socializing, entertaining or working.
The card comes with the innovative overclocking software by HIS – iTurbo. User can control the temperature, speed and power in their hands!
The card is equipped with the latest 7970 GHz Edition chipset, with core and memory clock achieved at 1 GHz and 6.0 Gbps, significantly faster than previous products.
Loaded with AMD's latest technology, such as GCN, PowerTune with Boost, etc. the card has revolutionary improvements on computing performance, gaming and power consumption!
The card is has better OC capability with overclocking equipment and longer life span with safety design. The special metal RIB on the card further strengthens the card significantly!
HIS 7970 X comes in a great value with the bundled the Eyefinity Dongle – the Active Mini DisplayPort to SL-DVI Dongle.
7970 X – The Best of the Best!
X: More Voltage, More Overclocking
The extra PWM phase for core voltage provides extra power stability, lower temperature for power components!
Improved Power Supply Output
Increased Power supply output for more voltage for overclocking!


X: Show and Tell
HIS 7970 X uses LED to show and tell the card's condition, including the voltage, fan speed and critical temperature
Overheat Indicator
The card gives a warning signal to gamers, ensuring safety to the full extent. The single color LED Indicator will turn on when the card's temperature is abnormal, avoiding Critical Temperature Failure!
GPU Voltage Indicator (3 colors)
The card is equipped with GPU Voltage LED Indicator, making it convenient for you to adjust the voltage for overclocking!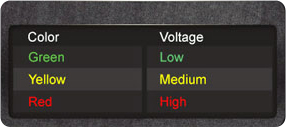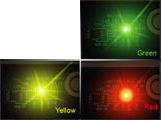 Fan Speed Indicator (5 colors)
The card LED includes the special LED Fan Speed indicator. Gamers could see the actual fan speed represented by different colors!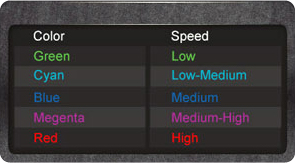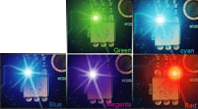 X: Eyefinity 6 , Eyefinity 5 + Eyefinity 3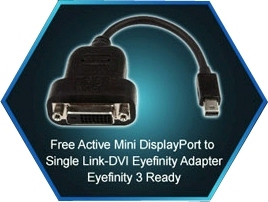 HIS 7970 X offers ALL Eyefinity setup!
HIS 7970 X supports up to 6 monitors and is EyeFinity 3 ready as well! The card comes with the Mini DisplayPort to Single Link-DVI EyeFinity Adapter with retail value $24.99! Setting up EyeFinity 3 could never be easier!
The card is equipped with 4 Mini Displayports and 1 DL-DVI or SL-DVI plus HDMI at your convenience!
IceQ X²  – Cooler, Quieter.

Cooler
With IceQ X², the card is up to cooler than the reference cooler.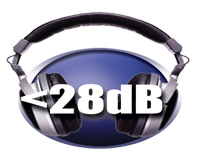 Quieter
IceQ X² is one of the quietest coolers. The card is below 28dB when watching movies, surfing Facebook, working. The card remains quiet whether you are gaming, online socializing, entertaining or working.+
Fan Design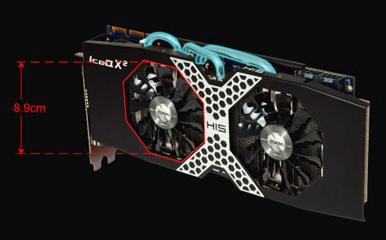 3x 6mm and 2x 8mm wide heatpipes optimize cooling performance by removing heat from the core area.
The super large 2x 8.9 cm dual axial fans draws massive amount of cool air to cool the GPU directly.
The fan is extremely durable with a life span of up to 50,000 hours.
The special fan blade design provides a wide cover to cool opponents in the shortest time!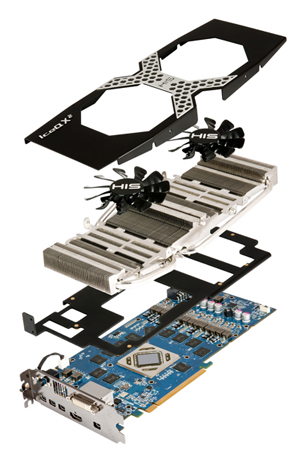 The extra large 40×47.5mm copper heatsink provides a large area to dissipate heat efficiently.
The card also carries memory and mosfet heat sinks to provide extra heat dissipation from these areas.
The card also features fan control and monitoring, you are able to read fan speed & ASIC temperature from iTurbo or other softwares.
iTurbo – Your Graphics Card's Assistant
iTurbo is your graphics card's assistant to control your card to be quiet, cool. Experience overclocking by simply pressing the iTurbo Button!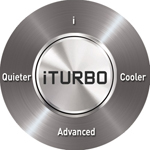 User Friendly Overclocking Software: Cooler, Quieter, OC!
iTurbo's Fan Control and Fan Monitoring allow easy adjustment of your card to its maximum cooling performance or to run your card quietly!
Press iTurbo: OC Right Away!
With the smart auto overclocking function, users can experience a slight performance boost for selected HIS graphic cards with just one click!
Powerful Overclocking Software
Either you wish to unleash its full potential or to make it more environmental friendly, iTurbo is ready for you!
iTurbo is compatible with all cards! Enjoy OC no matter what card you have!
7970 Ghz Edition
PowerTune with Boost
The card has the latest PowerTune with Boost technology and you can experience:
• Dynamic Voltage Boost: Boost Clock and voltage vary to optimize performance
• High Accuracy Power Estimation: Improved accuracy enables higher clocks more often.
• Digital Temperature Estimation: Deterministic  differetial algorithm reduces overestimation
High Quality Component
OC Equipment
The card is equipped with improved power design which is great for OC! HIS cards utilize Dynamic Phase Control PWM IC to save power for better use. Along with improved power design, GPU Voltage Indicator, digital power design,  2 ounces Copper Layer, HIS cards make the best out of power, carrying better OC capability and pushing clock speeds to the full potential!

Built for CrossFire
The card is armed with 2x Crossfire Connectors and is ready for up to 4-way crossfire multiplied performance!
Voltage Inspector
The card has 5 difference voltage pads for user to monitor the voltage by using multimeter (monitor VDDC, MVDD, VDDVI, 3.3V & 12V)!
Safer, Last Longer
Enhances stability in critical gaming situations!
HIS cards are engineered with the highest standard of safety, preventing them any potential damages. Solid State Choke stabilizes the card and Full Solid State Capacitors ensures the best power quality and enhances the card's stability in critical gaming situations!
Special Metal Rib
PCB might easily warped due to prolonged hanging on motherboard & casing, potentially causing cracks on BGA solder joints and resulting in malfunctioning of the card. The HIS special metal rib provides extra strength to the PCBs to avoid warpage, making the cards extra stable and durable. You can count on HIS cards to game hard for 24/7/365 for years!
Silver (IMS) PCB
The card uses the deluxe Silver (IMS) PCB, making it far more durable and reliable for your every need!
New Technology, New Experiences
GCN
With AMD GCN technology, the card optimizes DirectX® 11.1 gaming performance automatically up to 2.5 times faster! It also offers up to 4.5x compute performance and up to 95% lower GPU Idle Power Consumption!
Apps Faster & Smoother!
The card enables a "quality graphics" experience on everyday applications, giving huge performance boosts on image processing, file compression, media converter apps, and a lot more!
• Handbrake is up to 33% faster in transcoding performance than competing GPUs.
• WinZip 16.5 has 35% faster file compression performance with OpenCL acceleration!
• Gimp 2.8 performance is up to 150% higher than CPU
More Graphics, Less Power!
The new architecture of the card gets more usable processing power for your money, enabling better frame rates in the latest games at high resolutions.  In addition, with AMD ZeroCore Power &  AMD PowerTune technologies, you can optimize the balance between performance and power consumption of your system by adjusting the engine clock during runtime of the card. Manage the power and keep your wallet loaded!
ZeroCore Power Technology
Greater than 95% idle power reduction byshutting down GPU!
• Powered off during long idle (blanked screen) state
• Core GPU functional blocks consume 0W while rest of PC remains in idle state – fan off for zero noise
PowerTune Technology
PowerTune Technology guaranteeing maximum performance by intelligent GPU Power Management
• Delivers higher performance optimized to the thermal limits of GPU
• Dynamically adjusts clock based on internal calculation of GPU power assessment
• Digital sensor built-in to GPU allows for measurementsin less than 10ms
PCI-e 3.0 Support
Armed with the latest PCI-e 3.0 bus design maximizes performance by delivering double bandwidth per lane of PCI-e 2.x. Paired the card with the latest platforms and get the ultimate performance!
See More, Enjoy More!
The card supports 30" LCD monitor and any large size TV up to 80″ feature with 16:9 ratio in amazing 4096 by 2160 resolution. Up-scaling your computer into a multimedia center with the biggest display!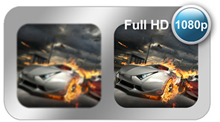 Enjoy HD Beauty
With Full HD 1080p support, the card delivers high q uality 1920X1080 graphics, enabling seamless full-screen video playback. See HD, hear HD and feel HD – Enjoy the beautiful graphics now with the card!
Enjoy Copy Protected Movies
The card is HDCP complaint, enabling users to play copy-protected content, such as commercial DVD movies.
Enjoy True to Life Graphics
Quad HD videos have resolution four times that of current HD videos, meaning images too clear that may deceive your eyes! With the card, you are set for getting the movie theater experience to your home. You may be able to watch a video shooting the Eiffel tower and zoom it in to see your friend's face clearly from the top! Get your eyes impressed and enjoy mind-blowing graphics with extreme clarity, depth and texture!
Win More!
The card is capable to turn your computer into a super gaming machine. Enjoy the latest 3D games with stunning graphics and effects that your enemies cannot match! Get an immersive experience with AMD Eyefinity "2.0"!
Expand your game across up to 5 or 6 displays while your opponents have one monitor. Along with all-new support for stereo 3D, universal bezel compensation and brand new display configurations, take the unfair advantage over your opponent and win more with the surround sight
View More, Work Better
Having one dedicated screen just for twitter or Facebook and a second for outlook is not a dream anymore. The card features 2 Mini-display Ports for enhanced workspace flexibility. You can easily connect to two displays, including the 27" Apple LED Cinema Displays with the two Mini DisplayPorts. The dual-link DVI port allows you connect to a 30" DVI display up to 2560×1600. Resolution can even reach 4096×2160 with HDMI® , good for TV up to 80″!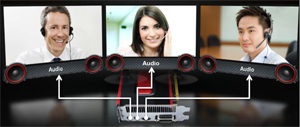 Hear Better in Video Conference
Most GPUs today support only one audio stream at a time. The card, however, has Discrete Digital Multi-Point Audio that can simultaneously output multiple, independent audio streams. Audio seamlessly follows the video, providing affordable multi-display, multi-audio conferencing for consumers!
The card is an ideal solution for all those who rely on having several applications visible simultaneously for extra productivity. Multi-tasking just got a lot simpler! Make your computer a multi-display workstation!