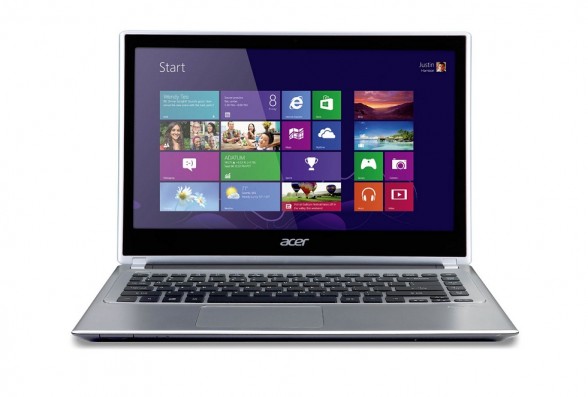 Press Release
Acer America today announced the Aspire V5 series, a popular range of thin and light notebooks will be available with Windows 8 beginning October 26 in North America. Ideal for consumers looking for impressive performance, style and full-featured mobility at an outstanding value, the Aspire V5 notebooks series has models suited for a wide range of consumers.
The Aspire V5 Series are 30 percent slimmer than previous value-based notebooks, making them extremely easy to handle on the go. Under one inch thin, the Aspire V5 series are available in three convenient display sizes – the 11.6-inch Aspire V5-171 is about 3 pounds, the 14-inch Aspire V5-471 is 4.63 pounds, and the 15.6-inch Aspire V5-571 version is just about 5 pounds. The notebook's chassis has a smooth and silky surface, making it comfortable to carry, available in either silver or black.
"Acer continues to deliver on its promise to bring innovative technology with a superb blend of quality, performance and portability to consumers," said Sumit Agnihotry, vice president of product marketing, Acer America. "With Windows 8, the new Aspire V5 notebook series with touch allows consumers a premium feature even at mainstream price points."
Touch Experience Enhanced by Windows 8
Allowing users to go beyond the traditional keyboard and mouse, touch support is available on the 14-inch Aspire V5-471P and 15.6-inch Aspire V5-571P configurations. With Windows 8, the notebook's HD display becomes a touchscreen for exciting hands-on navigation. Featuring a 10-point touch edge-to-edge display and a larger trackpad, the Aspire V5-471P and V5-571P are designed to enhance multi-gesture content consumption allowing users to efficiently open and close programs, browse online, and breeze through applications using nothing more than their fingers.
Mobile Performer for Productivity and Entertainment
Outfitted with the latest 3rd Generation Intel® Core™ i3, Core i5 or Core i7 processors,the Aspire V5 notebooks deliver the performance that savvy consumers require for the most demanding tasks, whether running HD video, 3D multimedia or multitasking. On Core i5 and Core i7 versions of the Aspire V5, Intel® Turbo Boost Technology 2.0 is built into the processor, improving the system's performance and helping extend the battery life, providing users with a better experience for enjoying movies, gaming, and photo and video editing.
The 14- and 15.6-inch Aspire V5 notebooks also offer a built-in slim DVD drive for backing up data and burning music CDs along with a generous 500GB or 750GB hard disk drive for plenty of storage space for large files and applications.
Perfect for enjoying all forms of entertainment, the Aspire V5 Series notebooks offer cinematic display quality with HD CineCrystal™ widescreen LED-backlit displays. Featuring a true 16:9 aspect ratio and integrated Intel® HD Graphics 4000, the V5 notebooks deliver crystal-clear images and brilliant color for digital entertainment. In addition, high-definition audio support with Dolby® Advanced Audio® v2 delivers crisp and clear sound through the notebook's two built-in speakers. HDMI® enables the notebook to connect to an external monitor, projector or TV for presentations and big-screen enjoyment.
The Aspire V5 notebooks make it easy for users to enjoy their existing media library utilizing Acer clear.fi™, a simple digital entertainment solution to manage, store, share, and enjoy media among any DLNA enabled devices, in any room throughout the home.
The Aspire V5 notebooks feature an advanced 1.3 megapixel HD webcam perfect for video chats with friends and family. The built-in digital microphone supports the webcam to deliver excellent voice quality, while minimizing background noise and echoes.
Connectivity is "Instant" With the Aspire V5
Easy to use on the go, the Aspire V5 notebooks feature Acer Instant Connect, which automatically scans and registers most-visited Wi-Fi access points, letting users connect to the Internet in just 2.5 seconds, which is four times faster than conventional methods. Bluetooth® 4.0+ HS technology also lets users wirelessly connect their notebook to other Bluetooth-enabled devices such as phones, printers and speakers.
Featuring a USB 3.0 port, users can transfer files and movies with ease, including a 250GB movie in about 70 seconds. Users can charge external devices when the notebook is in sleep, hibernation or even when it's turned off. Transfer speeds will be up to 10 to 400 times faster than older generations of USB.
AcerCloud — Enables Devices to Communicate and Simplifies Content Sharing
The Aspire V5 series also ships with AcerCloud. This feature provides users with remote access to the digital data residing on their notebook via their Android tablet or smartphone. Not only can users access the data, but they can download and share it among their other PCs and Android devices anytime, anywhere, even when the Aspire V5 is in sleep mode. AcerCloud also makes it easy to take photos on a smartphone and then view them on the Aspire V5 notebook at home or in the office, without the delay and complication of manually transferring files.
ENERGY STAR® certified, the Aspire V5 Series conserves power and is environmentally-friendly.
Pricing and Availability
The Acer Aspire V5 series notebooks will be available for sale on October 26 at leading U.S. and Canadian retailers.
U.S. pricing begins at $749.99 for the Aspire V5-471P with touch support and starts $499.99 for the Aspire V5-571 without touch.
Canadian pricing begins at $699.99 for the Aspire V5-571P with touch support and $449.99 for the Aspire V5-171 without touch.