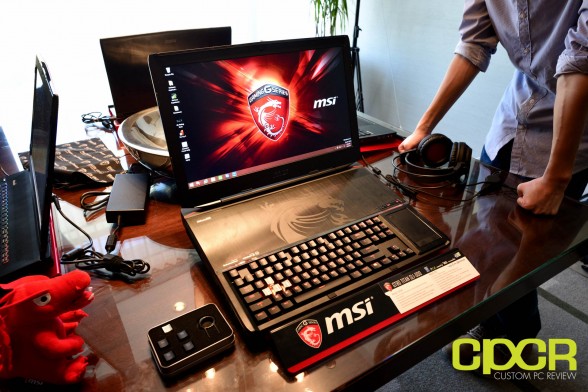 MSI has officially taken the crown for introducing the most badass gaming laptop of CES 2015 with their latest flagship gaming laptop, the MSI GT80 Titan.
As its name implies, the MSI GT80 Titan is not only big on size, but the hardware is among the most impressive I've ever seen crammed into a laptop chassis – if we can still call it a laptop. Boasting a 18.4″ FHD WideView TN display and weighing in at a whopping 9.9 lbs, the GT80 Titan challenges the very definition of what a laptop is and you don't have to look very hard to see where all the weight went either. The entire bottom half of the GT80 Titan is reserved for an integrated, SteelSeries Cherry MX Brown backlit mechanical keyboard. The MSI GT80 Titan marks the first time in history that a mechanical keyboard has been successfully integrated into a gaming laptop. We never thought it would be possible, but MSI has proved us wrong.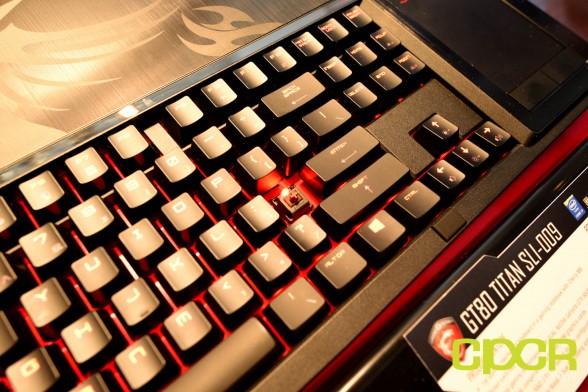 But, that's not all. It's only natural for something that's called a "Titan" to carry only the absolute best components and the MSI GT80 Titan isn't short on that front either. At the heart of the MSI GT80 Titan is a pair of Nvidia GeForce GTX 980M GPUs in SLI configuration, each with 8GB of GDDR 5 VRAM. It also makes use of Intel's flagship Core i7-4980HQ quad-core CPU with a meagre helping of 24GB of DDR3L RAM, expandable to 32GB via an additional 8GB SO-DIMM if that's an issue. Storage is covered by dual 128GB M.2 SSDs in RAID 0 configuration plus a 2.5″ 1TB HDD. However, MSI is making storage dead simple to upgrade and popping open the chassis revealed space for up to four SATA M.2 drives. It goes without saying that the 2.5″ 1TB HDD can be upgraded as well for those who need the extra storage.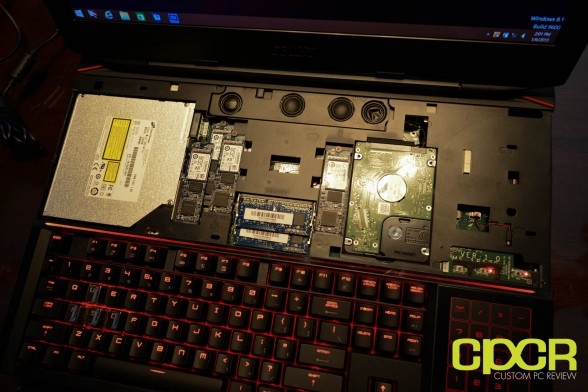 Retailing at a $3,799.99, the MSI GT80 Titan is titanic in price as well, but it is the only laptop on earth with a mechanical keyboard, and for those who need a certain level of performance in a semi-portable 9.9lb enclosure, the MSI GT80 Titan is really unparalleled.
Expect the MSI GT80 Titan to hit stores and boutique system builders soon. While you're checking out, you may also want to pick up the backpack MSI has specifically designed for this laptop. You'd be hard pressed to find another bag out there that can house this 18.4″ monster.
| | |
| --- | --- |
| Manufacturer | MSI |
| Model | GT80 Titan |
| Chipset | Intel HM87 |
| CPU | Intel Core i7-4980HQ 2.8GHZ (4GHz turbo clock) |
| Memory | 24GB DDR3L 1600MHz |
| Display | 18.4″ 1920 x 1080 Wide View Antiglare |
| GPU | 2 x Nvidia GeForce GTX980m SLI |
| Keyboard | SteelSeries Mechancial Cherry MX Brown Red Backlit Keyboard |
| Audio | Sound Blaster Cinema 2 |
| Speakers | Dynaudio Premium Speaksers w/ Subwoofer |
| Storage | 128GB M.2 SSD x2 RAID 0 + 1TB 7200 RPM HDD |
| WLAN | Killer N1525 Wireless AC |
| LAN | Killer E2200 |
| Connectivity | 5 x USB 3.0, 1 x HDMI, 2 x mDP, 1 x Mic-in, 1 x Headphone-out, SPDIF |
| OS | Windows 8.1 |
| Dimensions | 17.95″ (L) x 13.02″ (W) x 1.93″ (H) |
| Weight | 9.9 lbs |
| Warranty | 2 Years Limited Warranty (Includes 1 Year Global Warranty) |
| MSRP | $3,799.99 |