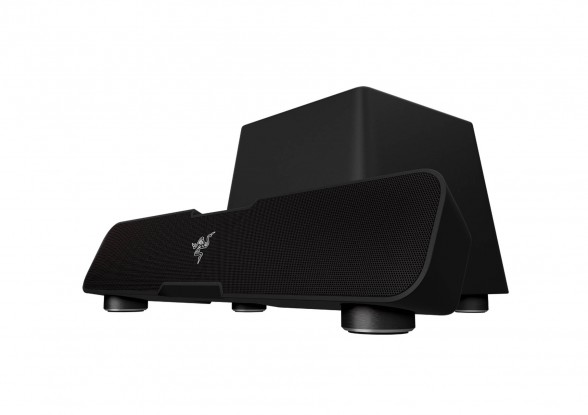 It's been several years since gaming hardware manufacturer Razer discontinued their last premium speaker offering (the Razer Mako), and it looks like they're finally ready to jump back in.
According to a recent press release, Razer is introducing the Leviathan which is unique in that it's a sound bar rather than the typical 2.1 speaker systems that typically saturate the PC speaker market today. Designed with versatility in mind, the Razer Leviathan will come in a two piece set containing both a sound bar as well as a subwoofer. Razer believes that the Leviathan could easily be used in a variety of scenarios such as desktop speakers or in a home theater.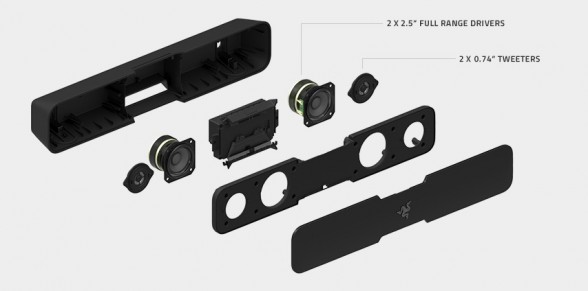 Internally, the Leviathan sound bar will include 2x 2.5″ full range drivers along with 2x 0.74″ tweeters while the subwoofer will include a single 5.25″ downward firing full range driver. For those who like the immersive experience that surround sound provides, Razer is also pre-packaging the Leviathan with Dolby Virtual Speakers, Dolby Digital and Dolby Pro Logic II virtual 5.1 channel surround sound technology.
"The opportunity to produce a precision-engineered surround sound solution for high-performance gaming, movie watching and music listening, and make it versatile to use in any setting, was a very exciting proposition for us," says Min-Liang Tan, Razer co-founder and CEO.  "The Razer Leviathan delivers what music aficionados, movie buffs and gamers alike are looking for to improve their entertainment setup."
Because the Leviathan is designed to be versatile, it also supports a variety of different connectivity options including the standard 3.5mm analog, optical, or Bluetooth 4.0. Razer is also including the Bluetooth 4.0 aptX codec which will allow users with aptX enabled devices to transmit higher quality sound which Razer claims is "…virtually indistinguishable from a wired connection".
The Razer Leviathan Sound Bar is expected to retail for $199 when it launches sometime next month. It's already available for pre-order on Razer's website as well, so be sure to put your orders in if you want to be the first to get your hands on this sweet new sound bar.