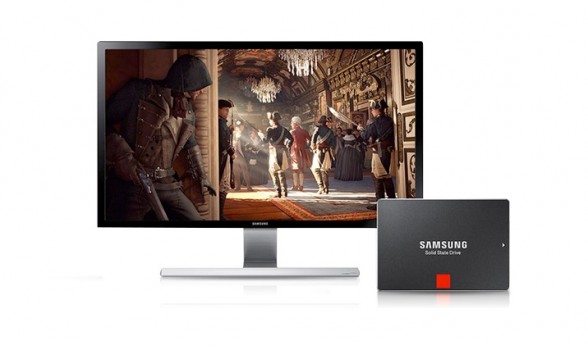 If you're looking for a new high end 4K monitor or SSD and you're looking forward to purchasing Assassin's Creed Unity when it launches next month, Samsung may have just the perfect bundle for you.
According to a new press release, Samsung will be bundling Assassin's Creed Unity with the purchase of a new Samsung U28D590D (UD590) 28″ 4K monitor or a 256GB, 512GB, or 1TB Samsung 850 PRO SSD.
"Our monitors create a one-of-a-kind, immersive gaming experience and our SSDs ensure quick load times and robust performance for drastically improved gameplay," said Ron Gazzola, vice president of marketing at Samsung Electronics America. "The UD590 premiere monitor and the 850 PRO SSD will bring Assassin's Creed Unity to life and allow players to experience the game in a completely new way. We're happy to be providing this extremely popular offering to our customers."
Considering Assassin's Creed Unity carries a $59.99 MSRP, this is a pretty good value, especially for those in the market for a new Samsung 850 PRO. The Samsung Assassin's Creed Unity bundle is expected to be available starting now at participating retailers.