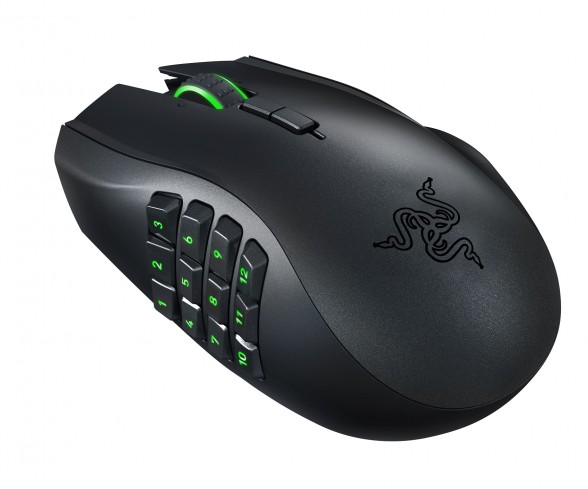 After launching the Blackwidow Ultimate Chroma gaming keyboard, Kraken 7.1 Chroma gaming headset, and Deathadder Chroma gaming mouse to great success, Razer is adding another iconic product to the Chroma lineup – the Razer Naga Epic Chroma.
In terms of hardware, the Razer Naga Epic Chroma appears to be identical to the Razer Naga Epic MMO mouse featuring 19 programmable buttons, a 12 button mechanical thumb grid, an 8200 DPI 4G laser sensor, 1000Hz ultrapolling, and dual mode wired/wireless capability. The Chroma edition will additionally tack on full spectrum LED lighting which allows fully customizable LED lighting with up to 16.8 million color options. Those who own multiple Chroma products may also sync the lighting on the products using Razer's Synapse software.
The Razer Naga Epic Chroma is expected to retail at $129.99 when it launches sometime next month. Those who want a sneak peek of the new mouse can be the first to see it at the BlizzCon gaming convention starting November 7.
More information on the Razer Naga Epic Chroma can be found at the Razer website here.