Phanteks is a name that has been making waves in the case industry, designing some highly innovative and really sweet looking cases. It also happens to be personally one of my favorite brands (I myself run an Enthoo Luxe). Earlier this week, they showed off several of their new cases at CES.
Eclipse P400 and P400S
The Phanteks Eclipse P400 is something for those looking for a full ATX case on a mid-range to low budget builds.
As a budget case, it does cut some corners as it's less friendly to those planning on installing custom loops, with the biggest concession to be made if you plan on installing the radiator on the top. The exterior of the case is still entirely made of metal, which is something we've come to expect from Phanteks. They've also included dust filters on the front, top and bottom after listening to customer and media feedback from the Evolv ITX from last year. The case also doesn't skimp on velcro cable ties nor the plastic accessory box we've come to love as well.
The case will be priced at relatively budget friendly $69.99.  The Phanteks Eclipse P400S which is the silent variant of the P400, adds soundproofing and a 3-speed fan controller. It will launch in February at $79.99.
Enthoo Primo Dual System
For those of you who remember the original Enthoo Primo, Phanteks first case they released back in 2013. Retailing at $250 they aimed to go right after the enthusiast market with some success. Phanteks is now releasing the Primo Dual System. This isn't the first case from Phanteks designed to house dual systems, their Mini-XL which was released last year. This one is a little different allowing a E-ATX motherboard along with a M-ITX motherboard. It also includes a power splitter and riser board for PCIe cards.
The Primo Dual system will be available March 2016 for $259.99
Evolv ATX Tempered Glass Edition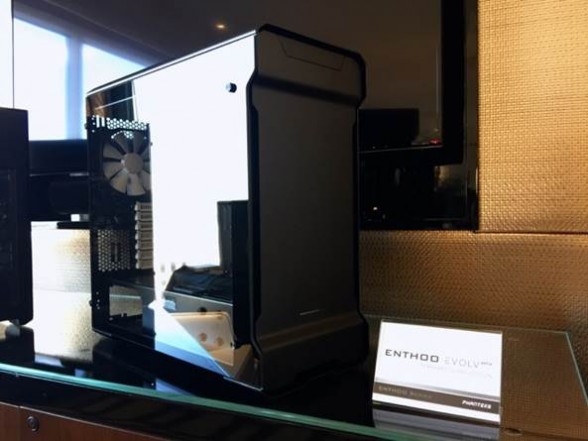 The Evolv ATX, which won numerous awards, has a new variant which comes with…you guessed it a tempered glass side panel. Hence "Tempered Glass Edition". We're quite excited for this one as well which will be released in March priced at $189.99
Project 916
The Project 916 is Phanteks codename for their next flagship case. It aims to satisfy all needs, with the ability to use both a 360MM radiator in the front as well as a 280MM radiator on top. Its chambered design and tempered glass panel are reminiscent of some InWin cases, and really does look quite awesome. It also supports dual systems for those who like to keep servers, rendering rigs, or HTPCs running in a single case.
The Project 916 is slated for a Q3 release and a price has yet to be announced. They have yet to finalize it so leave your feedback below with your thoughts!