Press Release
CM Storm Stryker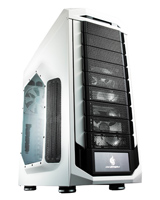 Cooler Master, an industry leading chassis, thermal solution, peripheral, and accessory manufacturer today unleashed the next step in warfare; the CM Storm Stryker full-tower chassis. Built to be a amongst the most agile full-towers, Stryker becomes the second in its class to include an ultra-strong carrying handle; allowing a gamer to travel with the finest system configurations available with relative ease.
CM Storm Stryker includes features that are most coveted by gaming enthusiasts in that it has a stylish glossy black and white finish on the case and included fans, windowed side panel, full dust filter coverage, a fan controller, an external SSD drive hot-swap dock and two uniquely designed modular hard drive cages. These features give CM Storm Stryker the ability to adapt to workstation or water-cooled gaming configurations easily.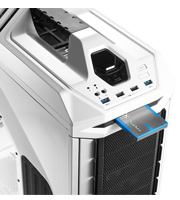 Cutting-edge Innovations
Things heat up as gaming becomes more intense. The included front panel connections and controls provide a user with the ability to make on-the-fly changes to fan speed and case LEDs while USB 3.0 and 2.0 ports, and audio connections are also provided as an added means of convenience.
This is topped off by a 2.5" HDD/SSD X-dock that makes mounting extra drives as easy as loading a Blu-ray/DVD. Changing settings at a moment's notice becomes a simple matter of a quick button press with CM Storm Stryker. Adding to this, case LEDs glow white to add to the overall feel of the new design.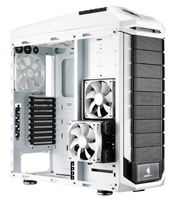 Versatile Configurations
CM Storm Stryker contains two modular HDD cages which can hold 4 HDDs and a 120mm fan for cooling each. These modular units can be rotated, front to back, side to side or removed altogether. It follows its sibling, Trooper, in that it allows fully modular hard drive configuration with no modification required. In addition, CM Storm Stryker can support multiple water cooling radiators.
It is even possible to creatively mount a vertical water-cooling radiator with the removal of the hard drive cages and panels. CM Storm Stryker has nine expansion slots providing support for multi-GPUs in SLI or Crossfire, space for up to 14 hard drives, and a motherboard tray that supports up to XL-ATX. The Stryker is an ideal mobile arsenal to house and transport the most advanced system and cooling setups.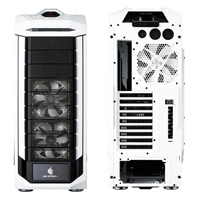 Cable Management & Storage
A professional cable management look is possible by utilizing the myriad cable tie zones and cable management holes available in the CM Storm Stryker. Smarter and larger placements of these areas allow for efficiently routing cables directly to their intended destinations. In an effort to reduce installation times, many types of hardware can be mounted tool-free via the use of the included locking mechanisms or trays.
CM Storm Stryker side panels have been greatly improved to provide an increased area for different cable management possibilities. Prepare for the unexpected as seasoned operative would with a hidden drawer placed behind a false panel. The bottom panel removes to reveal a storage drawer to keep private effects safe from prying eyes until they are needed.


The CM Storm Stryker will be available in June, 2012. Availability and pricing will vary based on geographical region.