The Best Video Editing PC Builds of 2019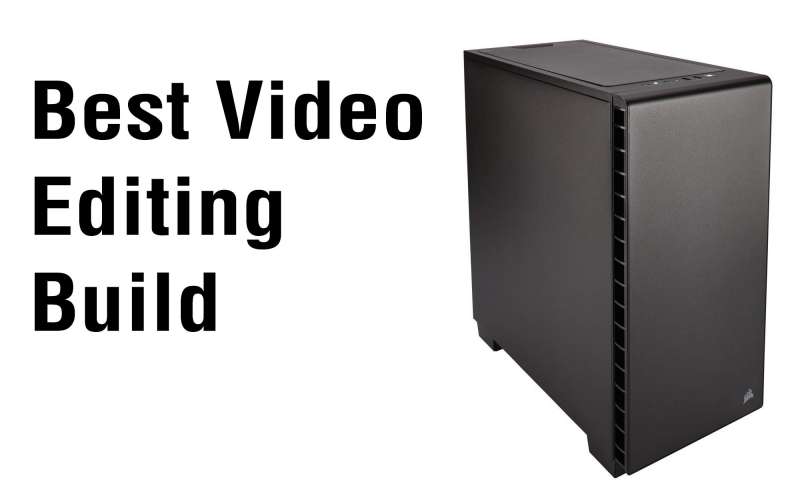 Welcome to Custom PC Review's Best Video Editing Computer Builds! Here's where you'll find PC hardware recommendations for putting together a video editing build that will help you render faster, create special effects, improve preview speed/quality, and more!
Below is a list of what we think are the best purpose built video editing computer builds by budget category. These video editing builds are based on the components we've recommended for our best workstation computer builds, but we've modified them in key areas to optimize the builds specifically for video editing.
As always, each piece of hardware is debated and picked by our staff after careful consideration of numerous criteria including price, performance and reliability. Further, the hardware must also be either reviewed by us or highly regarded by the computer hardware community to ensure that your video editing computer will not only be top performing, but is also the best value as well. Also keep in mind that this build guide is for reference only as hardware pricing and availability may change. We also highly recommend doing your own research and asking questions in the community forums so you can further customize each build to perfectly suit your needs.
Best Entry Level Video Editing Build (Budget $800 – $1,000)
The purpose of the entry level video editing workstation is to build a fairly powerful workhorse for amateurs and professionals on a budget looking for a system that can comfortably do basic 1080p video editing. The idea behind this build is something for people who want to simply add some transitions, add a few titles, do a voiceover, and render the video rather than those who'll be spending most of their time in After Effects working on motion graphics.
Best Mid Range Video Editing Build (Budget $1,000 – $2,000)
For those who want to do a bit more than the entry level video editing workstation can handle, the mid-range video editing workstation is going to be the sweet spot in terms of price and performance. The mid-range has plenty of power for video editing and will suit both those who need something for basic edits along with those who want to work with motion graphics, effects, color correction, and more.
Best High End Video Editing Build (Budget $2,000+)
If video editing is more than just a hobby and you need something that can handle any video editing project you throw at it, the high end video editing build is what you're looking for. This build can easily edit HD and 4K video without breaking a sweat, and render video quickly so that you can get more done in less time.
Video Editing CPUs
When it comes to video editing systems, the CPU is probably still the most important component of the build. The reason for this is because graphics compute such as Nvidia CUDA or OpenCL didn't really become very mainstream until just several years ago. As such, all video editing software fully support every function on the CPU, but with the GPU, some software only support a certain functionality such as just rendering or just previewing, or oftentimes GPU acceleration can be very buggy and unstable. Because of this, if you had to choose one, always favor the CPU a bit more.
As far as recommendations on the best CPU to choose for your next video editing system, both Intel Core and AMD Ryzen CPUs are excellent choices. As video editing is heavily multi-threaded, either option is very good although you may find that the AMD Ryzen mid-range builds can outperform Intel mid-range builds due to their higher amount of cores. That said, some users my instead opt for the Intel system for specific use case scenarios where certain applications may strongly favor Intel.
Consumer vs Workstation Graphics Cards
Many years ago, not very many video editing applications supported anything other than workstation graphics cards such as Nvidia's Quadro or AMD FirePro however, in recent years we've seen more and more video editing software begin integrating support for gaming graphics cards which are considerably cheaper. That said, support and compatibility with most video editing software will still be best when using workstation graphics cards, but those looking for mid-tier or entry level video editing builds will find the best value in gaming graphics cards.
Question about why we chose X and not Y? Ask us in our community forums! We'd be happy to make recommendations on alternatives for out of stock parts, alternatives on in stock parts, help on putting the entire system together, and even suggest you a 100% custom build fit for your needs if you'd like. All you have to do is visit our forums, register, and post in the appropriate section!
Also don't forget to join us on Facebook, Twitter, Google Plus, or YouTube to be updated on the latest news, reviews, tutorials, custom computer builds, and more!