Mesh: The Solution to Spotty Home Wi-Fi
Let's face it. If you live in a moderately sized house or you have a lot of wireless devices, home wireless will suck for you no matter how expensive or how well placed your router is. Up until recently, there were relatively few solutions. One solution was to place Wi-Fi range extenders which would help improve home Wi-Fi coverage. But using Wi-Fi range extenders have significant drawbacks such as the need to use separate SSIDs from the router, meaning clients need to disconnect and reconnecting to the range extender in order to use it, and range extenders typically utilize just one radio on one band which means wireless performance will drop by at least 50% when using a range extender. Another common option is to wire a house to use multiple access points however, this requires wiring a house which obviously isn't ideal.
As a result of traditional home Wi-Fi's shortcomings, manufacturers have recently begun introducing home mesh Wi-Fi systems which have seen great success in solving many of these issues by using technology that has traditionally been used in the enterprise. Today we'll show you what we think is the best mesh Wi-Fi system on the market today.
Netgear Orbi
Best Overall Mesh Wi-Fi Router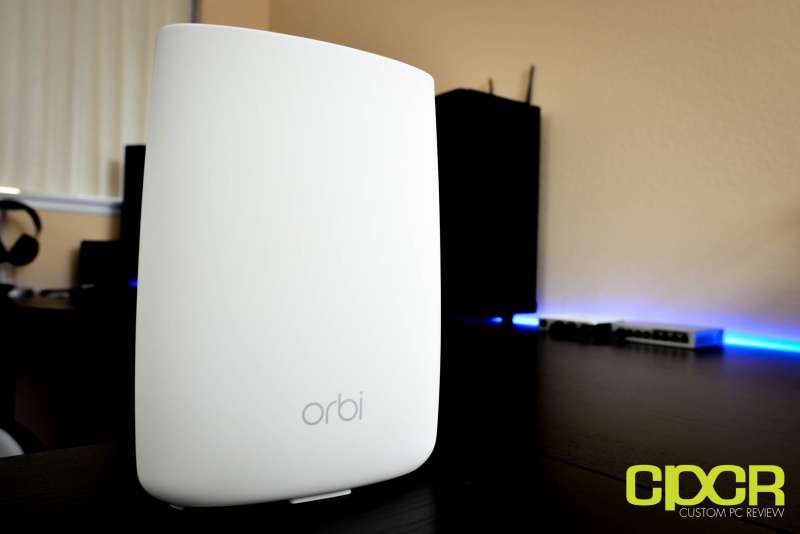 Hands down the best mesh Wi-Fi system we've reviewed to date is the Netgear Orbi. Unlike other mesh Wi-Fi systems we've tested, the Netgear Orbi features a dedicated 5GHz 4×4 MIMO network backhaul system which has been shown to provide significantly better performance compared to other mesh Wi-Fi systems which generally do not have a dedicated backhaul.
The Netgear Orbi is also quick and easy to setup and is much more flexible compared to other mesh Wi-Fi systems as it can be configured using multiple methods including a web browser or smartphone app. Of the mesh Wi-Fi systems on the market, the Netgear Orbi also has quite a bit more advanced features than the rest including the ability to configure it through both the smartphone and a web interface, VPN functionality, VLANs, DDNS, static IPs, parental controls and more.
The Netgear Orbi is currently available at Amazon.
Eero (2nd Gen)
Best Dummyproof Mesh Wi-Fi Router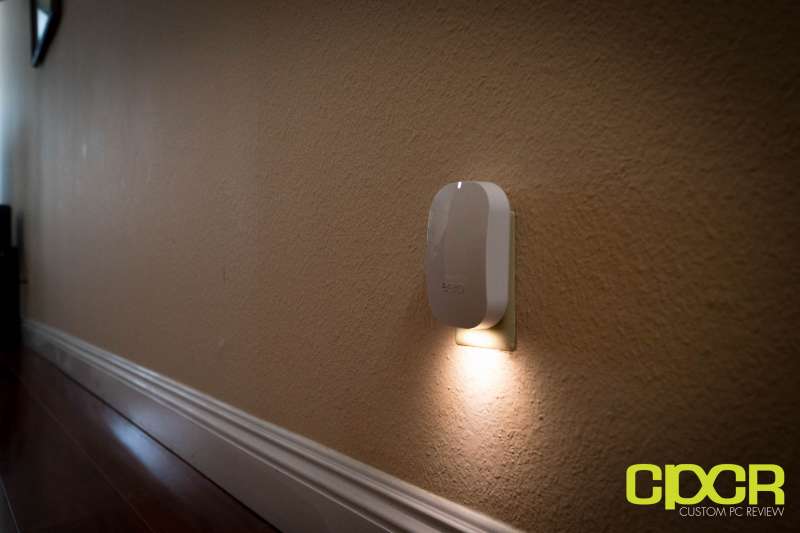 The runner up for the best mesh Wi-Fi system is the 2nd Generation Eero. While the Eero wasn't the fastest mesh Wi-Fi system or the most full featured, the Eero stood out as it had one of the easiest to setup, easiest to use systems that's so easy your parents could probably figure it out.
The Eero also stood out with great performance thanks to its three radios paired with a 2×2 MIMO antenna setup. For the 2nd Generation, Eero also released a new Eero Beacon which simultaneously serve as satellite units and also as a nightlight as well.
The 2nd Generation Eero is currently available at Amazon.
What about…
vs Ubiquiti AmpliFi HD
From the surface, the Ubiquiti AmpliFi HD looked like it could easily be the best mesh Wi-Fi system on the market with beautiful looks, an innovative design, and a highly successful enterprise networking group powering some of the best commercial access points on the market. However, ultimately the AmpliFi HD fell short due to slow performance and a lack of advanced features.
vs Linksys Velop
The Linksys Velop showed a lot of promise as one of the few mesh Wi-Fi systems featuring a tri-band radio setup, giving it a dedicated backbone network similar to the Netgear Orbi. Unfortunately, the backbone did not perform as well as expected with performance coming in significantly lower than we'd like. Additionally, we found the Linksys Velop's software was buggy and difficult to setup at the time of testing.
vs TP-Link Deco M5
The TP-Link Deco M5 was definitely one that we were looking forward to after we saw it at CES earlier this year. TP-Link has always been known to deliver excellent products with excellent performance at a reasonable price and the TP-Link Deco M5 delivered for the most part. However, due to buggy software and lack of some more advanced functionality, the Netgear Orbi and the Eero remain slightly better choices.
vs Google Wi-Fi
Like the Eero, Google Wi-Fi had one of the best software experiences of any of the mesh Wi-Fi router systems on the market and is easily a close third to the Netgear Orbi and Eero. However, as Google Wi-Fi's hardware hasn't been updated since its introduction, the system's dual band 2×2 MIMO system simply isn't able to keep up with the performance of the Orbi.
[divider]
Mesh Wi-Fi System State of the Union
August 2018 Updates
While mesh Wi-Fi routers continue to be extremely popular, most of the major networking equipment vendors have already released their mesh Wi-Fi routers and have for the better part of the last year refined their systems. That being said, we continue to stand behind the Netgear Orbi as our top pick in the mesh Wi-Fi router space for having the best features and highest performance. As a close second, the 2nd Generation Eero is also a close second with improved performance, the new Eero Beacon hardware, and an even better software experience.
July 2017 Updates
The mesh Wi-Fi system market is currently exploding with almost every vendor looking to get into the game.
Our top dog favorite mesh Wi-Fi system, the Netgear Orbi released a slew of new models targeting a lower pricepoint and different form factors. While the performance may be slightly lower than the original, these are still based on the same excellent technology of the Netgear Orbi. See the full announcement here.
Our runner-up the Eero is gearing up for Eero 2, which should be coming in the next few months. The new version has a host of new features chief among them a smaller form factor and more antennas for better performance. Eero will also introduce a new Eero Beacon for hallways and Eero Plus, a security subscription service designed to protect customers from security threats. Read more about Eeero 2 here.
Samsung recently released the [easyazon_link identifier="B06XSFCK55″ locale="US" tag="cupcre06-20″]Connect Home Mesh Wi-Fi[/easyazon_link] system which is an interesting product as it not only combines all the features of a mesh Wi-Fi system, but also includes Samsung SmartThings integration so you won't need to purchase an extra Samsung SmartThings controller for your SmartThings home automation devices. The Pro model features a 4×4 MU-MIMO antenna and what Samsung claims to be a maximum throughput of up to 1.7Gbps.
ASUS also released their [easyazon_link identifier="B073SGPY6M" locale="US" tag="cupcre06-20″]Lyra Mesh Wi-Fi system[/easyazon_link] which is a tri-band 2×2 MU-MIMO mesh Wi-Fi system with a dedicated backbone band. The full system features up to 2.2Gbps of maximum throughput. What's interesting about this one is that they're working with Trend Micro for a feature they call AiProtection which is an AI powered security feature that works in the background.
[divider]
Mesh Wi-Fi Sytem Buyer's Guide
What is Mesh Wi-Fi
Mesh Wi-Fi comes from the networking terminology mesh networking which essentially means a network with every member, or node, interconnected to each other. As such, all nodes can communicate with each other and in the event that one of the nodes should fail, traffic can simply be re-routed through another node until the failed node is brought back up again.
Mesh Wi-Fi networks work the same way. Typically, one of the nodes acts as a router and ideally is placed in a central point in the home. Then, mesh nodes are placed close enough to communicate with the router node, but far enough away so that it can cover a portion of the home. Each mesh node then connects to the router node as well as each other wirelessly in order to create a redundant backhaul network. The router along with the mesh nodes will then broadcast Wi-Fi to client devices such as smartphones, laptops, tablets, etc.
What are the Benefits of Mesh Wi-Fi Systems?
The biggest benefit to using a home mesh Wi-Fi system is that it's a simple way to provide seamless network coverage in a home with very little networking experience. Usually, setting up a home mesh Wi-Fi system simply entails plugging in a router node, putting satellite nodes around the house and setting everything up with nothing more than a smartphone.
Mesh Wi-Fi is typically also faster than your average router plus range extender combo because mesh Wi-Fi systems usually feature multiple radios with multiple antennas that communicate with each other. This allows for a faster connection between the nodes which ultimately results in faster connections between the nodes and their client devices.
Seamless wireless hand-off is also a feature that is typically found on mesh Wi-Fi systems, but not on a range extender. When using range extenders, typically multiple SSIDs will be set in a home and those going from one side of the home to another will need to connect to a completely different SSID to connect to the network. With mesh Wi-Fi systems, a single SSID is typically used for all of the nodes which allows seamless, uninterrupted Wi-Fi when moving throughout the house.
Finally for those with larger houses, range is also a big benefit with a mesh Wi-Fi system. Whereas a range extender can only rebroadcast signals from a router, mesh Wi-Fi systems can re-broadcast signals from any mesh node which allows for greater range.
What are the Drawbacks of Mesh Wi-Fi Systems?
The biggest drawback to mesh Wi-Fi systems is the cost. As every mesh node within a mesh Wi-Fi network is practically the same thing as a multi-band router, mesh Wi-Fi systems aren't cheap. Even two-node mesh Wi-Fi systems, will run you at least $250 while three-node systems will run you at least $350. Of course, for those who have long suffered with Wi-Fi deadzones in their homes, this is likely a small price to pay for something that finally works.
[divider]
Questions?
Question about why we chose X and not Y? Ask us in our community forums! All you have to do is visit our forums, register, and post in the appropriate section!
Also don't forget to join us on Facebook, Twitter, Google Plus, or YouTube to be updated on the latest news, reviews, tutorials, custom computer builds, and more!