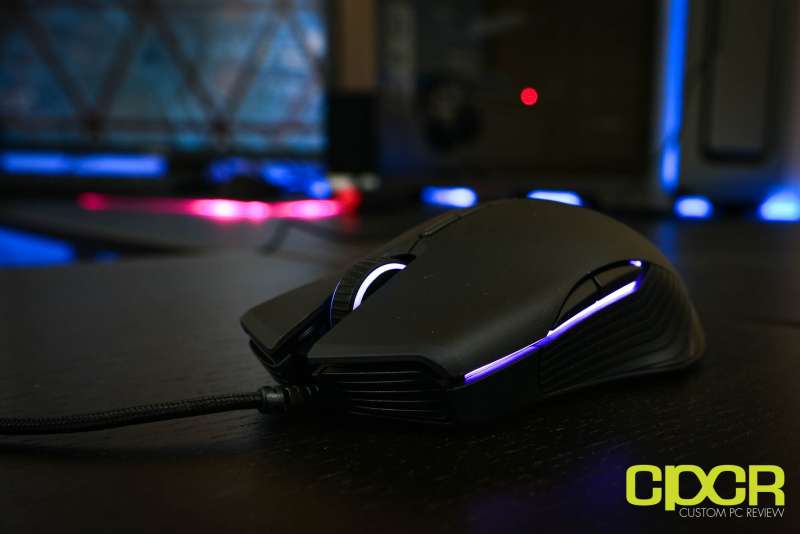 We all know that a powerful gaming rig is the baseline for competitive gaming. But in order to translate your honed gaming acumen into sensational victories, your peripherals must be on par. A quality gaming mouse can competently deliver your precise controls onto your opponents, elevating your winning chances.
In this guide, we'll be listing the best gaming mice on the market in 2019. Our gaming mouse guide includes what we believe are the best gaming mice for budget gamers, MMO/MOBA gamers, FPS gamers, and more!
With that said, finding the perfect mouse can be challenging. With options galore, you can lose yourself in research for days and still struggle to produce an answer. We've compiled a list of our favorite gaming mice to hopefully save you some time.
The Best High-end Gaming Mouse
Logitech G900 Chaos Spectrum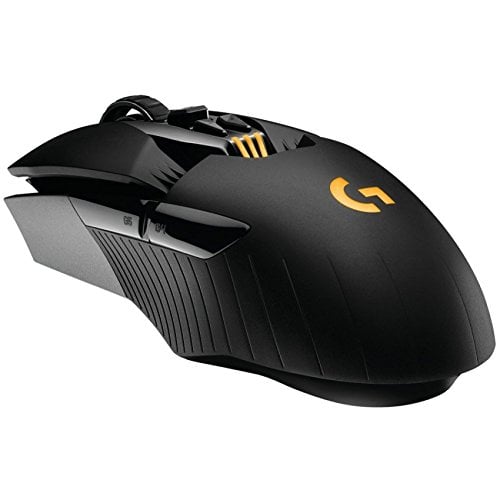 The Logitech Chaos G900 represents the best of the best of Logitech. Bar none, only the highest-grade components went into this mouse.
A good sensor is the foundation of any best gaming mouse. Logitech outfitted the G900 Chaos Spectrum with the Pixart PMW-3366 optical sensor which is one of the best sensors on the market. Its highlights include zero filtering, smoothing, and zero acceleration across its entire 12,000DPI range.
Unlike most other mice, the Logitech G900 Chaos Spectrum does not have its button covers attached to the shell of the mouse. Instead, they're mounted on mechanical pivots supported by springs. This improves durability, keeps the weight of the click consistent throughout the mouse's lifetime, and reduces the pre-travel distance between the buttons and the switches.
Besides having 11 programmable buttons, the side buttons on the G900 Chaos Spectrum is also swappable to accommodate right handed gamers. Being a top-end mouse, it of course has programmable RGB backlighting to maximize its presence.
Most gamers prefer the reliability of a wired connection, but some just can't live with the hassle of managing wires. The Logitech G900 Chaos Spectrum makes that decision a little easier with support for both wired and wireless modes. Plug your mouse in when gaming and go wireless when you're browsing the web.
If you've bought anything ever, you'd know that high-end stuff usually needs high-end dollars. Surprisingly, the Logitech G900 Chaos Spectrum is reasonably priced at well under $150. For what you're getting, that's a bargain and a half.
Click Here to Check the Latest Prices on Amazon
Best Performance Gaming Mouse
Logitech Proteus G502 Proteus Spectrum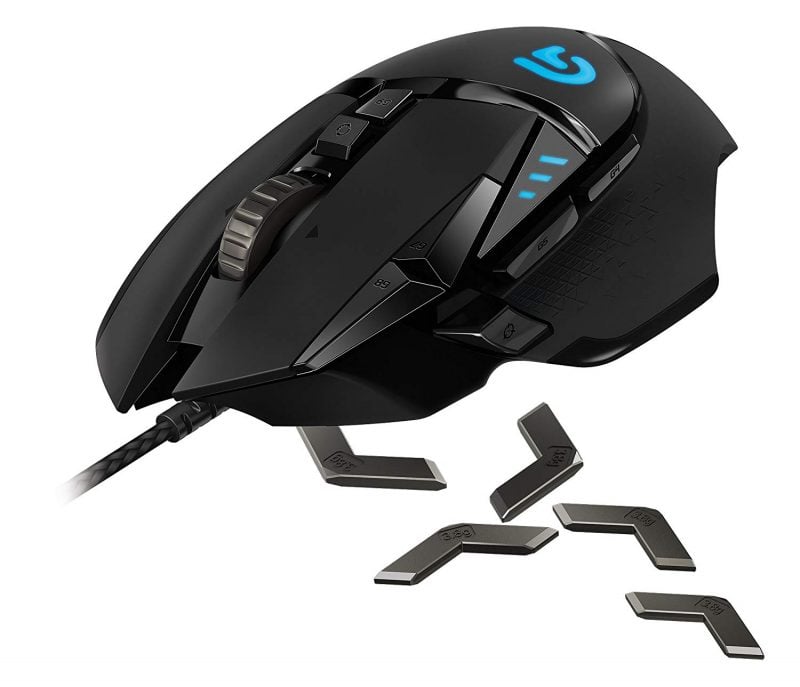 Compared to the Logitech G900 Chaos Spectrum, the G502 Proteus Spectrum sacrifices some features to bring the price down a notch, but even with that in mind, it's still one of our favorites. Here's why.
Though it lacks wireless capabilities and misses out on swappable buttons, the Logitech G502 Proteus Spectrum doesn't compromise on performance. It uses the Pixart PMW-3366 sensor which is the same one featured on the higher-end Logitech G900 Chaos Spectrum.
What's special about the Logitech G502 Proteus Spectrum is its jigsaw design is not only easy on the eyes, but it's also amazing for your hand. Its shape perfectly caters to any grip style. A thumb rest reduces friction by preventing your thumb from grinding against the mouse pad and there are 11 buttons onboard for you to program to your heart's content. You can also change the weight of the mouse by attaching the included weight pieces to the base for that perfect weight ratio.
At under $80, the Logitech Proteus G502 Proteus Spectrum is absolutely a steal. With its keen focus on the fundamentals, the Logitech G502 Proteus Spectrum condenses all that's good with a performance gaming mouse into a package that you will not regret picking up.
Click Here to Check the Latest Prices on Amazon
Razer DeathAdder Elite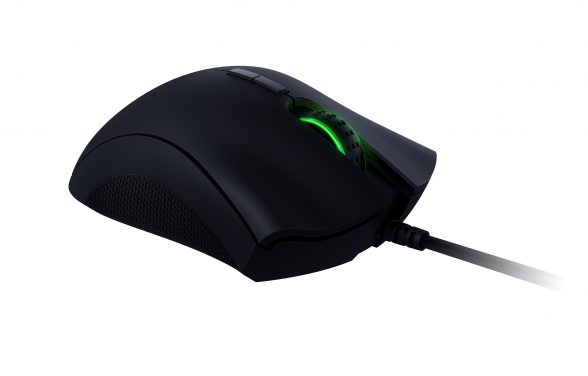 With so many great gaming mice on the market, it's impossible to just select one which is why for our latest revision of the buyer's guide, we're going with two best performance gaming mice.
The Razer DeathAdder which was originally released in 2006 is one of the most successful gaming mice ever produced thanks to its extremely comfortable design and its top notch sensor. The Razer DeathAdder Elite continues on the tradition set by the original DeathAdder and adds some needed modern touches including better materials, a significantly improved sensor, more durable switches, and RGB lighting.
By far the best thing about the Razer DeathAdder Elite is its time tested, ultra-comfortable shape, which will feel perfect for any right handed, palm grip gamer.
Of course, a great gaming mouse needs a great sensor and the Razer DeathAdder Elite definitely delivers on this front. Packed within the mouse is Razer's exclusive 5G Optical (Pixart PMW-3389) which supports up to 16,000 DPI.
At under $70, the Razer DeathAdder Elite is also well priced. For palm grip  gamers looking for a great gaming mouse to take you to the next level, the DeathAdder Elite is one you don't want to miss.
Click Here to Check the Latest Prices on Amazon
Best Budget Gaming Mouse
Steelseries Rival 110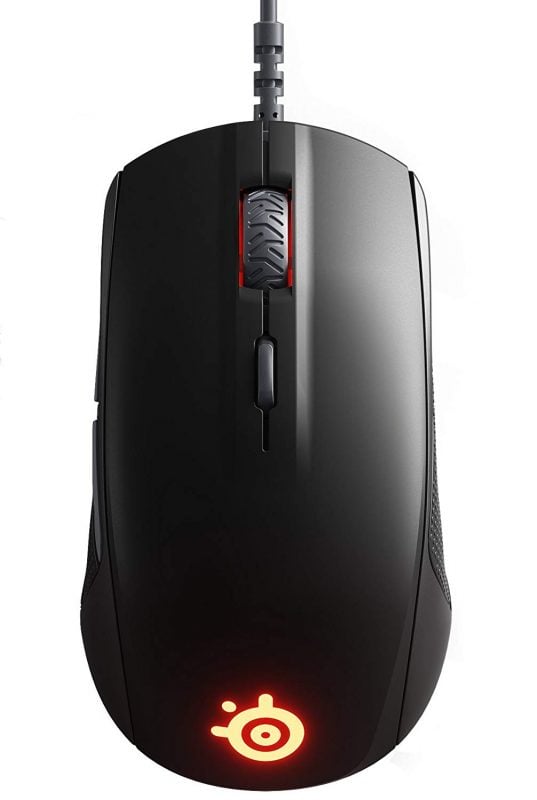 The Steelseries Rival 110 is dirt cheap, but its price doesn't reflect its performance. While it lacks some of the bells and whistles of the higher end gaming mice, it has a solid sensor and respectable value making it the best gaming mouse for those on a budget.
The Steelseries Rival 110 uses the SteelSeries TrueMove1 optical sensor. It only runs up to 7,200 DPI, but it's a very stable, flawless sensor with no jitter or acceleration. SteelSeries allows you to push that by applying a simulated 2x multiplier, but it's not recommended as it will introduce jitter and should be avoided at all costs.
At under $30, the Steelseries Rival 110 is bare on features. Despite that, it still does have side buttons, a DPI selector, RGB lighting, and textured grips applied to either side. Having fewer features also means a lighter mouse which helps to make movement a little quicker, but its light weight may not be so good for gamers who like to vent their frustration on their gaming gear. While it's not poorly made by any means, it doesn't feel like it can withstand a beating, either.
Click Here to Check the Latest Prices on Amazon
Best MOBA/MMO Gaming Mouse
Razer Naga Trinity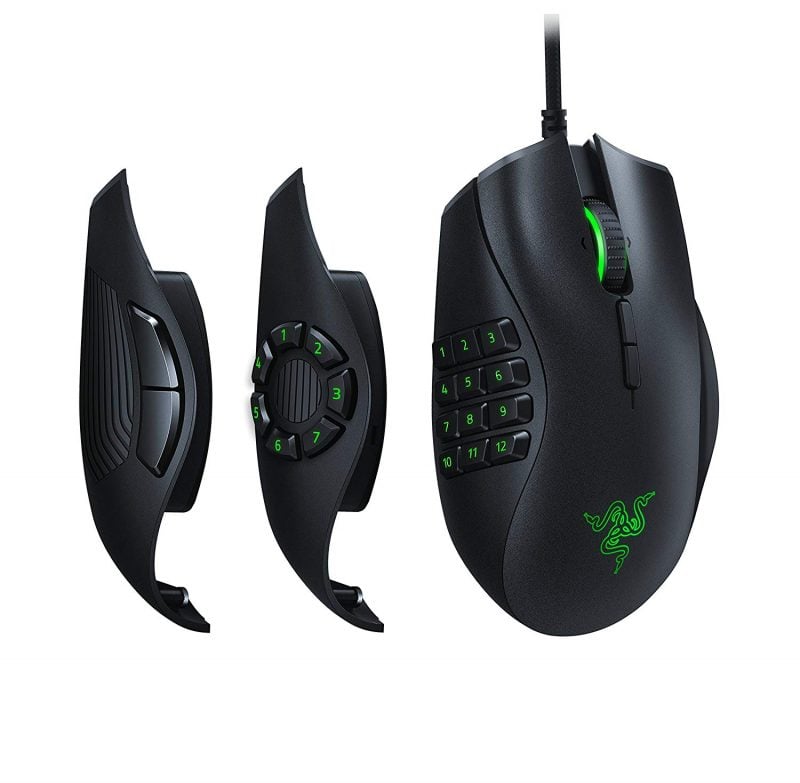 We were big fans of the original Razer Naga when it was first introduced back in 2009. Its 12 side button setup was uniquely impressive at the time and it instantly made it the go-to mouse for MMO.
However, having this many buttons isn't always a good thing. As MMO popularity has died down giving way to MOBA, having 12 buttons cluttered on one side not only made it difficult to find the buttons that mattered, it also introduced a steep learning curve. This gave way to the Razer Naga Hex which introduced the circular six-button setup which makes the buttons feel more natural to access. However, this still wasn't the perfect solution.
This then led to the Razer Naga Hex Trinity which allows users to switch between either a two side button, seven button, or twelve button to its side. Aside from the modular aspect, Razer also polished its looks, and updated the sensor to the Razer 5G optical sensor capable of up to 16,000DPI.
The spine of the Razer Naga Trinity is arched high to make room for the side buttons. It still does fine with finger or claw grip users, but it's most suitable for the palm grip. A matte finish adds traction and helps to keep your hands on the mouse.
Because of its somewhat specialized nature, the Razer Naga Trinity comes in at around $80. Those who have bought it or will buy it can rest assured that they have one of the best MOBA/MMO gaming mice available today.
Click Here to Check the Latest Prices on Amazon
Gaming Mouse Buying Guide
Sensor Types: Optical vs Laser
One of the most important things to look out for when choosing a new gaming mouse is the mouse's sensor. As you may imagine, this is important because the sensor is responsible for tracking the mouse's movement and a sensor that doesn't track movement properly could easily be the difference between winning and losing.
The first thing to look out for with a gaming mouse sensor is the sensor type. Generally, there are two major sensor types. This includes optical or laser. There are also older ball mice as well, but these are generally used for specialty ergonomic mice and therefore not recommended for gaming.
Both laser and optical gaming mice are quite similar in terms of its actual design. The primary differentiating factor between a laser and optical mouse is that the optical mouse uses an infrared LED while laser mice use Vertical Cavity Self Emitting Lasers, or to put simply, a laser. Both devices contain a CMOS image sensor which uses the light emitted off the LED or laser to track the mouse's movement on a surface.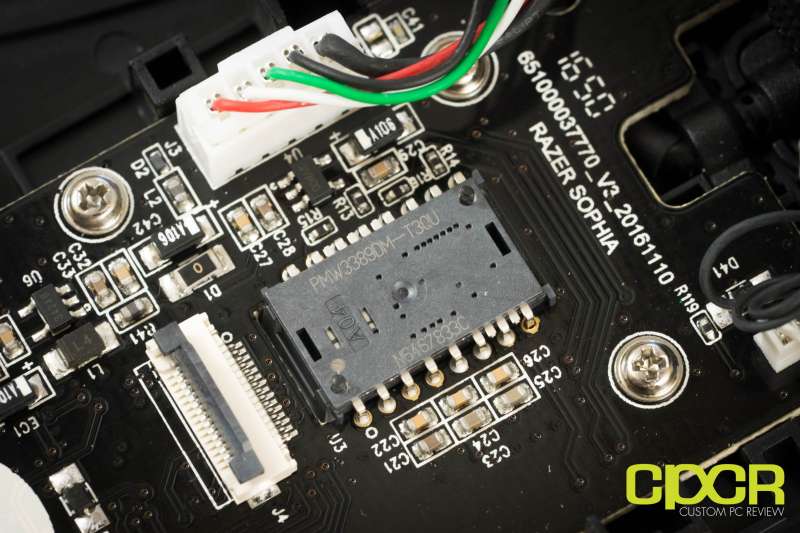 As optical sensors typically use infrared or red LED for illumination, these are much weaker than laser illumination and almost never penetrate the surface material. Because the beam stays shallow on a surface, it's much less prone to picking up ghost input however, does not track well on reflective surfaces such as glass.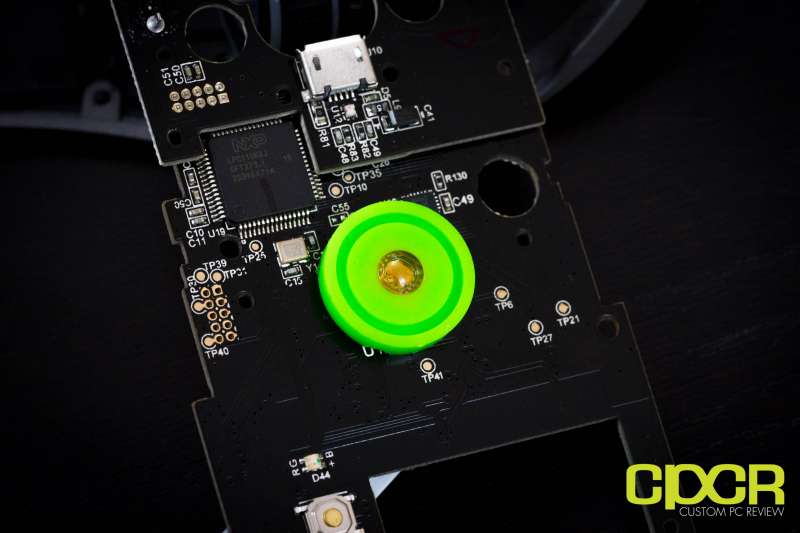 Laser sensors are relatively more powerful and can actually penetrate the surface deeper than an optical mouse. As a result, the powerful beam can be used in a larger variety of surfaces such as glass, but it can pick up the inconsistencies in the texture of the material causing ghost input.
Popular Gaming Mouse Sensors:
Pixart 3390 (Optical)
Pixart 3310 (Optical)
Pixart 3366 (Optical)
Pixart 9800 (Laser)
Philips Twin Eye (Laser)
Switch Types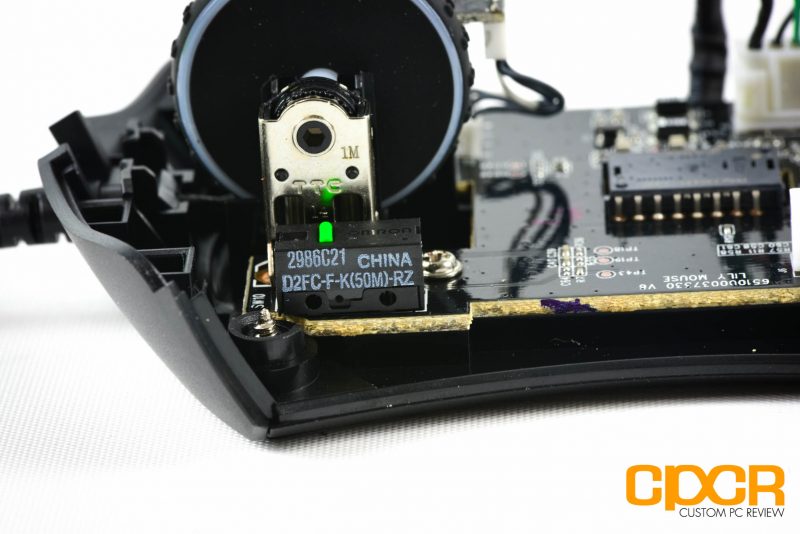 Gaming mouse switches are essentially the component underneath the button which registers the clicks. Good mice switches offer better consistency, tactility, responsiveness and reliability. The gold standard for gaming mice switches are Omron switches rated at up to 50 million clicks.
Form Factors
Right behind the sensors and the switch types, the form factor of the mouse is also an important consideration. Depending your your grip type, size of hand and gaming style, you may want a mouse of a specific shape and weight. The most important determining factor when it comes to the form factor however, is definitely the type of grip you plan to play with.
Claw Grip
Claw grip gamers use the end of their palm and the tip of their fingers to control their mice. Mice designed for claw grip tend to be short to medium length, average width, and slightly raised height.
Palm Grip
Palm grip gamers mostly rely on their palm to move the mouse, their fingers gently rest on the mouse buttons. Mice designed for palm grip are long and tall to support the user's hand and maximize contact area.
Fingertip Grip
As its name implies, the only part touching the mouse are the gamer's fingertips. Fingertip grip mice are generally very small.
Button Configurations
Most of us have the typical three or five button mice with the primary left and right buttons, the scroll wheel button, and maybe two buttons on the side. One consideration when it comes to a gaming mouse for those who play MMO or MOBA games is a gaming mouse with programmable side buttons.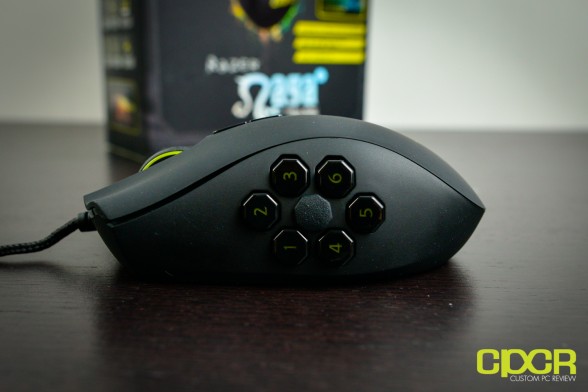 Side buttons can make your life a whole lot easier. Depending on what games you'll be playing, having all your common commands under your thumb can give you a massive competitive edge. Most FPS gaming mouse comes with two on either side, but MMO mice can push that up to 12 and more.
Wired vs Wireless
A lot of gamers know that that wired gaming mice is superior to wireless. Unlike wireless mice that have to deal with batteries, loss of signal, latency and interference, wired mice are completely wired into the system and do not have these types of issues.
Over the past couple years however, many of the bigger issues of wireless gaming mice such as latency, loss of signal and interference have been mostly resolved with the biggest issues being running out of battery. Further, wireless gaming mice require more parts to produce, so they're typically also pricier, making their convenience seem like a luxury.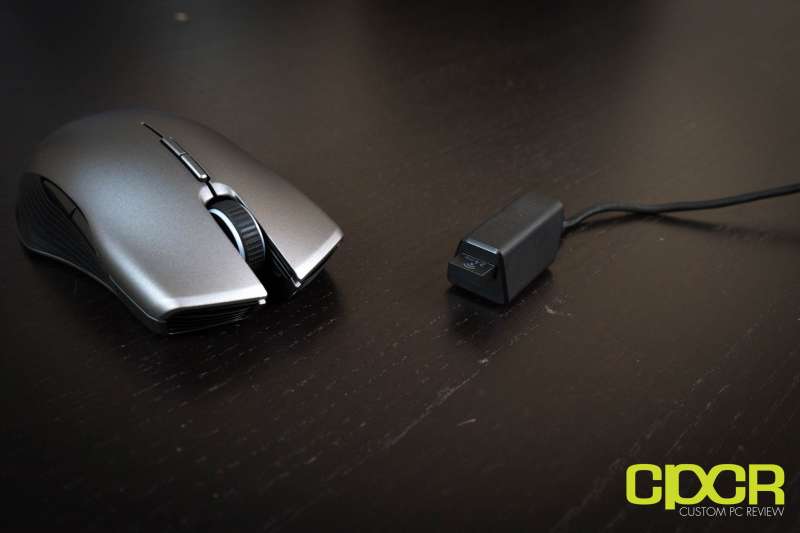 If you're looking to purchase a good wireless gaming mouse, don't buy cheap. Avoid Bluetooth whenever you can and get one from an established brand with proprietary connection method. Some notable wireless gaming mice include the Razer Lancehead and the Logitech G903.