Warning
: Undefined array key "width" in
/var/www/vhosts/custompcreview.com/public_html/wp-includes/media.php
on line
1381
Warning
: Undefined array key "width" in
/var/www/vhosts/custompcreview.com/public_html/wp-includes/media.php
on line
1386
Warning
: Undefined array key "height" in
/var/www/vhosts/custompcreview.com/public_html/wp-includes/media.php
on line
1386
Warning
: Undefined array key "width" in
/var/www/vhosts/custompcreview.com/public_html/wp-includes/media.php
on line
1381
Warning
: Undefined array key "width" in
/var/www/vhosts/custompcreview.com/public_html/wp-includes/media.php
on line
1386
Warning
: Undefined array key "height" in
/var/www/vhosts/custompcreview.com/public_html/wp-includes/media.php
on line
1386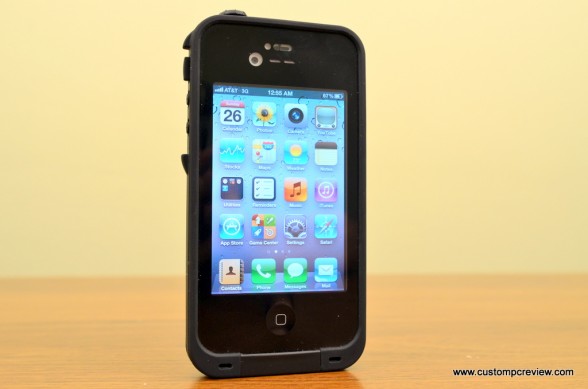 We spend a lot of time and money for the iPhones which, let's face it easily gets damaged whether it's the little scratches or full on cracks in the glass, it happens to the best of us (and somehow in a very short amount of time too!), which sucks because we spend a lot of money for such a fragile device. Oh and not to mention most of us are on that 2 year contract which is a big bummer.
LifeProof understands, and wants iPhone owners to be sure their phone is protected from, well whatever happens in life. They want to make sure your brand spanking new iPhone 4/4s is fully protected from the elements, accidents, and just pure stupidity. They want you to be able to take your phone anywhere you go, whether you're going for a jog, going snowboarding, or just going for a nice hot shower. Lifeproof is there for you.
So, as you can gather from that little spiel up top, we'll be taking a look at Lifeproof's iPhone case for the iPhone 4/4s. Is it really "life proof"? Let's find out!
A Closer Look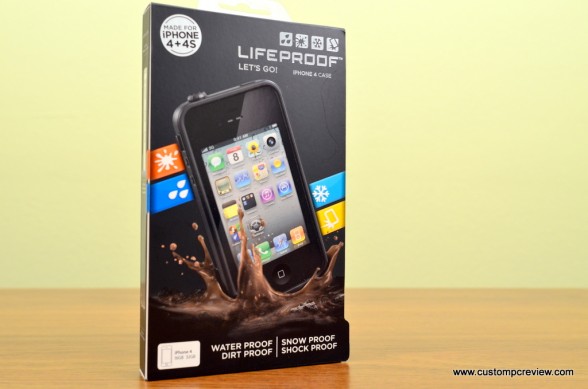 Here we have the front of the box. Looks like the iPhone is being dunked in chocolate milk or something. As you can see up top, this is compatible with both the iPhone 4 and iPhone 4S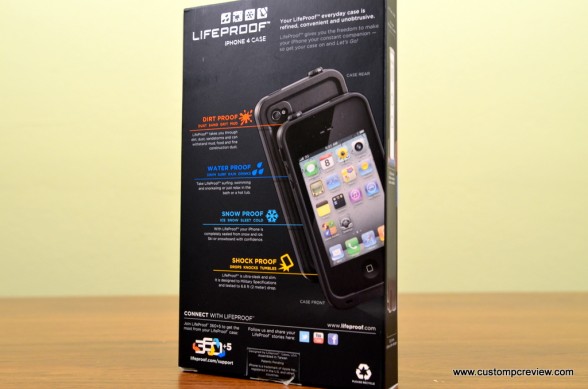 Around the back you get the 4 major "proofs". Dirt proof, water proof, snow proof, and shock proof. Sweet. Water proof.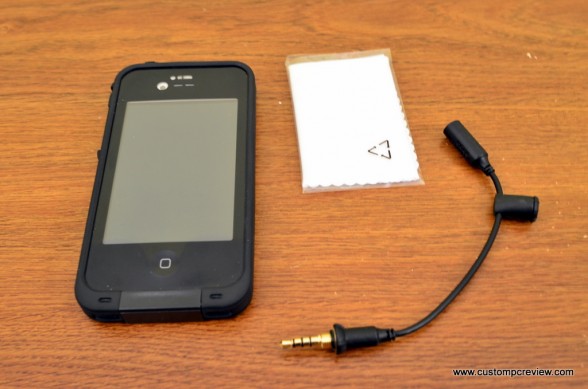 Inside, you get the case itself (Not the phone installed in there already!) A screen cleaning cloth, and a headphone jack extension cable.
Installation & First Impressions
Installation was fairly simple. I was going to explain the whole process, but that would be a waste of time. Why? Well, LifeProof has created an assortment of videos to guide you through the entire process. It's not very difficult to install, but make sure to do it right in order to ensure water doesn't seep into the case! Check out the video instructions here!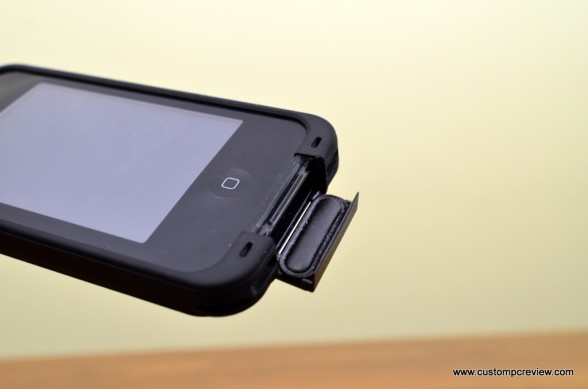 Once installed, the case doesn't need to be removed for charging. Because this flap is not detachable though, you will have difficulty using this with a dock.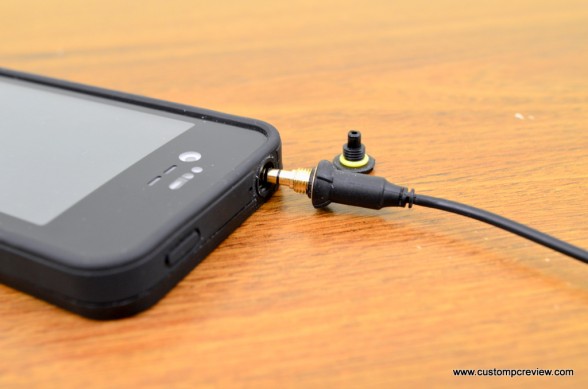 Up top, the headphone port cover can be removed and replaced with a headphone jack extension. This is necessary because the well into the headphone port is quite deep, so a lot of headphones will not work without this headphone jack extension plugged in. This is actually quite a pain in the butt for those who listen to music off their iPhones a lot. Having the little extension sticking out sucks and the headphone port cover is easily lost when not installed.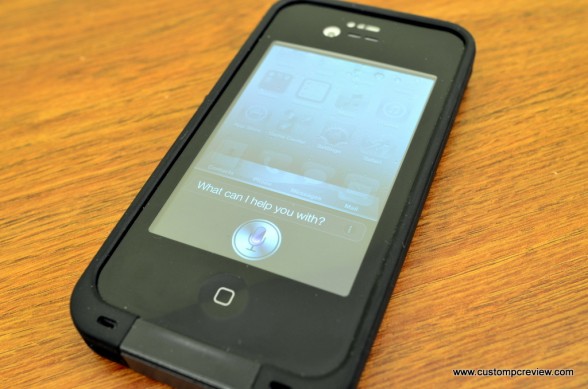 The entire screen will work through the case's protective covering. Unfortunately, it's a flat piece of protective material, so the area surrounding the home key will feel a bit weird. Not a big deal, but it is noticeable.
Testing
Shock Test
The case is rated for drops from up to 6.6ft. I dropped the phone a couple times on concrete from 4ft to 5ft and the phone (and the case) was perfectly fine. I have no doubts that the phone will survive a 6.6ft drop.
Water Test
For this test, I dropped my phone with the Lifeproof case on into a big jar of water and I had no issues whatsoever. You can take a look at the video demonstration below. The video quality is less than stellar, but you get the point. Unfortunately while underwater, the touch screen will no longer work as water is conductive, but the phone will still continue to function, so this will work for those of you wanting to record underwater using the iPhone.
Snow Test
I went snowboarding recently and decided it was the perfect opportunity to test the case in snow conditions. With the use of a Bluetooth headset such as the Jaybird Freedom JF3, I was able to listen to music and take phone calls while going down the slopes.  Unfortunately for me, it was both snowing and raining that day on the slopes and although I was completely soaked at the end of the day, my iPhone remained dry and undamaged thanks to the case. Go LifeProof!
Dirt/Sand Test
Thanks to living in sunny Southern California, I was able to go to the beach for this final test. Considering it had survived water, snow, and rain, I didn't think there'd be any problems with sand and there weren't. It was fine.
Conclusion
The Lifeproof Case for iPhone 4/4S accomplishes what it sets out to do. It truly does help the phone withstand anything life could possibly throw at it . With this case, you can rest assured your phone will not be damaged wherever you go (No, don't intentionally go throwing this off the 40th floor of your building). Additionally, it's surprisingly thin and light for all the punishment it could take. Definitely great engineering on LifeProof's part.
While this case is awesome, there are a couple limitations as well. These aren't problems with the case, just limitations that may affect certain people.
As mentioned earlier, you will have difficulty docking your phone into a dock. This means you may lose your bedside alarm clock or a speaker.
Plugging in headphones will be a challenge for those who do it often. Having to swap between the cap and the headphone extension gets annoying real fast. If you regularly listen to music off your iPhone, I suggest picking up a pair of high quality Bluetooth headsets such as the Jaybird JF3 Freedoms or the Sportsband SB2's.
Removing the phone from the case is a bit difficult and tedious, since you need to make sure not to break any clips that hold the case together. If you happen to break one, your case would instantly lose the waterproof ability. Additionally, you can only open and close the case a limited number of times before the water sealing degrades, so this case will not last you forever if you plan on doing a lot of underwater activities with your phone.
The case is also $79.99, so it is a bit pricey for an iPhone case. Of course, it does what it's advertised to do, and I don't think there are any other cases out there that can do what this one does.
I'd also like to see the addition of a belt clip, key ring or something of that nature. This case was created so that people could take their phones with them during outdoor activities but it'd be really nice to be able to secure it.
Bottom Line
If you've just locked yourself into a 2 year contract with AT&T for getting a new iPhone 4S for $199, the LifeProof iPhone 4/4S case is one case that'll make sure you make it to the next upgrade.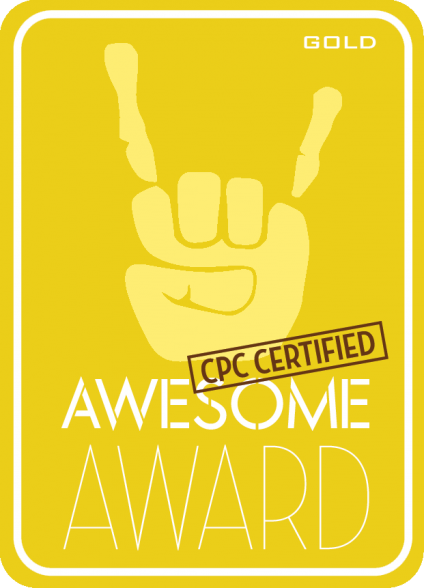 Special thanks to LifeProof for making this review possible.
The LifeProof iPhone 4/4S case is currently available at Best Buy. Black | White | Pink | Purple