HIS 7770 iCooler 1GB Review
Keep it iCooler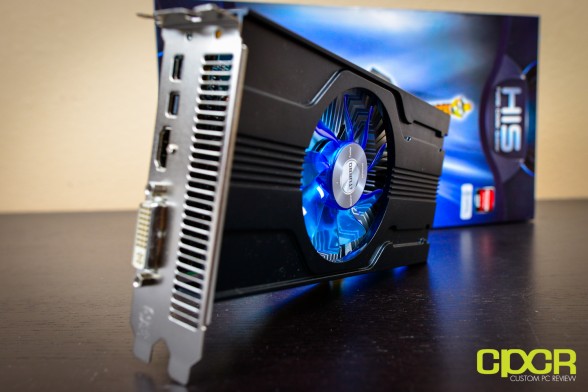 A couple months back, we reviewed HIS 7750 iCooler Edition graphics card, which we found to be an excellent graphics card offering high performance-to-price ratio, low power consumption, and had a much better cooling solution than the one found on the reference design.
Today we'll again be reviewing a HIS graphics card based off the AMD Radeon HD 7700 series and again it'll come with HIS's iCooler custom cooling solution. However, this time around, we'll be reviewing the more powerful HIS 7770 iCooler Edition graphics card, which as the name implies will be based off the AMD's Radeon HD 7770. Similar to the Radeon HD 7750, the Radeon HD 7770 relies on the same AMD Cape Verde GPU and is mainly intended to compete in the budget graphics arena. As with all the other Radeon HD 7000 series GPUs, the HD 7770 uses the 28 nm fabrication process, which reduces power consumption and heat output, while still maintaining extremely powerful graphics capabilities.
While the card itself is reference, HIS has included their custom iCooler solution with the 7770 iCooler we'll reviewing today. To be honest, I cringed when first saw the iCooler on the HIS 7770 as it seems more or less identical to AMD's reference design; however, if the HIS 7750 iCooler is any indication, the iCooler should do a fairly good job of keeping the 7770 iCooler cool as well.
HIS 7770 iCooler Specifications
| | |
| --- | --- |
| Chipset | Radeon HD 7770 PCIe Series |
| Manufacturing Process | 28nm |
| Stream Processors | 640 |
| Core Clock | 1000 MHz |
| Memory Clock | 1125 MHz (4.5Gbps) |
| Memory Size | 1GB |
| Memory Type | GDDR5 |
| Memory Interface | 128bit |
| Bus Interface | PCI Express 3.0 x16 |
| I/O | 2x Mini DisplayPort, HDMI, DVI |
| Warranty | 1 Year Limited |
| Purchase Link | Click Here |