[section label="Introduction"]
Introduction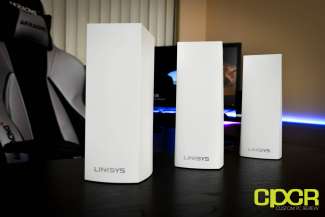 Back at CES earlier this year, one of Linksys's biggest announcements was their new Velop Mesh Wi-Fi System which is Linksys's first entry into the Mesh Wi-Fi market.
As we recently got our hands on a test unit, today we'll be reviewing Linksys Velop to see if it's actually lives up to its claims.
For our review, Linksys provided us with the Velop 3-Node Mesh Wi-Fi System. The Linksys Velop will also come in a one node or two node pack, but additional single nodes can always be added to the system to improve Wi-Fi coverage in the home.
Specifications
| | |
| --- | --- |
| Manufacturer | Linksys |
| Model | Velop |
| Wi-Fi Bands | IEEE 802.11 b/g/n/ac wave 2 (up to 6.6Gbps) |
| Radios | 3 (2.4GHz + 5GHz + 5GHz), Bluetooth (For Setup) |
| Antenna | 2×2 MU-MIMO |
| Ethernet Ports | Two 10/100/1000 Mbps Gigabit Ethernet (One WAN, One LAN or Two LAN) |
| Additional Ports | N/A |
| Security | WPA2 Personal |
| Additional Features | MU-MIMO, Port Forwarding, Guest WiFi, Parental Controls, Alexa integration |
| Dimensions | 78.74 mm x 78.74 mm x 185.42 mm |
| Warranty | Three years |
| Check Pricing | Amazon |
Looking at the specs, the Linksys Velop is quite impressive. Featuring up to Wi-Fi 802.11 ac wave 2 support, the Velop is one of the few consumer mesh Wi-Fi systems that feature a tri-band radio setup which includes one 2.4GHz radio and two 5GHz radios. This gives it the ability to dedicate one of the radios to backhaul only duty, freeing up the rest of the radios for client communication. Attached to the radios is a 2×2 MIMO antenna array which will allow for a maximum combined transfer speed of up to 6.6Gbps over Wi-Fi. The Velop also supports many additional next generation Wi-Fi features including beamforming technology and MU-MIMO (Multi-User MIMO).
One point of interest is that the Velop features a 3 year warranty, which is a good show of confidence as most consumer routers feature only a one year warranty.
[section label="A Closer Look"]
A Closer Look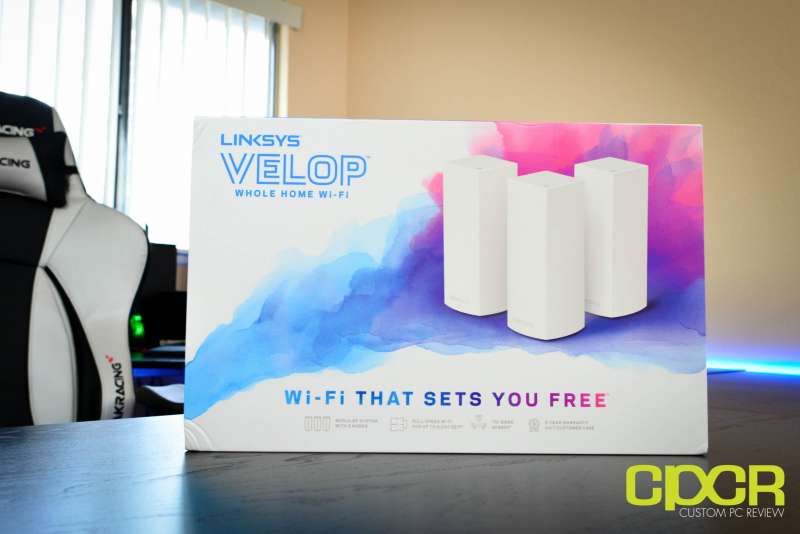 Here's a look at the packaging for the Linksys Velop Mesh Wi-Fi System. For our review, Linksys provided us with the 3-pack kit, but it's also available as a standalone unit or 2-pack kit.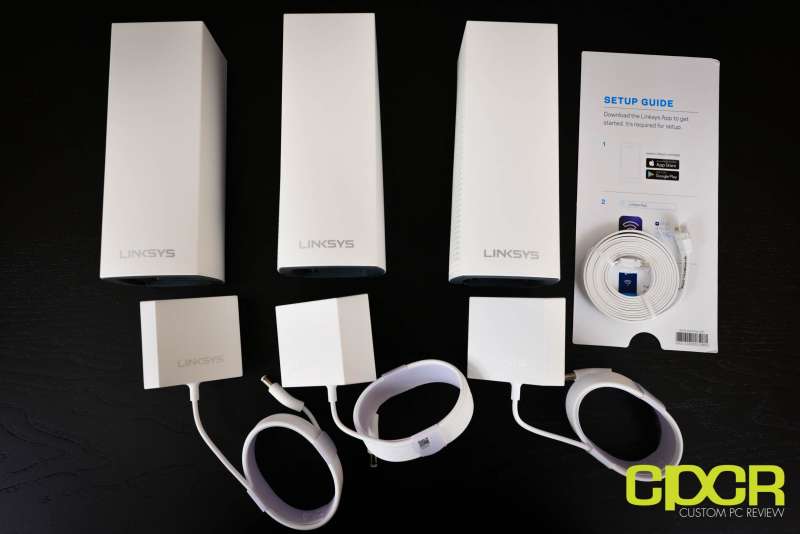 Included in the packaging is some very simple documentation, a flat Ethernet cable, three Linksys Velop nodes and three power adapters.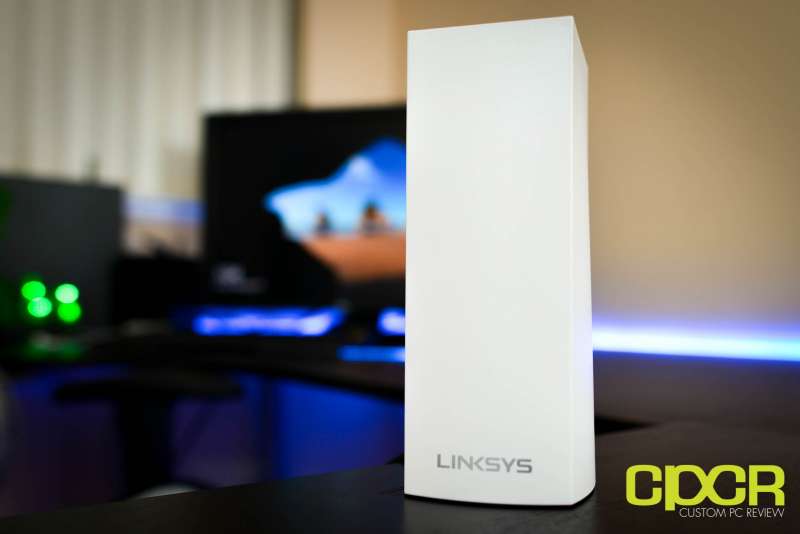 Here's a look at the Linksys Velop. It's a simple looking device that's essentially a white pylon shaped device that looks nothing like a traditional router. Half the device is filled with ventilation holes to prevent overheating while the other half of the device is a solid white. The Linksys Velop would fit well in any home and look quite inconspicuous as well. Dimensions on each node is 78.74 mm x 78.74 mm x 185.42 mm.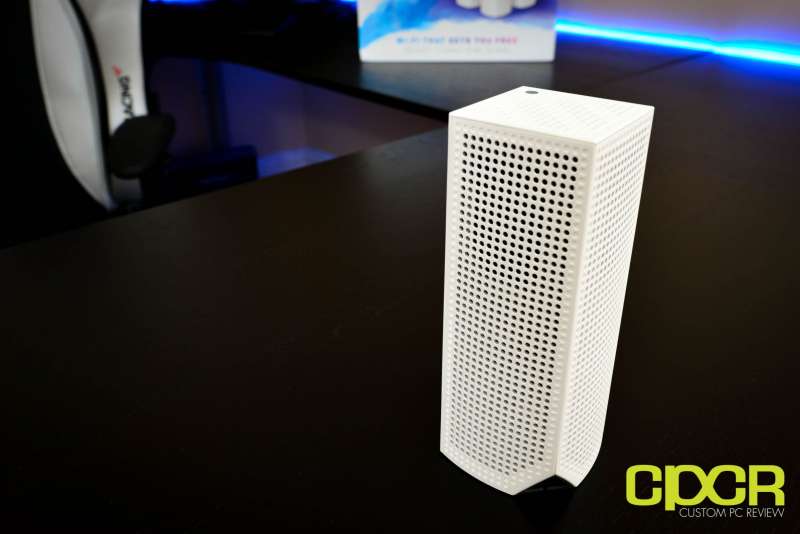 Inside the router is three radios: one 2.4GHz and two 5GHz. Each of these radios is then connected to a 2×2 MU-MIMO antenna setup.
At the bottom of the Velop is two Gigabit Ethernet ports, DC in port, a reset button, and a power switch. The device also features built in cable management to ensure cables are neatly tucked away. Depending on how the device is configured, the ports at the bottom can either be configured as one WAN and one LAN, or two LAN.
As such, the Velop is very flexible as all the nodes can be wired down so that every node can act like access points or each Velop node can be wired to other devices and act like a wireless bridge.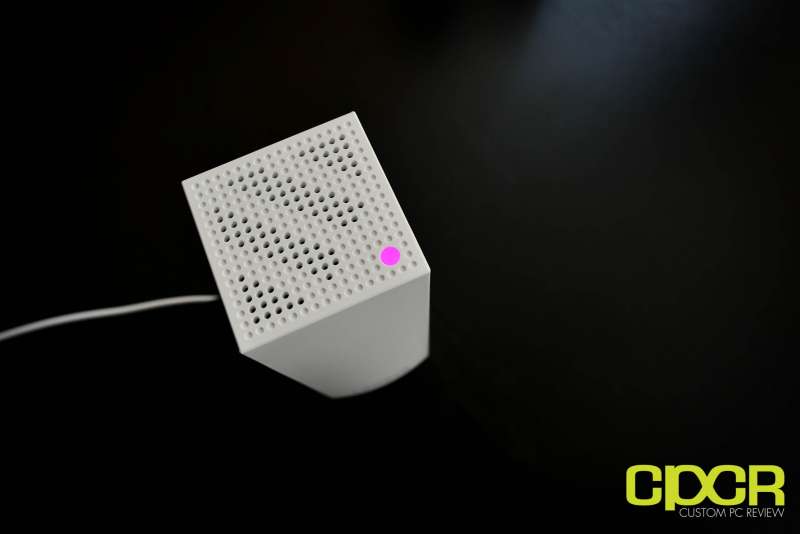 Here's a look at the Linksys Velop in action. It's actually a pretty boring looking device with just a single LED at the top which indicates its status.
| Light Description | Status |
| --- | --- |
| Blinking blue | Node is starting up |
| Solid blue | Node is working great |
| Blinking purple | Node is paired with phone for setup |
| Solid purple | Node is ready for setup |
| Blinking red | Node has lost connection to primary node |
| Solid red | Node has lost connection to the Internet |
| Solid yellow | Node is too far from another node connected to your Velop system |
[section label="Mesh Wi-Fi"]
Mesh Wi-Fi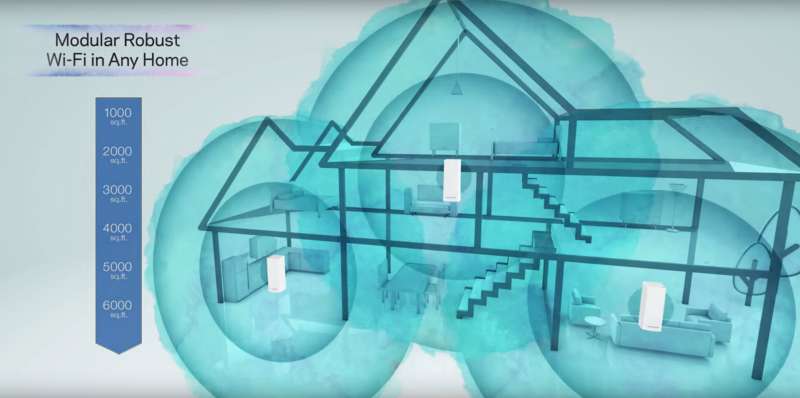 Here's a look at how the Linksys Velop Mesh Wi-Fi system works. Essentially a primary Velop node would be wired down while additional nodes communicate with the primary node and rebroadcasts the signal to ensure an entire location is blanketed with Wi-Fi.
What's beneficial about a mesh network over a range extender is that each device in the Velop mesh will sport the same SSID and allow seamless transfers from one node to another. Additionally, it will automatically pick which band to use and since they are all self healing, if one node drops out of the network, another node will pick up the slack.
[section label="Software"]
Linksys Mobile Software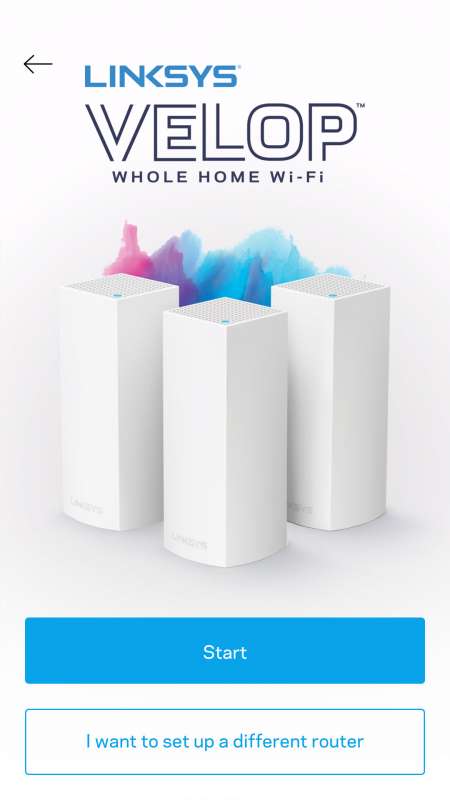 Like practically all of the other mesh Wi-Fi systems on the market, the Linksys Velop uses an app to configure the router and the additional nodes. The Linksys app is simply called "Linksys" and must be used in order to setup the Velop system. Linksys does not give users the ability to configure the router on a web interface.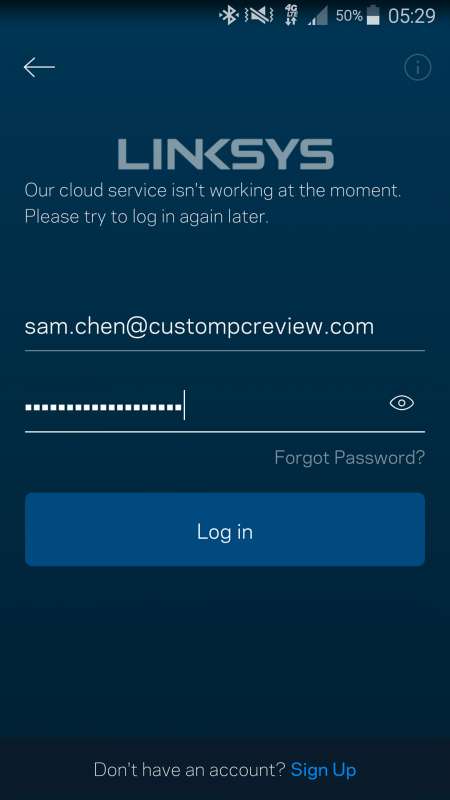 Strangely enough, Linksys requires setting up an account with Linksys in order to use the app and setup the router. For me, this was a huge point of frustration as during testing the Linksys servers were down, which prevented me from configuring the system.
The Linksys Velop configuration is done via a step by step walkthrough which may be helpful for novices who aren't familiar with setting up a new router. Those more adept in setting up a basic home network however may find the experience a bit more frustrating as waiting for the app to find the router and going through all the steps takes quite a bit more time than expected.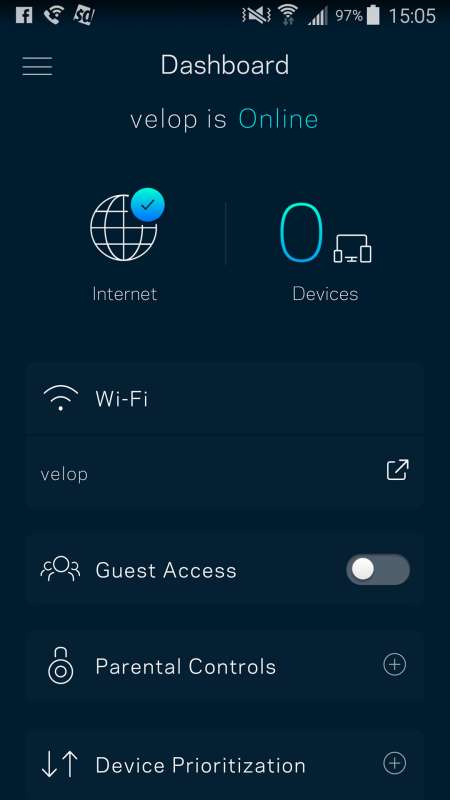 Once the Velop is configured to be used with the mobile app, here's what the main status screen looks like. The main functionality most home users would need on a router is right on the main screen of the app which is good however, it does lack some of the more advanced configuration options available to most routers. Unfortunately this appears to be a theme for many of the mesh Wi-Fi systems where features have been "dumbed down" so far that it's missing functionality many advanced users are looking for.
Within the app, different things such as the Wi-Fi settings, port forwarding, parental controls, monitoring, etc. can be configured. That said, many of the features are so basic that it almost seems like it was thrown in to check some boxes. For example, the QoS only allows prioritization of a device. There's no options to prioritize certain applications or ports. Similarly for parental controls all you can do is block specific URLs on specific devices and block specific devices altogether.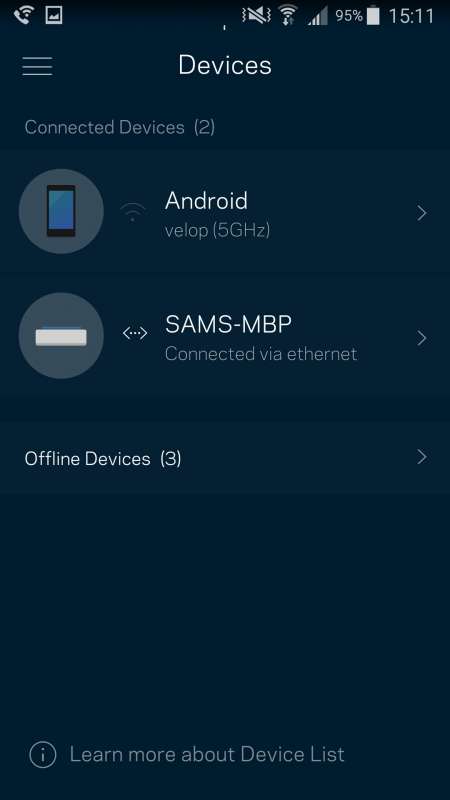 Additionally, the app feels a bit clunky and not as refined as it should be. Aside from the login issues I experienced when logging into the Velop's cloud interface, the app is also very slow and I also experienced strange issues from time to time such as the app reporting the wrong connection interface for my MacBook Pro.
[section label="Performance"]
Performance
Wired Performance
Wired performance is tested by connecting two systems, one server (Realtek 8111GR) and one client (Killer E2400), via their Gigabit LAN ports to the gigabit LAN Ethernet ports on the router. Transfer speeds between the two systems is then tested using iPerf 3.1.3.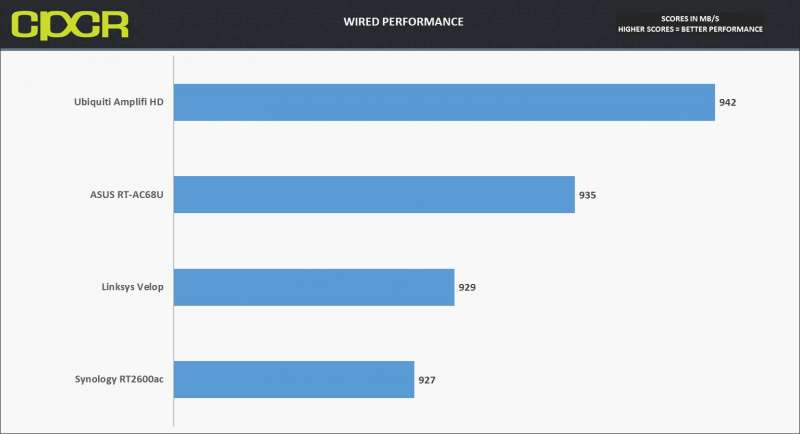 Performance Analysis
At 929Mbps, performance over the wired interface is very near the theoretical maximum.
Wireless Performance
Wireless performance is tested by connecting two systems, one server (Realtek 8111GR) and one client (Killer 1525). The server is connected via Gigabit LAN and the client is connected via Wi-Fi. Transfer speeds between the two systems is then tested using iPerf 3.1.3. Wireless interference is minimized as much as possible however, there are still quite a few neighboring Wi-Fi signals from other residences around the area.
Location 1
Location 1 is in the same room as the router with direct line of sight. Total distance between router and client is approximately 5 feet. Results of performance testing is in the 5GHz band which provides maximum performance.
Location 2
Location 2 is in the far end of a 1,500 sq ft two story, rectangular shaped house with the router placed in one corner of the second floor and the client placed in one corner of the first floor. Total distance between the router and client is approximately 40 feet with walls in-between. Results of performance testing are in the 5GHz band which provides maximum performance.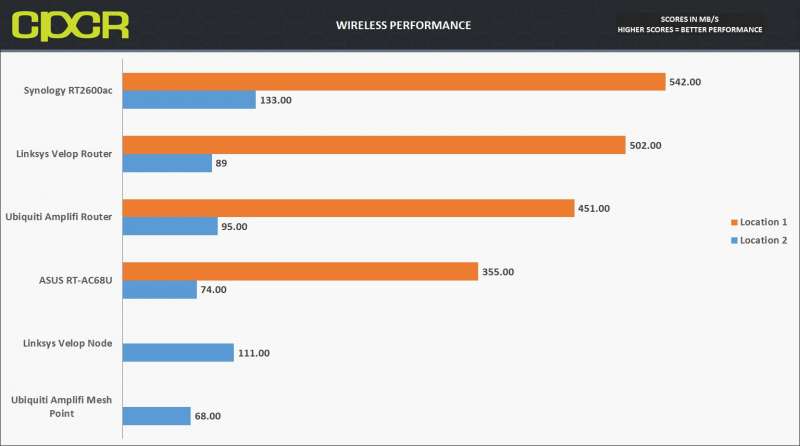 Performance Analysis
Performance in Location 1 was very good, reaching 502Mbps. The Linksys Velop is the highest performing 2×2 MU-MIMO router we've tested.
Performance in Location 2 was quite good as well. While using a single Velop node as a router was only able to provide us with 89Mbps, adding a second Velop node between Location 1 and Location 2 was able to increase performance to 111Mbps. This is due to the Linksys Velop's dedicated backhaul band, which is used solely for communicating with the other Velop nodes. Additionally, we can see that it far outperformed the Ubiquiti Amplifi HD's Mesh Points which was only able to achieve 68Mbps with its dual band setup.
NetSpot Site Survey
In order to test the Wi-Fi coverage of the system, I utilized NetSpot, which is an excellent free utility to produce Wi-Fi site surveys. According to the legend, red and yellow signify strong signal, green a good signal, and teal and blue a weak signal.
First Floor
Second Floor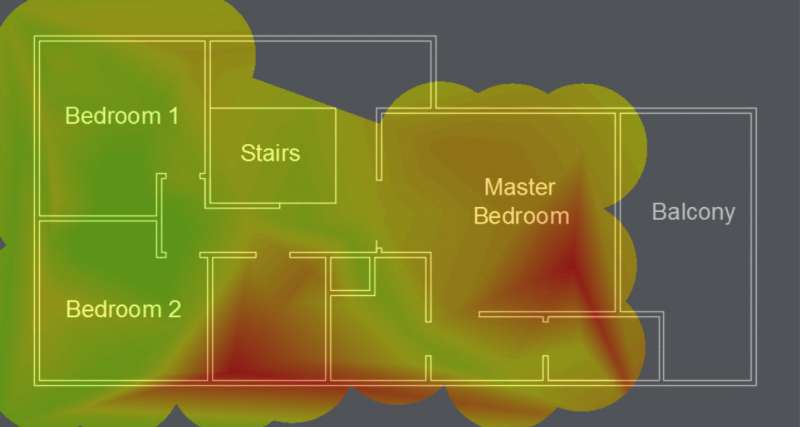 Looking at the survey, we can conclude that the Linksys Velop units are very powerful, easily covering the entire house with good or very good signal.
[section label="Conclusion"]
Conclusion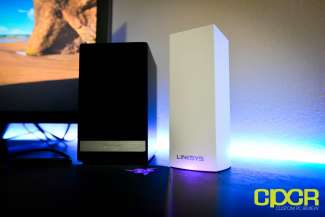 The Linksys Velop is a first entry for Linksys into the mesh Wi-Fi market and I think it's a decent entry. It's easy to use, performance is good, and it looks good while doing it. In the mid-sized condo I used for testing, the system was easily able to cover every square inch of the place with 100Mbps+ Wi-Fi coverage. That's pretty good in my book.
That said, it's not all roses and rainbows for the Velop as the software does need quite a bit of work. For example, making users setup an account just to login to the router is just about the worst idea I've ever heard of. There's absolutely no reason to make logging into a cloud service mandatory for setting up a router. None. Additionally, the software is also a bit slow and sluggish to use not to mention many of the advertised features are so basic that it's almost completely useless. While I understand the need to dumb things down for the average consumer, there should still be a way for power users to access more advanced settings.
Pricing on the Linksys Velop 3-Pack is currently around $484.99, which is in line with other mesh Wi-Fi solutions on the market. However, the Linksys Velop is a tri-band solution where many of its competitors are dual band only. Additional Linksys Velop nodes can be picked up for $199.99.
Overall I think the Linksys Velop is a good product and those those who want a simple set it and forget it mesh Wi-Fi system will find it an excellent solution. However, if you want your network to do more than just blanket your house with Wi-Fi, the Velop in its current state may leave you a bit wanting.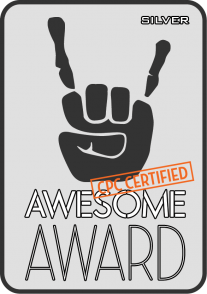 Sample provided by: Linksys
Available at: Amazon