[section label=1. Introduction]
Going in with a Bang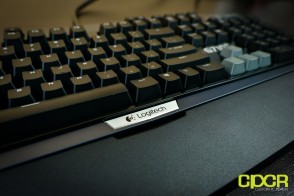 When we look at the computer peripherals market, there's always one name that you can't really forget – Logitech. For years, they've been producing amazing peripherals and with the emerging popularity of mechanical keyboards as of late, we've been left wondering when the computer peripherals giant would begin offering their own product.
For those still wondering then, wonder no more as today we'll be reviewing Logitech's recently introduced G710+ mechanical gaming keyboard, and as their first mechanical keyboard, it looks like Logitech has really pulled out all the stops for the G710+. Why do I say this? Well, the keyboard packs a number of killer features that make the G710+ a very competitive product. Some of these features include stuff like dedicated media and macro keys, individually lit white LED backlighting, Cherry MX Brown keyswitches with o-ring dampeners, and a game mode to name a few.
Still interested? You should be! Let's take a closer look.
Logitech G710+ Specifications
Tactile high-speed, mechanical keys (Cherry MX Brown)
Whisper-quiet keys
Adjustable dual-zone backlighting
6 programmable G-keys
110 anti-ghosting keys
26-key rollover
Instant media access
Game/Desktop mode
USB pass-through
Removable palm rest
Durable tilt legs
[section label=2. A Closer Look]
A Closer Look at the Logitech G710+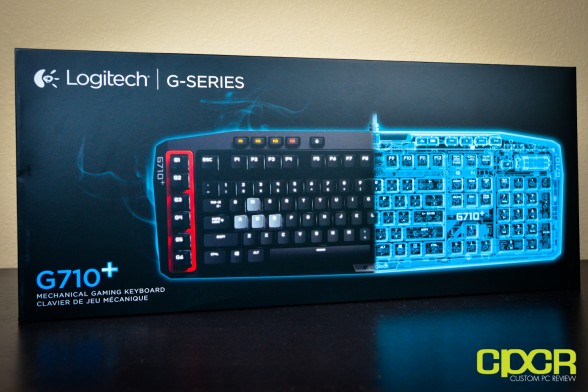 Here is a look at the box for the Logitech G710+.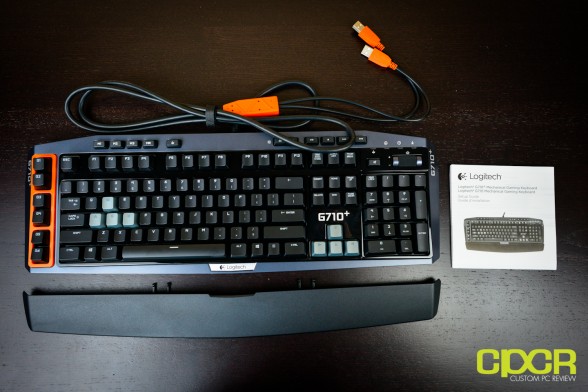 Included in the box is a set up guide, the keyboard itself, as well as a removable palmrest.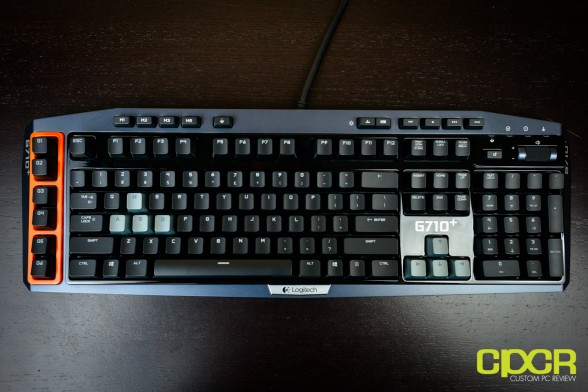 From a top down view of the keyboard you will notice that the keyboard is the standard North American layout  with its long shift, enter and backspace keys. The keyboard is constructed with durable plastic and should easily withstand a good buttonmashing session. One thing to note is that the plastic around the center of the keyboard is glossy. Why Logitech, why?!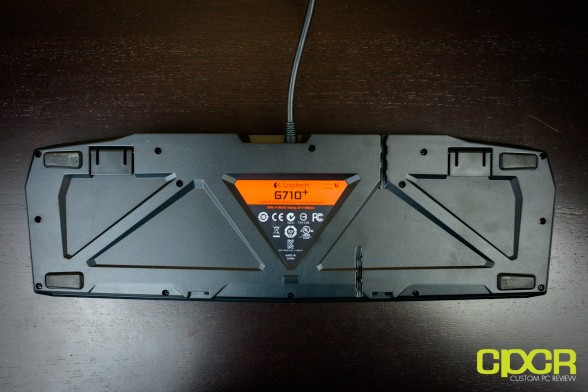 Taking a look at the back of the keyboard we see how Logitech has provided a combination of large and small rubber feet that provide excellent anti slipage protection for both normal use and intense gaming sessions.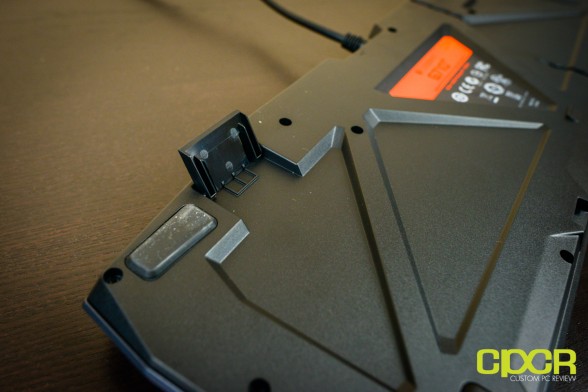 The Logitech G710+ also comes with two kickstands that allow you to elevate the keyboard to a higher position if you so desire however these stands are made of plastic and are not rubber coated to prevent slippage.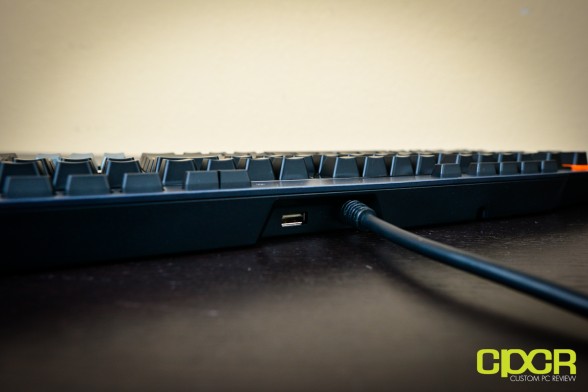 At the back of the keyboard, we get a single USB 2.0 passthrough. Although there's only a single passthrough, there are some benefits as it isn't limited in power draw compared to some keyboards that sport two (or more) USB passthroughs. That said, it would've been nice to see Logitech integrate a USB 3.0 hub rather than a single USB 2.0 passthrough to avoid this issue as USB 3.0 has the capability of supporting higher power draw.
Taking a look at the connectors we notice that the main cable splits off into two USB 2.0 connectors, one to power the keyboard and the other for the USB passthrough. The center of the cable also includes a velcro cable tie for those looking to carry the keyboard on the go. Unfortunately, the cable is not braided, but it's very high quality plastic, so it should withstand normal abuse just fine.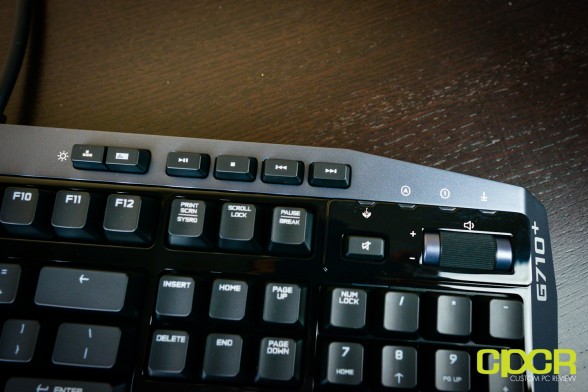 At the top right of the G710+ we find the dedicated media keys and volume wheel. The fact that they are dedicated makes it so much easier and convenient to change tracks and raise/lower the volume compared to competing keyboards that have buried the media keys as secondary functions requiring you to press the FN button to access them. At the top right you will also see two buttons that allow you to control the brightness of the LEDs. More on that later.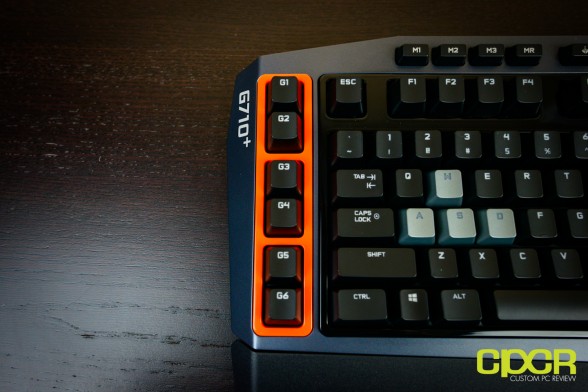 At the left side of the keyboard you will see the six dedicated macro keys. These macro keys are a convenient way for you to store presets and record commands as you desire. Logitech has done an excellent job by spacing the keys a bit further and making them more raised than the rest of the keyboard. Why is this important you might ask? Well on previous keyboards that I tested where the dedicated macro keys were in the same location I found myself accidentally pressing the macro key instead of the control key. Since the G710+ has  slightly raised keys I did not encounter this issue at all.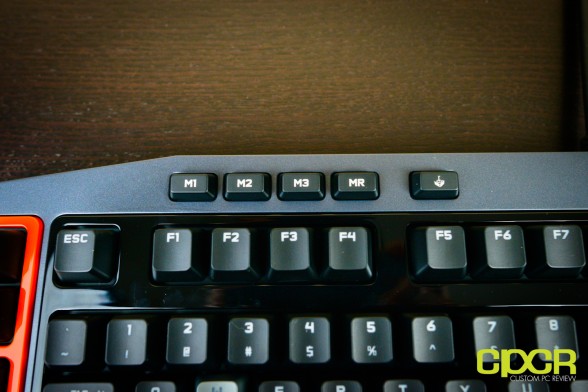 Focusing at the top left of the keyboard you can see the M1-M3 buttons that provide you with three different modes for the macro keys essentially  allowing you to have 18 unique functions per game. The "MR" button is the button responsible for starting and ending the macro recording. In this picture you will also notice the button that will turn game mode on/off. When the game mode button is switched on the windows keys will be disabled.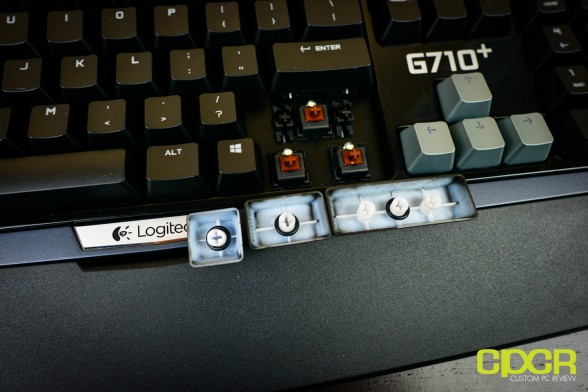 Taking some keycaps off of the G710+ we expose the Cherry MX Brown keyswitches Logitech is using for the G710+. For those unfamiliar with Cherry MX Brown keyswitches, these mechanical switches carry a 45 g actuation force, a 4mm actuation travel distance and are rated for 50 million actuations. In terms of feel and noise, the Cherry MX Brown switches are tactile switches so they will offer tactile feedback upon actuation, but do not make a clicking noise like Cherry MX Blue switches.
Looking under each keycap, Logitech has gone the extra step to install an o-ring on every mechanical switch on this keyboard. While this does not designed to reduce the noise of the switch, it does prevent the keyboard from bottoming out, which greatly reduces the noise of the keyboard when in use. Also notice that each key has its own LED, which should give the keyboard bright and even backlighting.
Under the the longer keys, (shift, space, enter, etc), Logitech is using Cherry MX stabilizers. This type of stabilizer I personally feel makes the actuation feel a bit different compared to the rest of the keys with the regular Cherry MX Brown switches, which makes pressing them feel slightly weird, but it's not a huge deal as it's only apparent on the longer keys. Personally, I'm more of a fan of Costar stabilizers, which offer much better feel than the Cherry MX stabilizers. For those interested in seeing what a Costar stabilizer looks like, feel free to check out our recent review of the Razer BlackWidow Tournament Edition mechanical gaming keyboard.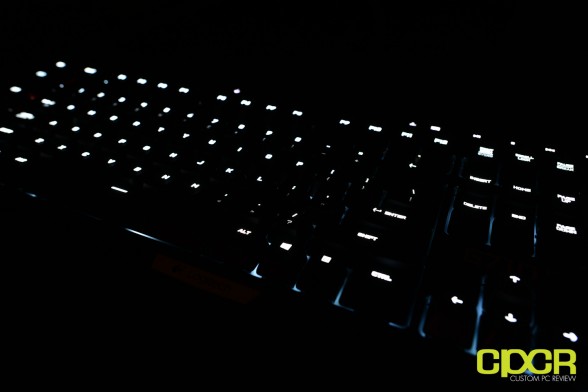 Plugging the keyboard in, we can see that the Logitech G710+ is backlit with white LEDs. This is the first keyboard we've seen with full white LEDs and I must say it looks amazing in both well lit conditions and especially in low light conditions. The LED brightness can be adjusted to four different levels and can be completely turned off as well. One interesting thing Logitech did with the G710+ is that they've given the WASD/arrow keys independent lighting controls from the rest of the keyboard. Those who enjoy gaming in complete darkness may appreciate having only these keys illuminated, or having these keys light up brighter than the rest of the keys.
[section label=3. Performance]
Logitech G710+ Performance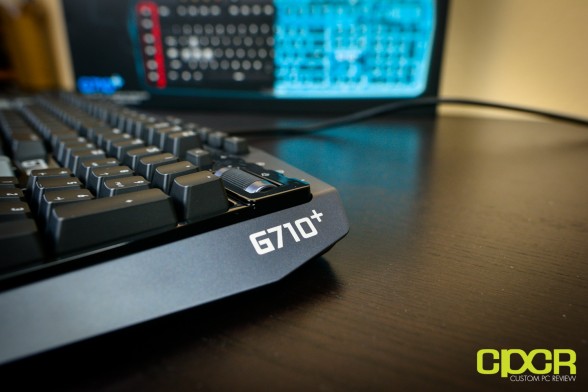 I am very happy to report that performance testing in a variety of games on the G710+ were very good, and I found no issues in everything tested. As I played Left 4 Dead 2 I saw no ghosting and even in the most hectic zombie rushes every key press was executed flawlessly. On my RTS test I found that mechanical keyboards were able to improve my APM and as a result I saw an improvement in my gameplay. The 26 key roll over from the G710+ allowed it to perform above my expectations on fighting games. Even as my buddies and I button mashed combos away on Marvel VS Capcom we saw our individual characters moves executed correctly and without an issue.
In terms of typing speed I usually run a couple tests to see what kind of typing speed improvement I get after switching over to the mechanical keyboard. After having extensively tested not only the G710+ but several other mechanical keyboards with Cherry MX Brown keyswitches, I am confident that you will see an improvement in typing speed. This improvement in typing comes as a combination of improved actuation feel as well as enhanced tactile feedback.
To test this, I scientifically did a number of typing speed tests on typrX first with the frame keyboard on my laptop (worst case scenario), then with the Logitech G710+ to see what kind of typing speed improvements I would achieve.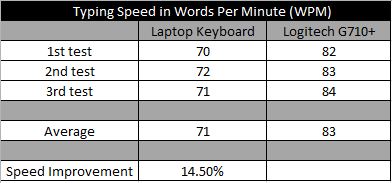 As you can see above from the tests performed, my typing speed improved by about 14.5%. This level of improvement closely matches those seen on all the previous Cherry MX Brown keyboards I have reviewed including the Cooler Master CM Storm Trigger and Cooler Master CM Storm Quick Fire Pro, and the Max Keyboard's Durandal G1NL.
[section label=4. Software]
Logitech G710+ Software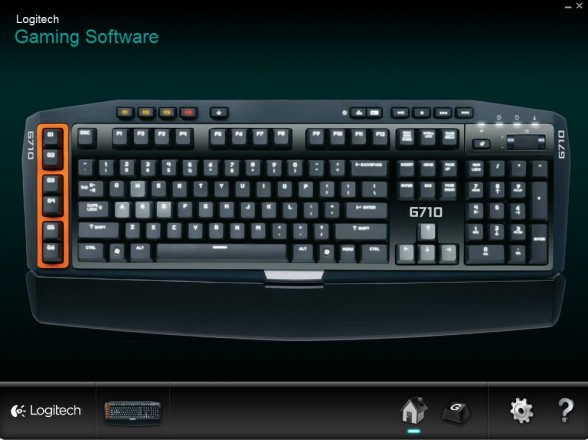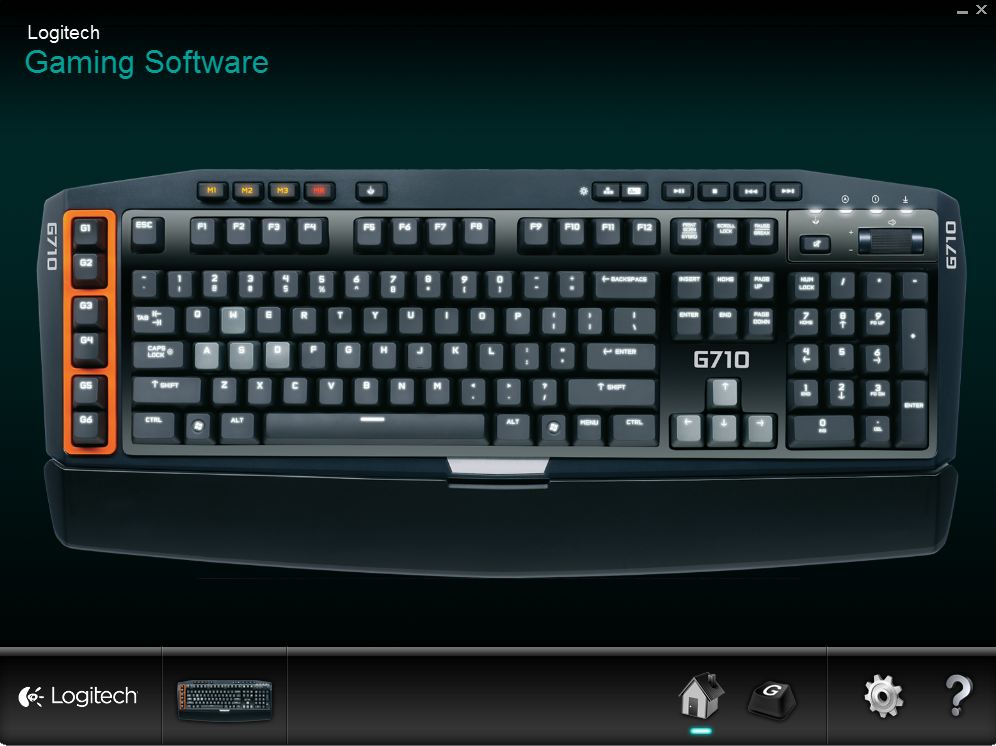 The software required to fully access the benefits of the macro keys must first be downloaded from the Logitech website. Once the installation complete and the software is launched you will be able to do much more than just record simple macros.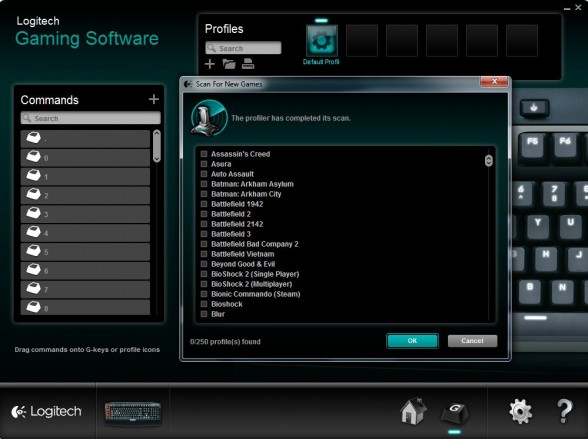 The first thing I noticed that was different than most keyboards offering macro keys is that upon installation you will be able assign macros to specific games from a drop list. If your game does not appear on that list don't worry you will still be able to add macros and save them for future references.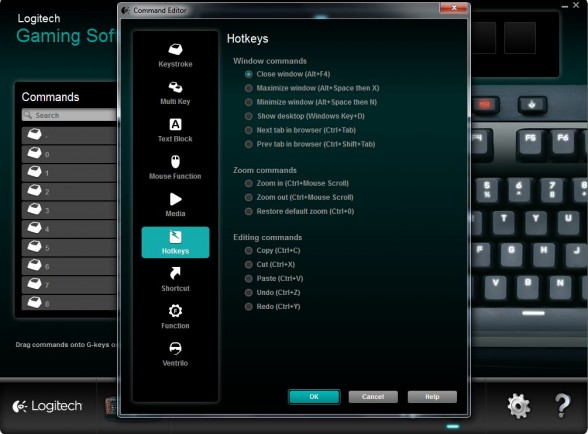 Once you have decided what key you want to assign, Logitech has give you a tremendous freedom to customize the macro key to your liking. The software comes stock with different functions, hotkeys and shortcuts but if you are still not satisfied with those you can always record macros on the fly by hitting the MR button, selecting the key you want, recording the desired actions and pressing the MR button one final time. Having the ability to record macros will prove quite useful for not only gamers but also any one who wants to improve in productivity.
[section label=5. Conclusion]
Logitech G710+ Conclusions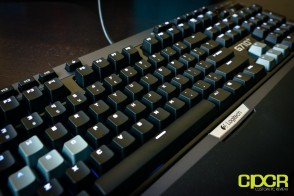 At the end of the day the most important aspect of a gaming plank is still its functionality so I found it fitting to begin the conclusion with its performance. I found that the single player experience was consistently solid and responsive across all genres (FPS, RTS, and  fighting games). I experienced absolutely no ghosting during my tests and all key presses registered swiftly and accurately even as my buddy and I scrambled to cram massive loads of commands in Marvel VS Capcom. Features such as the game mode and 26 KRO ensured smooth game-play without any annoying glitches or worries that key strokes would not be registered. The large and numerous rubber feet included on the underside of the keyboard ensured that it was anchored to the table and always under your finger tips.
In terms of typing performance, I experienced about a 15% improvement in my typing speed changing from the membrane keyboard on my laptop to the Cherry MX Browns on the G710+.  A couple months back I was quite skeptical about  a keyboard making any major difference in your typing speed, however after experiencing first hand the benefits of mechanical keyboards I am now certain that it can help improve the speed of anyone that already knows how to touch type reasonably well.   The inclusion of a detachable palm rest further ensures comfort during long typing sessions allowing you to not only type faster but also do it without wrist and arm pain.
The G710+ has also been designed with longevity in mind. Everything from the sturdy body to the 50 million life cycle Cherry MX Brown mechanical key switches have been made to withstand as much abuse you can dish out during any gaming session. Awesome features such as dedicated media and macro keys give the G710+ an advantage over the competition since many other keyboards manufacturers have decided to chop off these keys as non-essential luxuries to lower costs. In search for the perfect keyboard however, I consider all luxuries essential. As they say, a luxury once sampled becomes a necessity.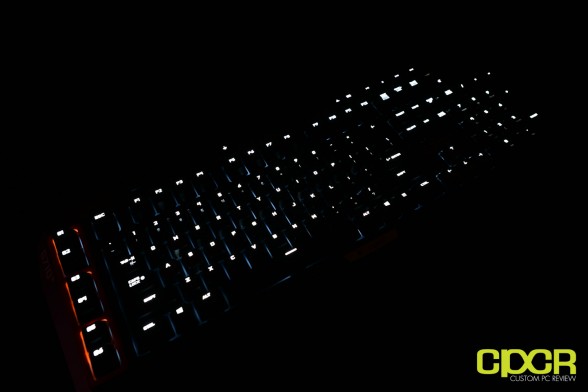 I also personally really like the look and feel of the G710+. Everything from the tapered edges giving it the look of a sleek fighting machine to the bright and even white backlighting further enhances its aesthetics. In terms of noise performance, the o-rings definitely do their job quite well. As I have a tendency to type like I hate my keyboard, I have received tons of feedback from people around me that they are much happier with the o-ring dampened mechanical keys bottoming out since it's much more quiet than any other Cherry MX Brown mechanical keyboard I've been using thus far.
Another feature that I was pleased to see work well was the USB passthrough. I was able to plug in several types of peripherals from the Steel Series Diablo III headset to my digital camera without any issues. That said, it does pain me to see that there's only a single USB port rather than two and that there are no audio passthroughs included with the G710+ as well. It's just so close to perfect!
Currently the Logitech G710+ is available on Amazon for $149.99 which well on the high side, however it's one of the best mechanical keyboards on the market and is the best option for those looking for a Cherry MX Brown mechanical keyboard with decent macro functionality and dedicated media keys.
Bottom Line
Despite Logitech dropping by way late to the mechanical keyboard party, Logitech has made it very clear with the G710+ that they've done their research and they're out to produce the best mechanical keyboard money can buy. For those who can forego audio passthroughs, forego multiple USB ports, and aren't daunted by the high price tag, this is about as good as mechanical keyboards get.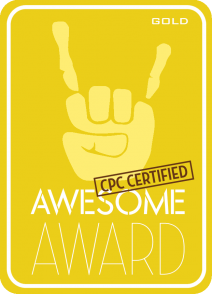 Special thanks to Logitech for making this review possible.
The Logitech G710+ is currently available on Amazon!