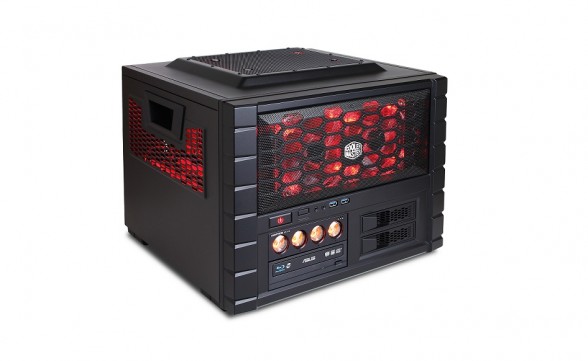 Press Release
Armed and dangerous is the only way to describe the new series of desktop gaming systems from CyberPower Inc., which will feature Intel's latest Extreme Edition Core i7-3970X CPU.
The Intel Core i7- 3970X Extreme Edition gets world's fastest bragging rights with its base clock speed of 3.5 GHz and a Turbo Boost 2.0 performance of 4.0 GHz. It will be the featured CPU in CyberPowerPC's top-of-the-line Fang III Black Mamba which is also equipped with a pair of the "world's fastest" single GPU GTX 680 graphics card in SLI mode.
The combination of the Intel X79 Express chipset with the unlocked Intel Core i7- 3970X Extreme Edition processor lets you customize the system by changing the processor core multipliers and DDR3 memory ratios to give extreme gamers and demanding enthusiasts the performance they seek.
CyberPowerPC customers will be assured of blistering gaming performance and great versatility and speed in video transcoding for all the multi-threaded supported power-hungry applications.
To cool the new powerful 150-watt TDP chip, CyberPowerPC offers its CyberPowerPC Advanced Hydro Liquid Cooling Kit with a choice of 480mm, 360mm, or 240mm sized radiators for ultimate cooling performance.
All CyberPowerPC gaming systems powered by the latest Extreme Edition processor have a number of complementary components to enhance performance such as the new Cooler Master HAF XB enclosure, which provides superb cooling performance in a new compact form factor.
Base price of CyberPowerPC systems based on the Intel Core i7-3970X Extreme Edition CPU will be $1,749.
All CyberPowerPC gaming systems can be customized with a number of performance gaming hardware and components such as super fast Solid State Drives, Blu-ray drives, low-latency high capacity gaming memory modules from top tier brands, gaming peripherals, business and productivity software and more. CyberPowerPC loads every system with Microsoft's fluid Windows 8 Operating System for an enhanced gaming and multimedia experience. All CyberPowerPC desktop gaming systems include an industry-best-3-year limited warranty.
More information on the CyberPowerPC Fang III Black Mamba is available at the product page here.