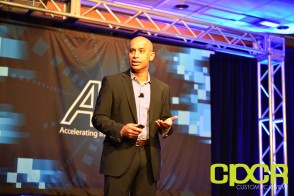 Yesterday, the LSI Accelerating Innovation Summit  (AIS) was officially kicked off by a keynote offered by President and CEO Abhi Talwalkar. The theme? "Data Deluge". "Data Deluge" is a term used to refer to the deluge of new data being created at an exponential rate and how companies/institutions are beginning to experience some of the issues of managing this tremendous growth in data. In order to demonstrate this deluge of data, Talwalkar paused after the first three minutes of his presentation and pointed to a small display that had been counting the data transferred and stored around the world. To my amazement, a total of 1,919,000GB of data had been transferred and 2,292,736GB of data had been stored – in only 3 minutes!
While that may already seem like a handful, he further elaborated that during those three minutes the following had also occurred: 141,000 apps where downloaded; 183,423 hours of music were downloaded; 3.9 million videos where viewed on YouTube; 60 million photos where viewed; 612 emails where sent ; Amazon made $275,000 on revenues, and that there were over 18 million Facebook views. Puts a bit more perspective on this "Data Deluge", doesn't it?
Talwalkar went on to describe how one of the direct causes of the "Data Deluge" is the mobile revolution that has allowed us to carry devices with direct access to the internet. Now you can download apps, surf the net, watch Custom PC Review unboxings on YouTube, and even like our Facebook page all directly your cellphone or tablet device.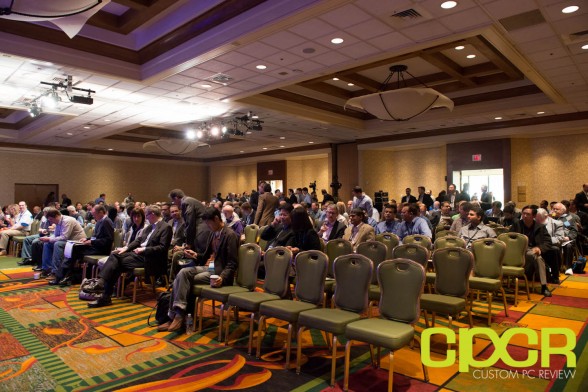 While LSI will be making strides to solve this problem of the "Data Deluge", one of Talwalker's key talking points was to help businesses and organizations "… doing more for less." With this, LSI introduced their partnership with Microsoft to provide a completely integrated solution with Windows Server. With this completely integrated, certified, and ready to go system, this will allow anyone to purchase a ready to go system at a fraction of the cost, time, and maintenance of current high availability server setups.
Ending the keynote, Talwalker showed us how we are now moving away from the "mobile era" and entering a new "data-centric era" and how LSI will be ready to take on the challenges with not only their current products but also with their future offerings.