No trip to Computex would ever be complete without a visit to our friends at Kingston and with most of their latest products launched at CES earlier this year, Computex was relatively low key for the "king" of memory.
Among the latest products to be launched is a new pink version of the HyperX Cloud II gaming headset (as seen above). This is pretty much the same HyperX Cloud II that we reviewed previously except now it comes in a cute pink color, presumably for that cute gamer girl (or boy) in your life.
Pricing on the new headset will be identical to the already released red/black and gunmetal editions of the headset. It's currently available for pre-order on Amazon with an expected launch date of June 22.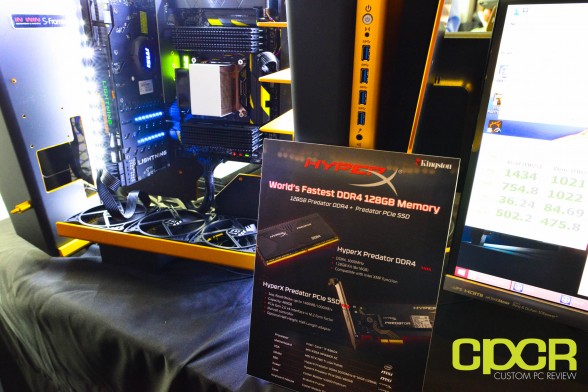 Kingston is also launching a new 128GB HyperX Predator DDR4 3000MHz kit. The kit employs the use of 8x16GB DIMMs and claims to be the world's fastest 128GB DDR4 kit.
Kingston also unveiled a new HyperX Savage LED-Lit memory kit which is unfortunately still in development. As seen, the fins on the memory kit lights up when the system is powered on and will cycle through various colors. This particular kit is a 32GB (4x8GB) DDR3 2400MHz kit, but there will certainly be more options when it becomes available.
… and of course the most interesting thing we saw at our Kingston meeting had to be the HyperX Born to Fight – The Runway ad, which if you look closely enough, is the video playing on loop on the 128GB HyperX DDR4 3000MHz kit demo system. It appears that Kingston actually paid someone to make an ad where two women are on stage engaged in a twerk battle. Yup. I can't even make this stuff up. Check it out above!