Warning
: Undefined array key "width" in
/var/www/vhosts/custompcreview.com/public_html/wp-includes/media.php
on line
1381
Warning
: Undefined array key "width" in
/var/www/vhosts/custompcreview.com/public_html/wp-includes/media.php
on line
1386
Warning
: Undefined array key "height" in
/var/www/vhosts/custompcreview.com/public_html/wp-includes/media.php
on line
1386
Warning
: Undefined array key "width" in
/var/www/vhosts/custompcreview.com/public_html/wp-includes/media.php
on line
1381
Warning
: Undefined array key "width" in
/var/www/vhosts/custompcreview.com/public_html/wp-includes/media.php
on line
1386
Warning
: Undefined array key "height" in
/var/www/vhosts/custompcreview.com/public_html/wp-includes/media.php
on line
1386
Warning
: Undefined array key "width" in
/var/www/vhosts/custompcreview.com/public_html/wp-includes/media.php
on line
1381
Warning
: Undefined array key "width" in
/var/www/vhosts/custompcreview.com/public_html/wp-includes/media.php
on line
1386
Warning
: Undefined array key "height" in
/var/www/vhosts/custompcreview.com/public_html/wp-includes/media.php
on line
1386
[section label=1. Introduction]
ARCTIC's Trinity Inspired HTPC Powerhouse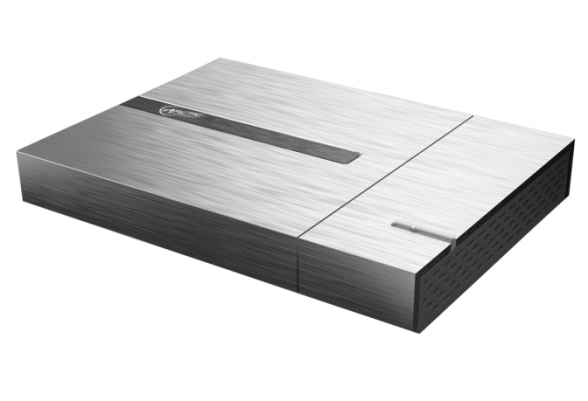 The supremacy a HTPC has over a DVD/CD player or a cablebox is evident. Being capable of extending its use beyond simply playing disks, more and more people are leaning towards HTPCs as the center of their home entertainment systems. Today, we'll be taking a look at one such HTPC designed for just that purpose, the ARCTIC MC101 "Most Advanced Home Entertainment Centers".
When ARCTIC first announced the MC101, I was extremely excited for the new product. It had a beautiful brushed aluminum design that I haven't seen on any other device in the same class and even looked better in comparison to most popular Apple devices currently on the market. In terms of horsepower, ARCTIC made sure to pull all the stops as well by putting in one of the newest and most powerful AMD APU's that (at the time) wasn't even available on the market.
Despite it being months since its initial announcement, we were finally able to get a unit to put through its paces. Good? Bad? Read on my friends, read on…
ARCTIC MC101 Specifications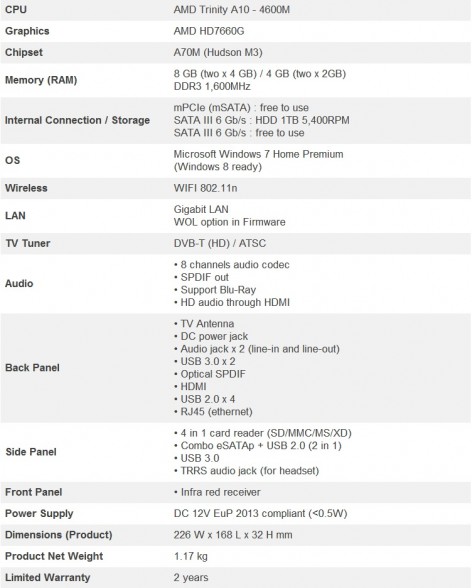 AMD A10-4600M – Codename: Trinity
The most interesting topic in the specifications here is that ARCTIC went with AMD's 2nd generation A10-4600M APU, codenamed Trinity, for the MC101. Based on the second-generation Bulldozer micro-architecture, codenamed Piledriver, the A10-4600M APU is a 2.3GHz (3.2GHz max) quad-core mobile CPU packed in with the Radeon HD 7600G graphics processor on the same die. This effectively means that this APU should be capable of producing some seriously impressive CPU and graphics performance off of a thermal envelope of only 35w TDP.
[section label=2. A Closer Look (Exterior)]
A Closer Look at the ARCTIC MC101 (Exterior)
The packaging for the ARCTIC MC101 isn't too special. The front of the box includes a picture of the product and the back of the box includes more specific details on the product. To be honest, I don't really care if the product comes in a brown box. As long as it performs well, I'll be happy.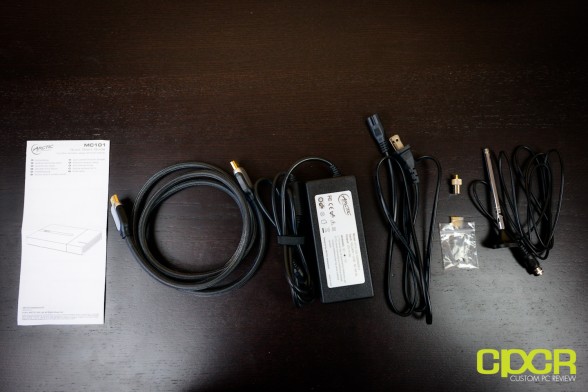 Inside the package, we receive a quick start guide, a power cable/brick, HDMI cable, coaxial adapter, some spare screws, and a TV antenna.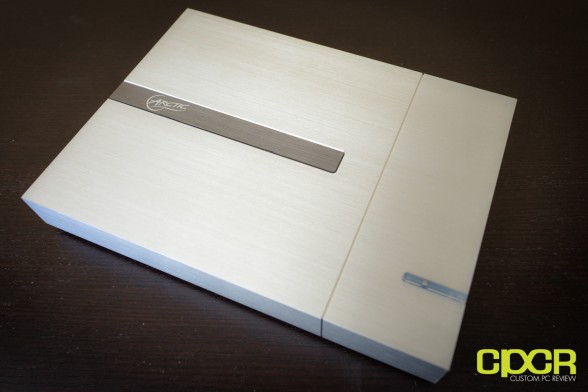 Here's a look at the top of the ARCTIC MC101 unit. As you can see, the entire top of the casing is constructed of amazingly beautiful brushed aluminum and there's a capacitive on/off button on the bottom right of the unit.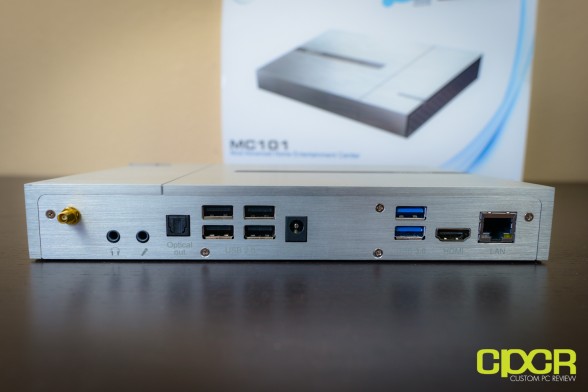 The rear of the unit includes most of the I/O connectors for the MC101. Starting from the left, we get an antenna in, headphone/microphone jack, optical out, four USB 2.0 ports, power port, two USB 3.0 ports, HDMI, and ethernet. Like the top cover, the cover used on the rear is constructed of brushed aluminum.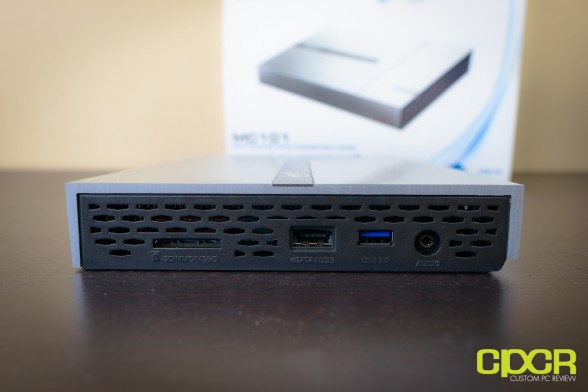 The left side of the unit includes a combo SD/MMC/MS/XD card reader, a combo eSATA/USB 2.0 port, a USB 3.0 port, and an audio out jack. There's also a number of vents here for the unit to breathe. Additionally, notice the thickness of the brushed aluminum ARCTIC is using with the MC101's cover. It's very high quality and helps make the unit extremely durable.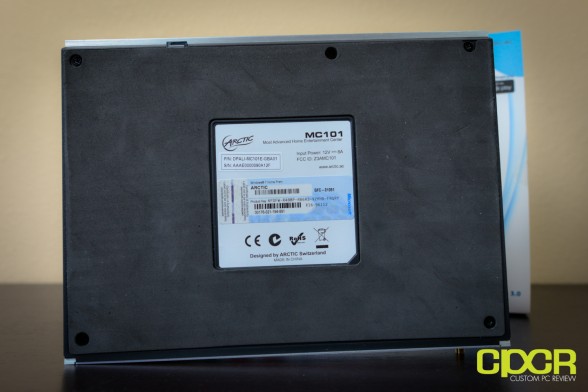 The bottom of the unit includes the Windows certificate, the serial number, and is lined with felt to prevent damage to surfaces you place the MC101 on. Also notice on the top left there's an IR (infrared) receiver which should work with media center remotes.
[section label=3. A Closer Look (Interior)]
A Closer Look at the ARCTIC MC101 (Interior)
Ok, so this is usually the section where I take the unit apart and show you the internals, but ARCTIC didn't want me opening the unit up so they have provided the pictures for your viewing pleasure.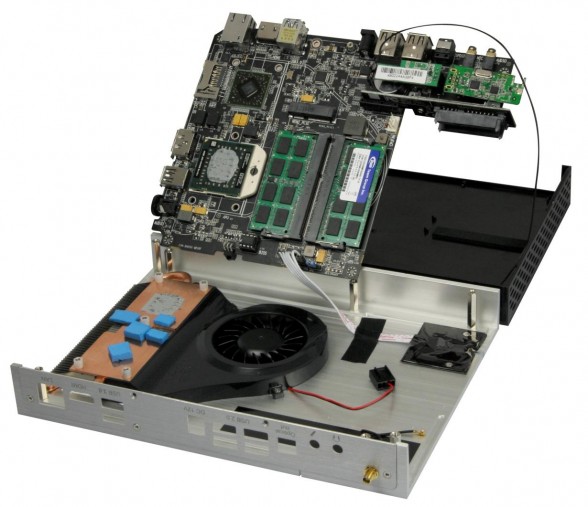 Here's an overview look at the unit. You can see that the unit is cooled with a large heatsink attached to a blower style fan right around the center. ARCTIC is using a mobile Trinity A10-4600M chip which is rated at 35w TDP so cooling shouldn't be a problem.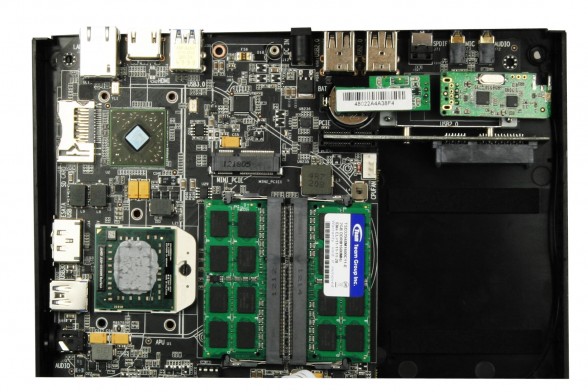 Here's a closer look at the interior. Please note that this is not the pictures from the review unit I'm working with today so some of the components will be different. On the right side, there's a large space capable of fitting a hard drive tray with two 2.5″ hard drives and there's also a mSATA slot in the center designed for a mSATA SSD. Along the top right we get the TV tuner and the wifi module. Let's take a closer look at some of the other components.
Also, you guys probably noticed the excessive amount of thermal paste being used on the CPU. I did ask ARCTIC about this and here's their response in the matter.
As for the thermal paste being apply REALLY heavily, that has nothing to do with the actual product. Reason being, the people taking the pictures belong to the graphics team and don't really know much about putting together a computer. Hence the really big slab on the CPU. But in reality, we have our engineers doing these tasks.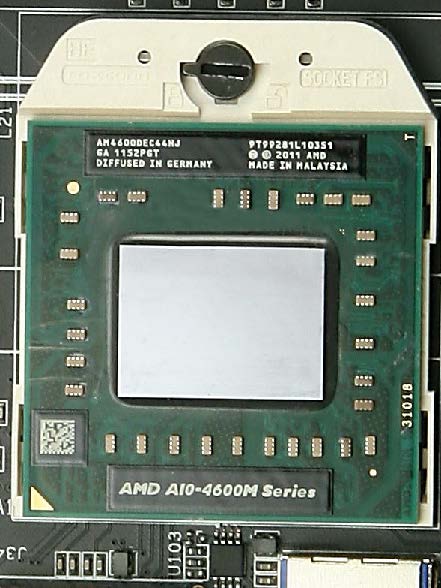 Starting with the CPU, we get the AMD A10-4600M APU. Like I said earlier, this 2nd generation APU, codenamed Trinity, is based off the Piledriver architecture and includes updated Radeon HD 7000 series graphics. This should be plenty powerful for all your HTPC needs and with a TDP of 35w, it shouldn't require to much juice to run either.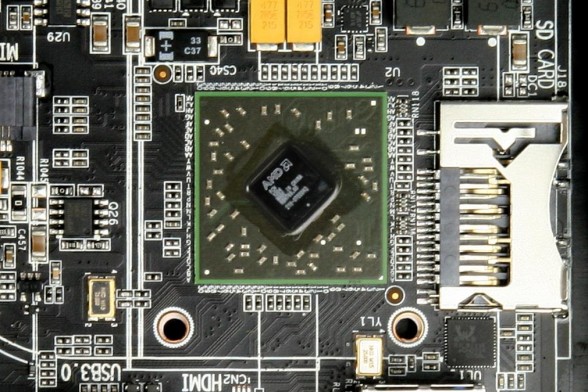 Along with the new A10-4600M APU, ARCTIC has also chosen to use the AMD A70M chipset, codenamed Hudson-M3. It includes both native USB 3.0, SATA 3 6Gb/s.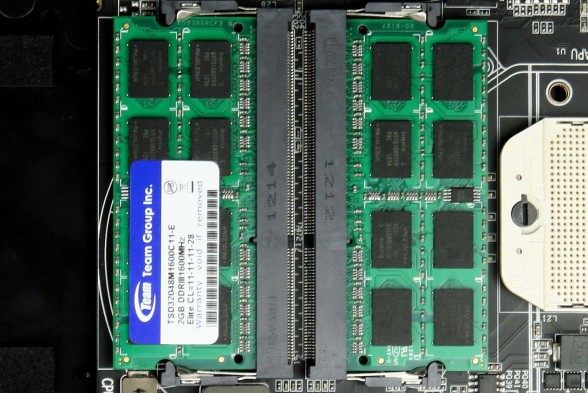 Here's a picture of the memory and the DIMM slots. Looks like there's only two slots available, and it will only support notebook style 204 pin DDR3 memory. The memory used here looks like it's from Team Group Inc. and it's only 2GB per stick. The MC101 comes in both 4GB and 8GB flavors. We received the 8GB (2x4GB sticks) edition.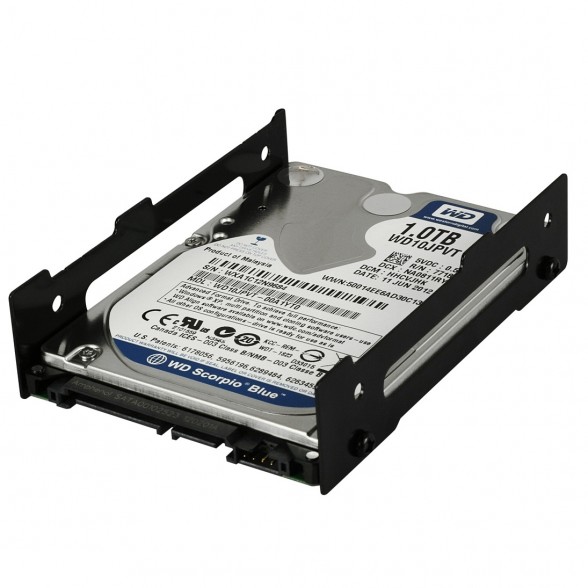 Finally, here's also a picture of the hard drive. Currently, the MC101 does not yet ship with an SSD so a 1TB WD Scorpio Blue hard drive is the only option.
[section label=4. BIOS Overview]
ARCTIC MC101 BIOS Overview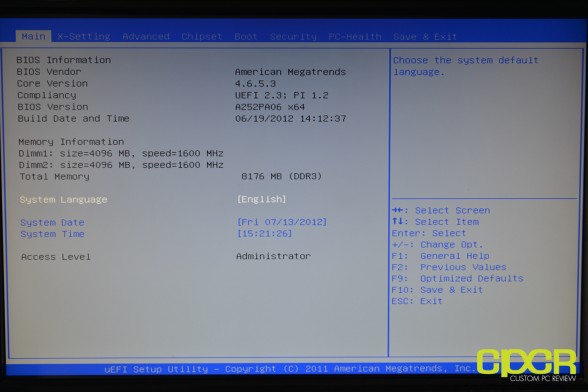 Powering the unit on, let's take a quick look at the BIOS. We can see that the MC101 still uses an old school, neutered, non-UEFI BIOS. The BIOS version here is A252PA06, which according to its version number seems like the motherboard may have been produced by Zotac. For example, the Zotac E350-ITX WiFi has a BIOS version of A182PA006 while the Zotac A75-ITX WiFi has a BIOS version of A199PA006. Given Zotac's extensive experience in producing mini-PC's and HTPC's, this seems quite likely. (Special thank to Tamas from FinalWire for the tip!)
Additionally, we can also see that ARCTIC has included two 4GB DDR3 1600MHz sticks for a total of 8GB of memory.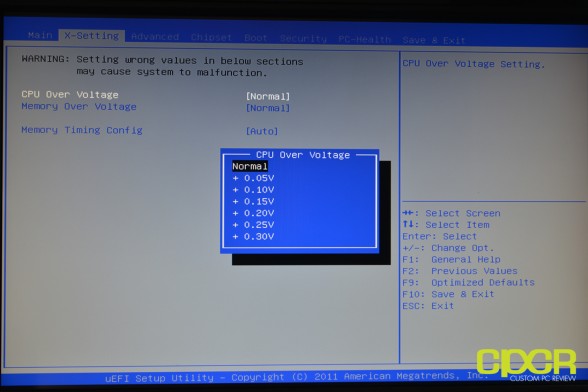 Looking inside the X-Setting menu, there are options for adjusting voltages of the CPU, voltages of the memory, and memory timings. Unfortunately, there's no option for actually overclocking the system so having over-voltage options aren't much use.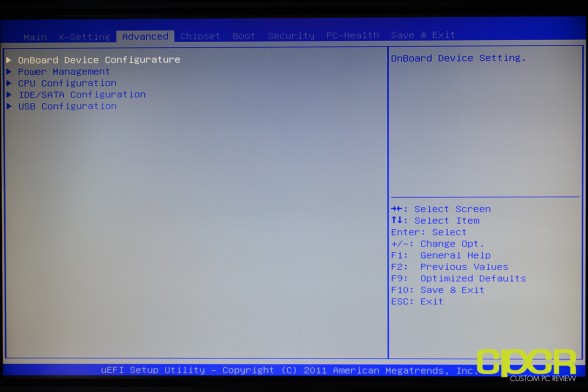 Advanced tab. One interesting thing to note is that the AMD A70M chipset does support RAID functionality. Unfortunately, I wasn't able to install any additional drives into the system to test.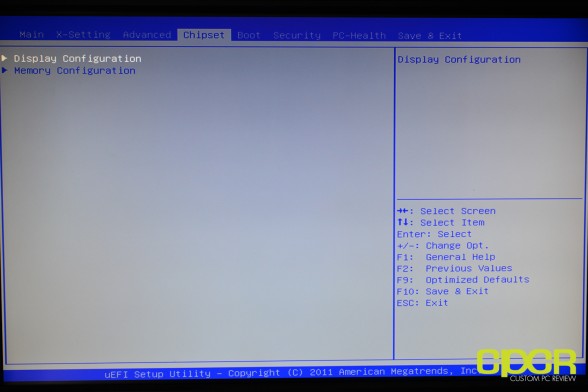 Chipset options tab.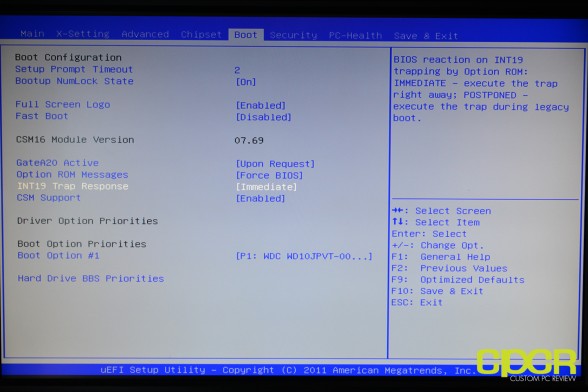 Boot options. Self explanatory.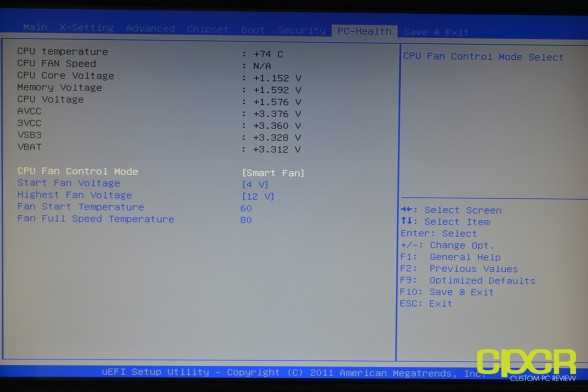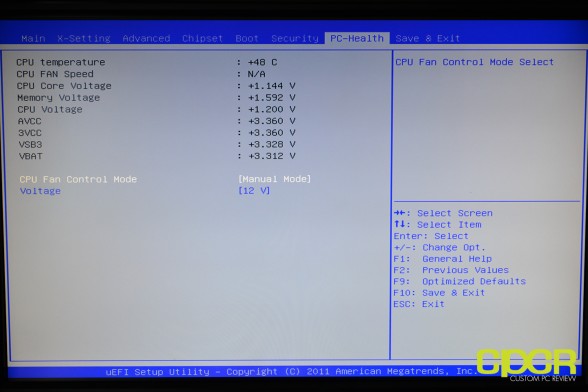 Finally in the PC-Health menu, we get options for changing fan options. There's both a smart fan mode and a manual mode. In the smart fan mode, you can set what temperatures the fans spin up while in the manual mode you can only set a specific fan speed. In the stock configuration, the fan speed is set at Smart Fan, or auto mode, as shown above. It's highly recommended if you purchase this unit to bump up the fan settings a bit. The unit gets quite hot in its stock fan configuration.
[section label=5. System/CPU Performance]
Initial Boot
Upon initial bootup, we get an idea of what's inside the system. On the left CPU-Z shot, we can see that the MC101 is running the AMD A10-4600M (Trinity). What's interesting is that this processor is currently running at 0.880V and is capable of downclocking to ~1400MHz. Remember, the AMD A10-4600M is rated at 2.3GHz base and 3.2GHz max. On the right CPU-Z shot, we can see the memory running at 775.5MHZ (1551MHz Dual Channel) CAS 11.
Testing the ARCTIC MC101
Today, we'll be doing a number of benchmarks testing the MC101's system performance. For reference, we've also ran the exact same benchmarks on our reference Ivy Bridge Intel Core i5 3570K test bench; however, please note that these numbers are for reference only as the Intel Core i5 3570K is a powerful quad core desktop chip designed for enthusiasts, power users, and gamers.
Ivy Bridge Test Bench
CPU: Intel Core i5 3570K
Motherboard: Gigabyte Z77X-UD3H
Memory: 8GB Corsair Vengeance LP DDR3 1600MHz
Graphics: Intel HD 4000 Integrated
Storage: OCZ Vertex 4 128GB
PSU: Corsair HX650
OS: Windows 7 Ultimate x64
System Performance
PC Mark 7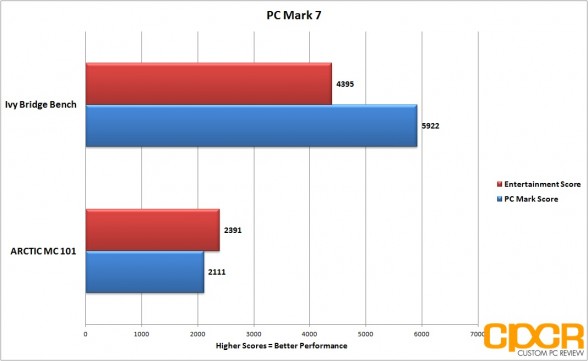 PC Mark 7 is a full system benchmark designed to test real world system performance. Here we've got both the total PC Mark 7 score along with the entertainment score as well. As expected, the powerful Ivy Bridge based Intel Core i5 3570K with its Vertex 4 SSD is a lot more powerful than the mobile AMD A10-4600M with its Western Digital Scorpio Blue traditional hard drive.
CPU Performance
SuperPi 32M
SuperPi simply calculates pi for us and records the time to calculate 32 million digits after the decimal point and is a great CPU stress tool.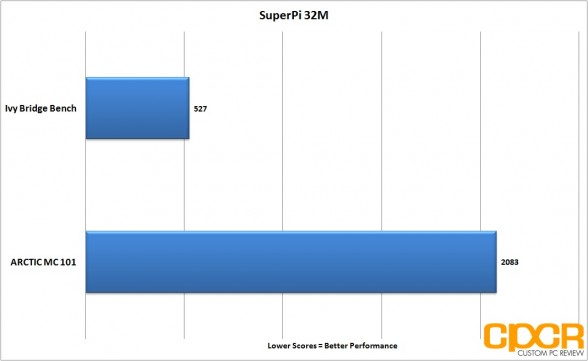 AIDA64
Our AIDA64 testing consists of three benchmarks: Queen, PhotoWorxx and AES. Queen involves measuring computer performance by calculating the Queens problem in chess, AES involves measuring computer performance through AES data encryption and Photoworxx measures computer performance through common tasks performed during photo processing.
Cinebench
Cinebench is a commonly used benchmark application to measure CPU and GPU performance while rendering 3D graphics. Based on the famous animation software CINEMA 4D developed by MAXON, Cinebench is an excellent tool for testing the performance of both the CPU and the GPU.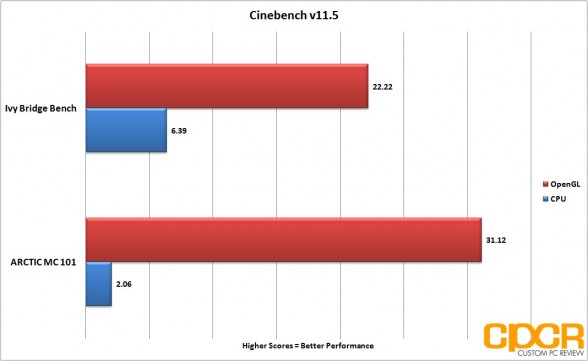 CPU performance on the AMD A10-4600m was acceptable, but isn't going to win any speed contests anytime soon. While this probably isn't the perfect system to use for a high end workstation, it'll do very well for entertainment and general web browsing purposes.
[section label=6. Graphics/Hard Drive Performance]
Graphics Performance
3D Mark 11
3D Mark 11 is the industry standard for 3D graphics testing. Using the most advanced DX11 graphical features, 3D Mark 11 simulates a workload typically handled by the GPU during gaming to test for the system's performance.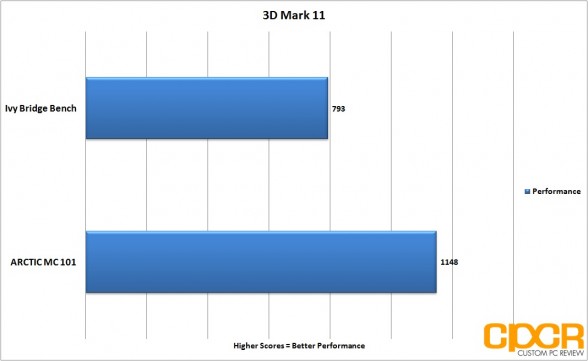 Lost Planet 2
Lost Planet 2 is a game developed by game developers Square Enix. While it's not the newest game in town, it's a good representation of what kind of graphics performance can be expected from older games.
For the Lost Planet 2 benchmark, we ran the game's built in DirectX 11 benchmark "A" at 1680×1050 with all settings at medium.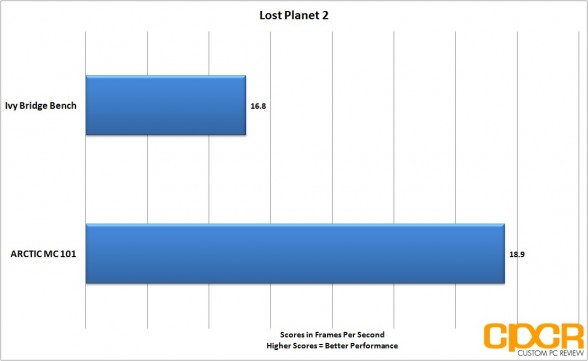 In our graphics performance benchmarks, we can clearly see that the ARCTIC MC101's included HD 7660G integrated graphics processor is more powerful than the Intel HD 4000 series graphics. 3D graphics is one area AMD's APU's excel at and it seems like AMD's new APU doesn't disappoint either. That said, both the Intel Core i5 3570K's integrated HD4000 graphics and the ARCTIC MC101's HD 7660G didn't do so hot here producing frame-rates under what I consider playable. That said, the HD 7660G performed approximately 12.5% better than the Intel HD 4000 integrated graphics solution.
Disk Performance
Crystal Disk Mark
Crystal Disk Mark is an all around tool used for benchmarking hard drives and SSDs.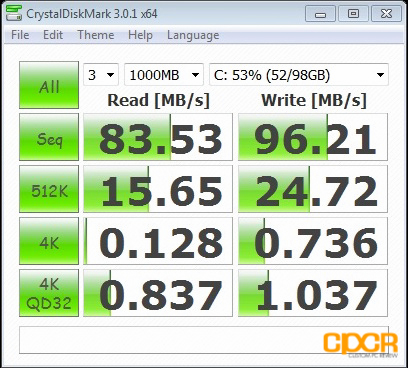 Disk performance isn't very good at all with the 5,400RPM WD Scorpio Blue. Sequential reads and writes were under 100MB/s and 4k numbers are very low as well. While this drive would make an acceptable storage drive given its large capacity, I'd recommend putting an SSD into the system or a faster 7200rpm drive if at all possible.
[section label=7. Temperatures, Power Consumption, and Noise]
Temperatures, Power Consumption, and Noise

For temperature testing, we ran 60 minutes of Prime 95 in addition to Furmark in order to generate the maximum amount of heat possible. In the stock fan configuration, the cooler is capable of keeping the CPU at 78ºC across all cores and the GPU at 76°C. With the fans at maximum, the cooler was able to keep the CPU at under 72°C and the GPU under 70°C. These temperatures are acceptable since the CPU is a mobile processor and they're designed to withstand hotter temperatures than their desktop counterparts.
In terms of noise performance, the ARCTIC MC101 was almost completely silent in its stock configuration, but is noticeable when the fans are 100%. Unfortunately the blower style fan can get loud, so I'd recommend tweaking the smart fan option for a perfect balance between performance and noise.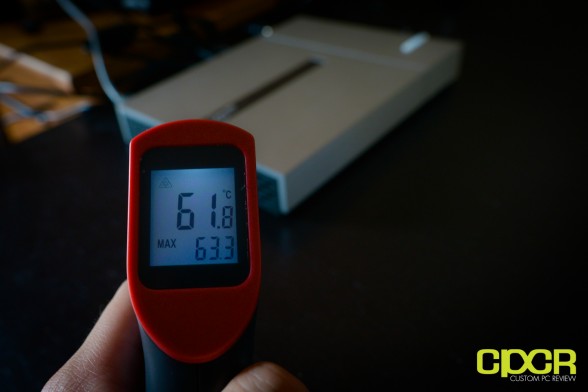 One issue I noticed is that the cover of the MC101 gets extremely hot during operation. In its stock fan setting, the left half of the cover ranged from 55°C to a maximum of 63.3°C! There's definitely a concern here because 63.3°C is quite capable of scalding skin. With the fans at maximum, the top cover cools down to a more acceptable 53°C which is still hot, but no longer at a skin scalding temperature. Those with small children and pets should definitely be aware of this as it could be a safety hazard.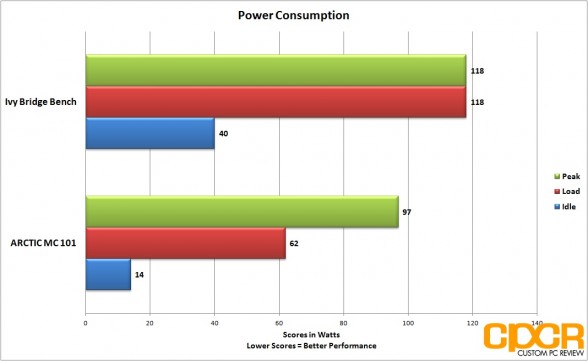 In terms of power consumption, the ARCTIC MC101's Trinity APU was extremely efficient requiring only 14w during idle. Once a load is applied, the wattage hops up to 97w for a split second then rests at around 62w. This is a massive power savings in comparison to the 77w TDP Ivy Bridge Core i5-3570K which idles at 40w and loads up at 118w.
As evidenced by our graphics benchmarks, because ARCTIC went with the Trinity A10 APU, they're able to achieve very impressive graphics performance with very low power consumption.
[section label=8. Conclusion]
ARCTIC MC101 Conclusions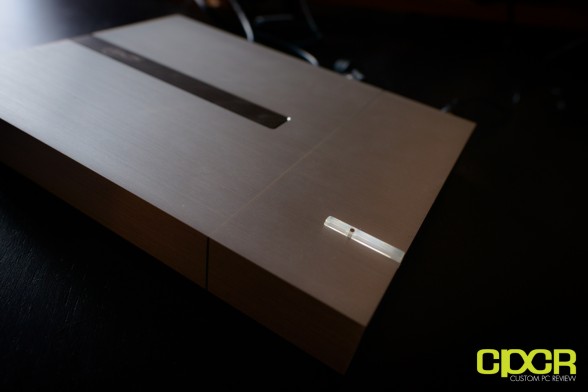 Alright, so after all this testing, let's hop right into the conclusion. Starting off with the performance, I'm going to say that ARCTIC has definitely gone with the proper components on the MC101. The mobile Trinity A10-4600M is a good combination of CPU and GPU performance and benchmarks aside, it was easily capable of handling all the typical media applications I could throw at it. What does this include? Well, watching 1080P HD videos, playing live TV via the onboard TV tuner, browsing the web, streaming 1080P YouTube, etc. In fact, the MC101 is perfectly capable of being used as even a general family desktop PC as it has plenty of power for most day-to-day computing needs. As a low powered word processing/YouTube/web browsing PC, I'd say the ARCTIC MC101 is a perfect fit and doesn't require a lot of desk space to boot.
One thing I was a bit disappointed with in terms of performance though is ARCTIC's decision to go with only a traditional 1TB 5400RPM 2.5″ hard drive instead of an SSD or a faster 7200RPM drive. I feel like the drive is seriously bottle-necking the rest of the system and with the mSATA option as well as another 2.5″ drive option available, an SSD should definitely be available pre-installed. That said, you can purchase the barebones edition of the MC101 and install a SSD or faster HDD yourself, which I think will greatly benefit the system. It will require you to be capable of opening up the system though as there's no hot swap option available here.
In terms of the appearance, I'm going to let the pictures of the unit speak for itself. ARCTIC has done a marvelous job at creating a device that looks absolutely stunning and I'm definitely going to give them a big thumbs up for that. The materials used here feel very high quality – especially that top cover which uses a quarter inch thick brushed aluminum. Two thumbs up for that. Whereas most companies just head off to a OEM/ODM vendor to provide a shell, or design the cheapest possible solution themselves, ARCTIC has gone a step above that and created a system that's not only functional, but pretty as well.
However, I think the use of aluminum for the cover may be backfired a bit as it's a better heat conductor than most choices in material and in the stock fan configuration, the unit's surface is capable of reaching skin scalding temperatures. Obviously, this can be mitigated by turning the fan up, but the tradeoff is that the unit will be considerably louder. I definitely see it as being a potential safety hazard, so be sure to keep an eye out for any small children or pets touching the unit when it's in operation. While I am going to knock the MC101 a bit for this issue, it's not a deal breaker as this unit isn't meant to be manhandled all day.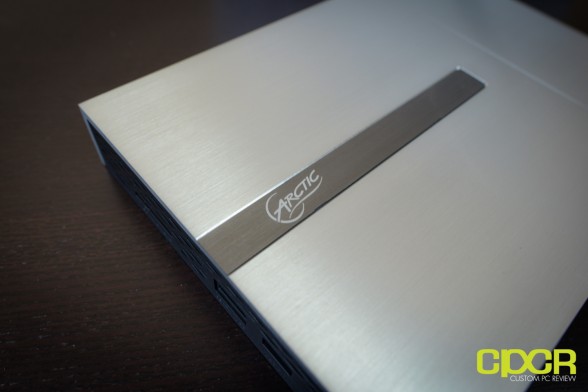 Feature wise, ARCTIC includes a good mix of stuff, but I feel it's missing a couple things. The first is that it's marketed as an entertainment center, but it doesn't have a DVD/Blu-Ray drive. I feel this is a huge oversight as you won't be able to ditch that DVD/Blu-Ray player just yet, even with a $749 HTPC. Additionally, I felt that ARCTIC should've included a remote with the MC101. For a media PC designed to be hooked up to a TV, I think having a remote is among the list of essential accessories especially since ARCTIC went through the trouble of including an IR receiver. That said you can pick up a media center remote from ARCTIC for around $17.90 more, but I think it should've been included in a unit like this. Speaking of essential components, I would've liked to see a Bluetooth adapter included in the unit as well. This would allow pairing of Bluetooth mice and keyboards which would then negate the necessity of a remote. Despite these missing features though, the MC101 still does include the essentials such as 802.11N wireless, USB 3.0, an onboard 4-in-1 card reader, support for two 2.5″ drives, support for a mSATA drive, a TV tuner with antenna included, and a HDMI cable.
Finally, moving onto price, the ARCTIC MC101 tested today with the OS, 8GB memory, and the 1TB 2.5″ Western Digital Scorpio Blue hard drive is $749.00, which I think is a bit steep, and definitely puts the MC101 in that premium category of HTPC's. Of course, with the beautiful brushed aluminum design and the premium tier Trinity components used inside, I honestly wouldn't expect any less. However, ARCTIC is also selling the MC101 barebone with the A10-4600M for $479 and the MC101 barebone with the A8-4500M for only $399, which I think is the better deal since I'm not a huge fan of the included WD Scorpio Blue drive at all. If you have a spare 2.5″ SSD and a copy of Windows laying around this makes the barebones edition of the MC101 even better. Oh, and don't forget the unit includes a decent TV tuner as well, which is a $30-$50 value add.
Bottom Line
With the MC101, ARCTIC has done an amazing job creating a premium product well worth its asking price. I admit, there are some limitations to be aware of, but for those looking for a new HTPC there's nothing on the market sexier than the MC101. Just be sure to keep your hands off of the thing while it's running!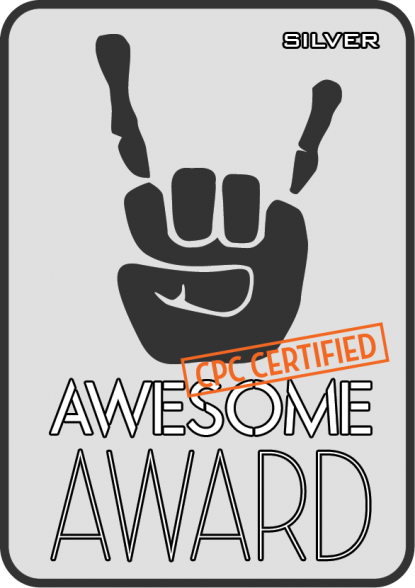 Special thanks to ARCTIC for making this review possible.
**Update 07/31/2012**
After publishing the review, ARCTIC informed me that they had a app based remote utility for iPhone and Android. A demo of this utility may be found below. For more information, please check out their website here.
http://youtu.be/el3RiO0cwuM