Warning
: Undefined array key "width" in
/var/www/vhosts/custompcreview.com/public_html/wp-includes/media.php
on line
1381
Warning
: Undefined array key "width" in
/var/www/vhosts/custompcreview.com/public_html/wp-includes/media.php
on line
1386
Warning
: Undefined array key "height" in
/var/www/vhosts/custompcreview.com/public_html/wp-includes/media.php
on line
1386
Warning
: Undefined array key "width" in
/var/www/vhosts/custompcreview.com/public_html/wp-includes/media.php
on line
1381
Warning
: Undefined array key "width" in
/var/www/vhosts/custompcreview.com/public_html/wp-includes/media.php
on line
1386
Warning
: Undefined array key "height" in
/var/www/vhosts/custompcreview.com/public_html/wp-includes/media.php
on line
1386
Warning
: Undefined array key "width" in
/var/www/vhosts/custompcreview.com/public_html/wp-includes/media.php
on line
1381
Warning
: Undefined array key "width" in
/var/www/vhosts/custompcreview.com/public_html/wp-includes/media.php
on line
1386
Warning
: Undefined array key "height" in
/var/www/vhosts/custompcreview.com/public_html/wp-includes/media.php
on line
1386
Yet Another Hard Drive Dock
A couple years ago I worked as a computer tech for a large university here in California and for the  most part, all of the school's websites were hosted on servers operated in house.  This meant that there would be a lot of very sensitive data on both the servers as well as the backups. While each server was locked in its own little cage and bolted to the ground, backups weren't stored on additional backup servers. Instead, they were stored on physical hard drives. Yeah, additional servers would've been better, but given school IT budgets these days, running more expensive servers wasn't really an option. So, how were those secured? Well, how about using a hard drive dock, a couple bare hard drives and a safe? Yup, it wasn't the most elegant solution out there, but it sure did work and helped fit everything into budget as well.
Anyway as you can guess from that story, today we'll be taking a look at a hard drive dock. With all of the work I've done here at Custom PC Review, I've collected a lot of data, video, images, etc. It could be the data from yesterday's benchmarks or it could be the video of yesterday's product unboxing. Safe to say it's a lot of data and I'm constantly in need of storage options. Today, we'll be taking a look at one of those options – the Ineo I-NA320U Plus 2.5 & 3.5″ Portable Docking Station.
A Closer Look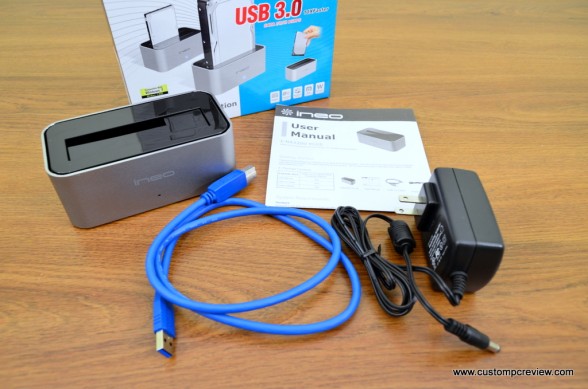 Here we've got everything in the box. Some documentation, the dock, a power cable, and a USB 3.0 cable. Only problem I see here is the short USB 3.0 cable. It's only ~3ft, so if you're one of those people with their towers underneath the table, you will have issues with the cable being too short. Be sure to buy an extension or something. They don't cost too much so it's not that serious of a problem, but I would've liked seeing a 6ft or longer USB cable included.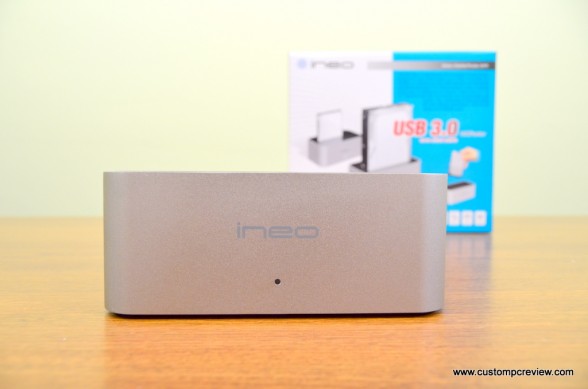 The entire unit looks pretty sleek. It's covered in brushed aluminum and has a nice shiny blue LED to let you know something's going on.
Around the back of the unit we've got the power and USB 3.0 connection. We also get a power switch as well which is nice. This thing is so simple to use, (fill_in_name_of_tech_neophyte) can even use it. No joke.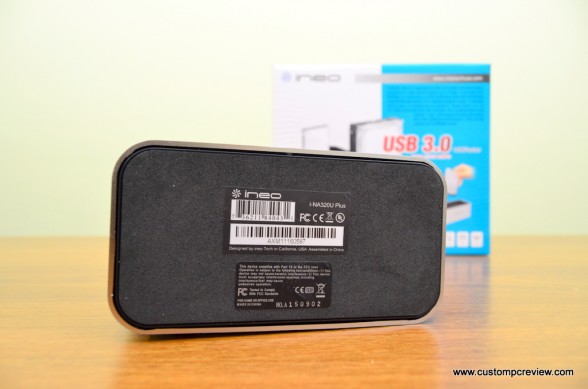 Around the bottom you get a nice fabric lined base so the dock can grip the table. It also prevents damage to your table as well for those who care.
Test Bench
CPU: Intel Core i5 2500K
Motherboard: Asrock Z68 Fatal1ty Professional Gen 3 (Intel SATA 3 6Gb/s, AHCI mode)
Graphics: Intel HD3000 Graphics
Memory: Gskill Sniper 1866MHz DDR3 1.5v
Storage: Patriot Pyro SE 120gb
Power Supply: Corsair HX650
Case: HSPC High Speed Tech Station
Special thanks to HSPC for providing us with the High Speed Tech Station (Large) for our test bench.
Performance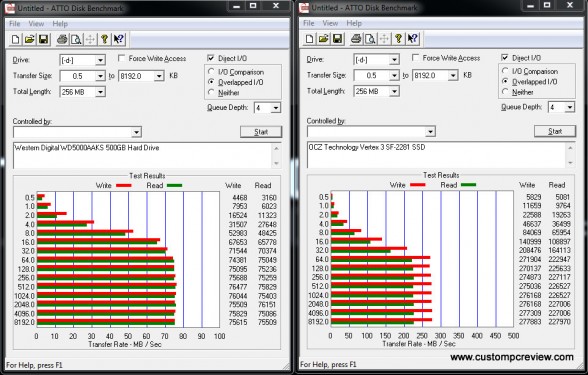 For our performance test, we chose to use ATTO Disk Benchmark, since it's one of the most widely used disk benchmarking utilities out there, and it gives us a good idea of maximum transfer speeds available.
Taking a look at the benchmark on the left, we used a run of the mill Western Digital Caviar Blue 7200rpm drive, which is what most people would use with this dock. As you can see, the performance wasn't bad, topping out at around 75-76MB/s reads and writes.
In order to really push the dock to its limits, we dropped in a OCZ Technology Vertex 3 SSD. While the USB 3.0 spec is rated at a maximum of 5Gbit/s, or 625MB/s, it's pretty obvious that USB 3.0 just isn't there yet in terms of speed. We know that the Vertex 3 is perfectly capable of transfer speeds upwards of 500MB/s, but, taking a look at the benchmarks on the right, we're only getting approximately 227MB/s writes and 227MB/s reads. Pretty respectable when compared to USB 2.0 for sure, but still falls short of the USB 3.0 spec. Since I haven't seen any USB 3.0 device out there capable of hitting that 625MB/s mark, I'm not going to dock any points for performance here. 227MB/s is plenty fast.
Conclusion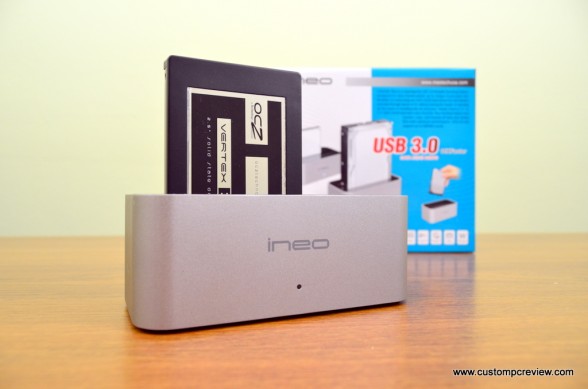 There's not much to say about the hard drive dock. I mean, it works as advertised and does a pretty good job. It's got USB 3.0, which is definitely going to be a huge step up from USB 2.0, but I doubt you'll be seeing the USB 3.0 advertised speed of 600MB/s. Appearance wise, this thing is great. The dock has a nice brushed aluminum finish and would go great with any sort of room decor – especially if you've got one of the latest creations from Apple. Speaking of Apple, this dock worked perfectly on both my PC as well as my 15″ MacBook Pro, so there shouldn't be any compatibility problems.
One thing that I would've liked to see in this dock as well as other drive docks out there would be some way of reading SD and CF cards. These cards have pretty much become the standard as external storage for mobile phones, tablets, cameras, etc. and it would be nice to be able to extract data from these devices direct from the dock itself.
Additionally, I'd also like to point out that the USB cable on the dock is only 3 feet, which is ridiculously short. If you've got your computer sitting on the table, the cable is fine, but if you've got it sitting on the floor, the 3 feet cable will be a huge problem guaranteed so I'd recommend purchasing a longer USB cable. Unfortunately, I have a tower that sits on the floor. -1 point here. Longer USB cable, pretty please.
Finally, taking a look at the price of the Ineo I-NA320U Plus on Amazon, it's currently $35.99, which isn't too bad. Yeah, it's more expensive than those plastic docks, but the brushed aluminum does look a helluva lot better than those cheap plastic ones. I'd say it's worth the extra $10-$15, but it'd ultimately be up to you.
Bottom Line
The Ineo I-NA320U Plus looks great and works as advertised. As long as you don't mind shelling out an extra $10-$15 for the brushed aluminum finish, then this is the dock to get. If your planning to have the dock farther than 3 feet away from your PC tower, be sure to pick up a USB 3.0 cable along the way. Trust me.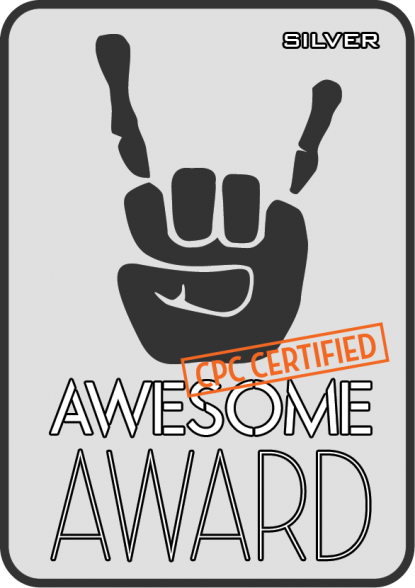 Special thanks to Ineo for making this review possible.
The Ineo I-NA320U Plus 2.5″ & 3.5″ Portable Docking Station is currently available on Amazon.