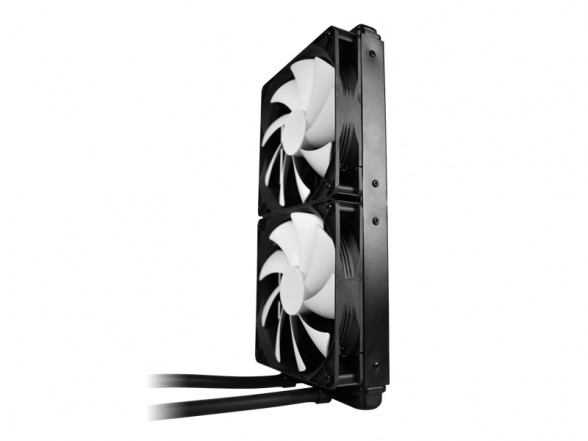 Since the introduction of the closed loop all-in-one liquid CPU coolers a couple years back, more and more companies are jumping into the market with their takes on a constantly evolving product. The brand new Kraken series is NZXT's induction into this field and they have packed some serious performance punch to tip the scale in their favor compared to the other contenders.
The Kraken X60 and X40 are the two coolers kickstarting this upcoming lineup and both are the first of their kinds. The larger flagship X60 will be the first 280mm all-in-one liquid CPU cooler while the smaller yet still powerful X40 will be the first 140mm all-in-one liquid CPU cooler. Along with their enormous radiators (140mm and 280mm) in comparison to the more common 120mm and 240mm all-in-one liquid CPU coolers, NZXT has engineered high performance pumps and copper water blocks to further enhance cooling. In addition, two NZXT FX-140mm PWM fans are bundled with the system with the possibility of adding another pair of fans for an enthusiast worthy push-pull configuration.
One of the biggest appeals of having an all-in-one liquid CPU cooler is the aesthetics and simplicity, which is clutter free and elegant. In order to enhance this, NZXT has also built upon that aspect and integrated HUE controlled LED pump caps and the ability to change lighting to match with the color scheme of your build. Software allowing for the control of lighting, fan speeds and more will be included as well.
Both of the Kraken X60 and X40 have a two year warranty backed up by NZXT's customer service and build quality. Pricing for the Kraken X60 is said to be $139 and the Kraken X40 at $99. Availability is still unknown at this time.
For more information check out the product page here.