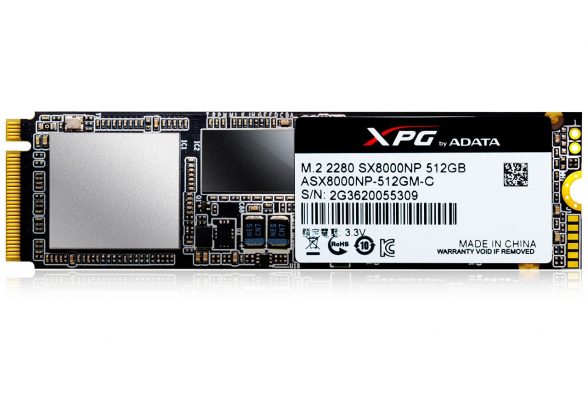 It's no surprise that PCIe SSDs are expected to outship SATA SSDs in 2017 and a number of SSD vendors are rushing to create products for the growing market. As such, ADATA recently announced the new XPG SX8000 NVMe PCIe 3.0 x4 SSD designed for gamers, professionals, and enthusiasts.
The new XPG SX8000 SSD will be powered by Micron 3D MLC NAND along with the SMI 2260 controller. It'll feature SLC caching, a DRAM cache buffer, and LDPC ECC technologies. Performance on the XPG SX8000 will be rated at up to 2.4GB/s sequential reads and 1GB/s sequential writes. The drive will also feature up to 100K/140K IOPS random reads/writes.
The XPG SX8000 will be offered in capacities of 128GB, 256GB, 512GB and 1TB. Warranty will be five years. Endurance on the drives are currently unknown at this time.
According to ADATA, a high performance version of the XPG SX8000 with XPG heatspreaders will also launch in October. No pricing information on any of the drives is available at this time. More information on the ADATA XPG SX8000 can be found on ADATA's website here.