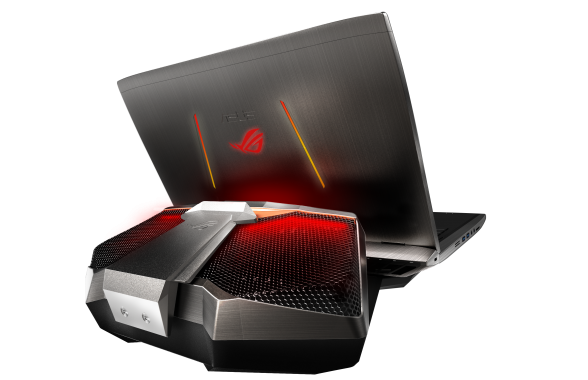 With the upcoming IFA (Internationale Funkausstellung) Consumer Electronic Show in Berlin set to begin on September 4th, many companies have begun to announce their latest products. One of the notable announcements came from Asus with a new flagship gaming laptop, the GX700. This monstrosity is an ode to the desktop replacement laptop as it favours the bulky chassis and follows the sharp, aggressive angular lines signature of ASUS's Republic of Gamers products such as the the ASUS G751 gaming notebook. In terms of physical stature, the GX700 is comparable to the MSI GT80 Titan, but the headline feature of the GX700 is not a built-in Cherry MX mechanical keyboard, but rather an impressive water cooling dock.
We have seen several dock options for notebooks, the MSI GS30 Shadow and Alienware graphics card docks immediately come to mind as they attempt to add more power raw to mobile platforms. But we have yet to see a manufacturer dare to make a hybrid cooling system that allows for the laptop to air cool itself while on the go and then overclock internal components with the aid of an external water cooler. Nevertheless, this may not be as surprising coming from the company that is familiar with producing premium hybrid coolers on desktop graphics cards with its Poseidon line-up.
As of the posting of this article ASUS has not announced any official specifications. Nevertheless, what we do know is that the GX700 will sport an impressive 4K 17 inch IPS screen, the latest Skylake mobile K series processor (TBA during Intel's press event at IFA), and the latest nvidia mobile graphics (potentially a GTX 990m?).  Looking at the exterior of the dock and the back of the laptop we can see a copper plate and several connectors, which would most likely link the internal heat pipes to distribute coolant.
Ultimately, we'll have to wait until the event date to get official press releases that go beyond mere speculations.
Source: ASUS