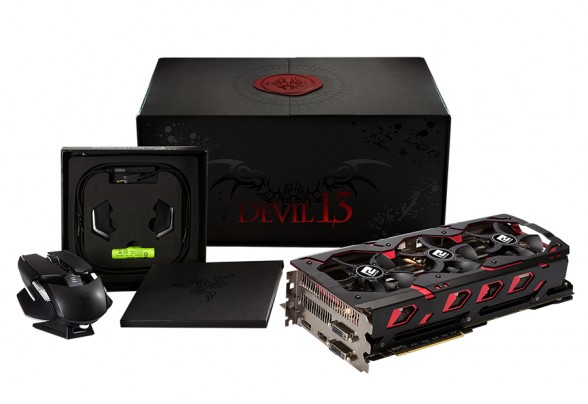 PowerColor has just announced the Devil 13 Dual Core R9 390, the next iteration of its ultra high-end Devil 13 Dual Core series graphics card.
The Devil 13 Dual Core R9 390 is aesthetically similar to the older (yet still incredibly powerful) Devil 13 Dual Core R9 290X. It features PowerColor's custom triple fan, triple-slot Devil air cooler painted in its signature black and red color scheme. The massive cooler requires plenty of space horizontally as well, measuring in at 30.4cm long by 13.6cm wide. Rear I/O include 2x DVI ports, 1x HDMI port, and 1x display port.
As its name suggests, the Devil 13 Dual Core R9 390 uses a pair of Grenada Pro GPUs, which is an enhanced version of the Hawaii Pro GPU found on the Radeon R9 290. Along with numerous performance improvements, AMD has also increased power efficiency on Grenada Pro and added support for 8GB of RAM. As such, it's no surprise that the Devil 13 Dual Core R9 390 is being marketed to have 16GB (8GB usable due to how CrossFireX handles memory allocation) of GDDR5. Everything else have been doubled as well; the Devil 13 Dual Core R9 390 features 5,120 stream processors, 320 TMUs, 128 ROPs and dual 512-bit memory interfaces. Despite having two GPUs and using an air cooler, the Devil 13 Dual Core R9 390 insists on keeping both GPUs running at 1GHz.
Even with improved power efficiency, the Devil 13 R9 390 x2 still needs plenty of power to keep it running. PowerColor recommends at least a 1000W power supply with 4x 8-pin PCIe connectors.
Buyers of the Devil 13 Dual Core R9 390 will also receive some nice extras. PowerColor is throwing in the Razer Ouroboros gaming mouse as a bundled gift.
PowerColor has yet to announce the MSRP and availability date for the Devil 13 Dual Core R9 390. However, looking at the current pricing for the AMD Radeon R9 390, we believe that it will be priced around the $900-$1,000 mark. More official announcement should follow soon.