Review: Razer Ouroboros Wireless Gaming Mouse
Holding Infinity in the Palm of Your Hand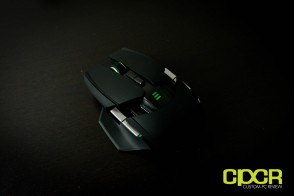 You gotta admit. Razer is one helluva an awesome engineering company. They make fantastic, forward thinking gaming mice, keyboards, headsets, and lately even top of the line gaming notebooks, but one thing they haven't seemed to figure out is logistics. Time and time again Razer unleashes possibly the coolest, most groundbreaking new products for consumers just to find that whatever just got released is sold out within minutes of the pre-order button becoming available.
One such product, which we're about to review today, is the Razer Ouroboros. The Razer Ouroboros is a gaming mouse released back in late 2012, nearly 1 year ago, and despite being introduced so long ago, Razer hasn't done a very good job of keeping it on shelves since up until recently, it hasn't been something that's been readily available for purchase. Why's it so difficult to find? Well, that's a question for Razer, but let's go ahead and talk about the features of the new mouse to shed some light on why people are picking these things up faster than Razer can produce them.
The Razer Ouroboros, along with the Razer Mamba, will sit up top on the Razer lineup as the flagship wireless gaming mice in Razer's stable of gaming mice. Along with its cool design, the Ouroboros features a modular and adjustable design, which allows users to swap out sidepanels and adjust the length and angle of the palm rest. Additionally, it also features Razer's latest 4G laser sensor capable of up to 8,200 DPI as well as the ability to operate in both wired and wireless modes.
Ready to see how it stacks up? Let's take a look!
Razer Ouroboros Specifications
Customizable ergonomics to fit all hand sizes and grip-styles
8200dpi 4G laser sensor
Gaming-grade wireless technology with dock
Razer Synapse 2.0 enabled
11 programmable Hyperesponse buttons
1000Hz Ultrapolling / 1ms response time
Up to 200 inches per second / 50g acceleration
Approximate Size: 122 mm to 137 mm / 4.80″ to 5.39″ (Length) x 71 mm / 2.80″ (Width) x 42 mm / 1.65″ (Height)
Approximate Weight: 115 g / 0.25 lbs. (without battery) to 135 g / 0.29 lbs. (with battery)
Battery life: (Approx) 12 hrs (continuous gaming)