Warning
: Undefined array key "width" in
/var/www/vhosts/custompcreview.com/public_html/wp-includes/media.php
on line
1381
Warning
: Undefined array key "width" in
/var/www/vhosts/custompcreview.com/public_html/wp-includes/media.php
on line
1386
Warning
: Undefined array key "height" in
/var/www/vhosts/custompcreview.com/public_html/wp-includes/media.php
on line
1386
Warning
: Undefined array key "width" in
/var/www/vhosts/custompcreview.com/public_html/wp-includes/media.php
on line
1381
Warning
: Undefined array key "width" in
/var/www/vhosts/custompcreview.com/public_html/wp-includes/media.php
on line
1386
Warning
: Undefined array key "height" in
/var/www/vhosts/custompcreview.com/public_html/wp-includes/media.php
on line
1386
So, we've all heard rumors about Ivy Bridge – slightly increased CPU performance and greatly increased integrated graphics performance at a lower TDP. However, up until now they were pretty much rumors without any exact numbers. I mean, we've heard 50% here, and 30% here, but at the end of the day it doesn't tell us much. Well, today that's all about to change. The guys over at EXPreview have acquired an engineering sample of the new chip and have run enough benchmarks to give us a good idea of what kind of performance we'll see with the new processor.
So, how does it do? Well, pretty damn good.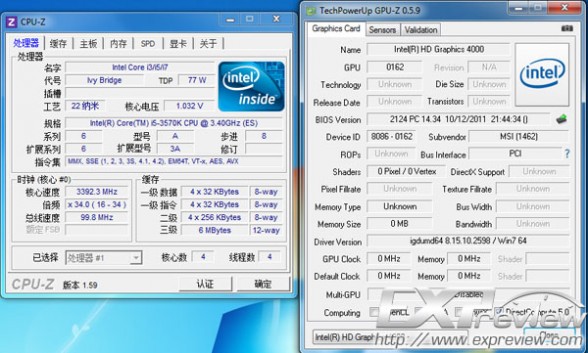 Above we've got a CPU-Z and GPU-Z screen of the new processor. Nothing we haven't been expecting…
For the full benchmark runs from EXPreview, hop over to their site in the link below. What you'll find there is that the i5 3570K's IGP, Intel HD 4000 Graphics, pushed out some impressive numbers when compared to its last generation counterpart, Intel HD 3000 Graphics (Included on the i5 2500K and the i7 2600K). In a nutshell, the HD 4000 graphics was able to best the HD 3000 graphics by approximately 67%, making many previously unplayable games, playable (1280×720, Medium/High settings).
While this is great news for those looking to play some older titles in lower resolutions, be aware that Intel HD graphics is still far away in terms of performance even when compared to Nvidia's lower end GT240 graphics card. According to EXPreview's benchmarks, the HD 4000 graphics performed approximately 36% worse than the GT240. Then again, you can't really argue with included for "free" right?