While we're still recovering from our New Year's celebrations, Samsung has been hard at work releasing a slew of announcements for their showcase at the upcoming CES 2013. Among them is something that's really piqued our interest – the revamp for the Series 7 Chronos laptop and the new Series 7 Ultrabook.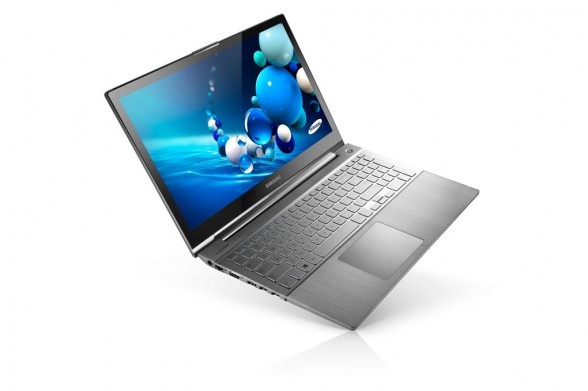 Series 7 Chronos
Designed for business and development environments, the Series 7 Chronos will be receiving a refresh come CES 2013. Since the Chronos will be running Windows 8, Samsung is dropping in a full HD 1920x1080p 10-point touchscreen display rated at up to 300 nits. To power the relatively high resolution screen, Samsung is swapping out the dated, 40nm based Radeon HD 6750M GPU with a brand new 28nm based Radeon HD 8870M GPU. What's also interesting is that Samsung added a new RAMacelerator software solution that can apparently boost the speed of everyday tasks and app loading by 150%. Yeah, we'll see about that.
Along with the hardware upgrades, Samsung also managed to shave a (jaw dropping!) 0.12lbs off of the original Chronos, but has also managed to bring the battery life up to 11 hours. Of course, real-world battery life will be different, but it's quite impressive to see a full power laptop touting ultrabook level battery life.
http://youtu.be/RBwGpXcW-Cc
Other specifications are equally impressive. The Chronos will be driven with Intel's i7-3635QM processor, users will get the option of upgrading the RAM capacity to a maximum of 16GB, and will be able to increase hard drive capacity up to 1TB. Onboard audio will be powered with a pair of 4W JBL speakers with a virtual subwoofer.
It appears that only the 15.6″ edition of the Series 7 Chronos will be receiving the update at this time, but our best guess is that the 17″ edition should be receiving some upgrades as well. More to come when CES 2013 rolls around.
Series 7 Ultra
Along with the refreshed Series 7 Chronos, Samsung is also unveiling the new Series 7 Ultra, which is an entertainment oriented ultrabook that fits between the super high-end Series 9 and boasts more performance than the budget Series 5. Starting from the screen, the Series 7 Ultra has a 13.3″, 350nit, full-HD 1920x1080p display with the option of a touchscreen as well. Speaking of options, the Series 7 Ultra will have the option of dedicated graphics with AMD's new 28nm based Radeon HD 8570M with 1GB of GDDR5 memory.
According to the spec sheet, the Series 7 Ultra will be capable of running for 8 hours one a full charge and the entire unit weights a measly 1.46kg without the touchscreen (17.5mm thick) and 1.65kg with the touchscreen (18.9mm thick).
While the specific CPUs it will be using has yet to be announced, we do know that it will be sporting Intel based i5/i7 ULV processors. We also know that the Series 7 ultra will have a maximum memory capacity of 16GB and max SSD storage capacity of 256GB. Audio will be powered with a pair of 2W JBL speakers.
Specifications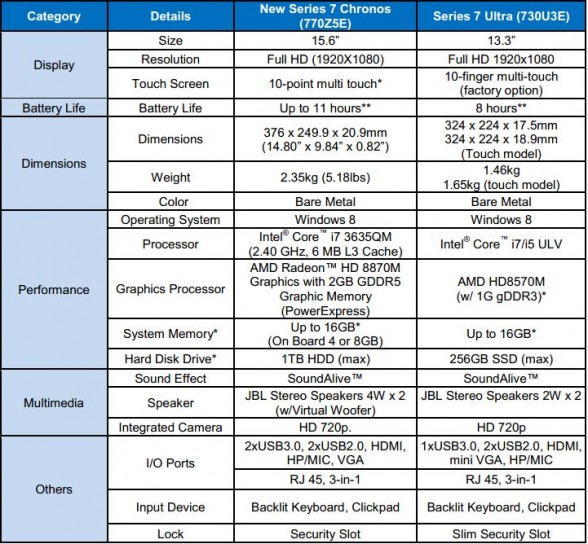 Currently, no word on price and availability, but more information to come at CES 2013. Stay tuned!