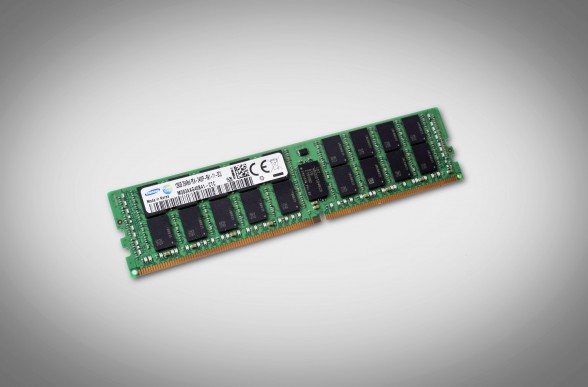 Following the launch of Samsung's 64GB DDR4 RDIMM modules late last year, Samsung recently announced that they're now mass producing 128GB DDR4 RDIMMs designed for the enterprise server and data center market.
Utilizing the same 3D TSV (Through Silicon Via) technology first developed for their 64GB DDR4 RDIMMs, Samsung's new 128GB DDR4 RDIMMs will utilize Samsung's new 20nm based 8Gb DDR4 dies which will double total RDIMM capacity.
"The 128GB TSV DDR4 RDIMM is comprised of a total of 144 DDR4 chips, arranged into 36 4GB DRAM packages, each containing four 20-nanometer (nm)-based 8-gigabit (Gb) chips assembled with cutting-edge TSV packaging technology."
Samsung claims that their 3D TSV memory modules can provide up to double the performance while cutting power consumption in half when compared to conventional chip packaging technologies.