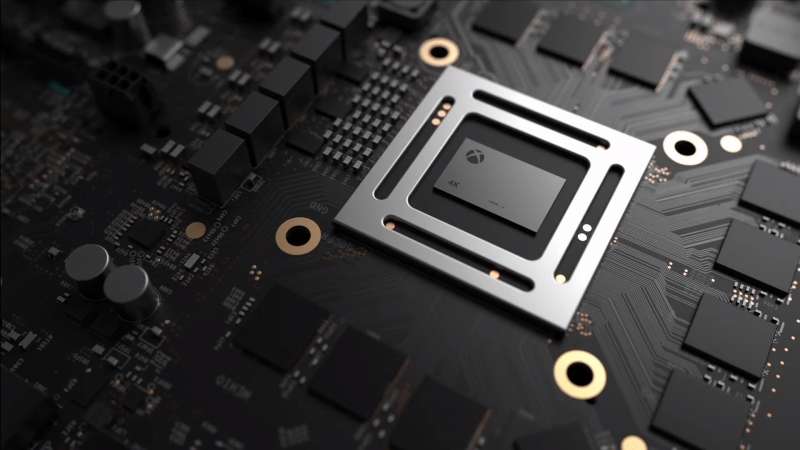 Microsoft's next update to the Xbox gaming console codenamed Project Scorpio was announced at Microsoft's E3 briefing last year however, little information about the console has been revealed thus far. Besides having announced that it will host a GPU capable of up to 6 TFlops of compute performance and designed for 4K, Microsoft has been keeping things pretty tightly under wraps.
While the launch of the console is still quite a ways away, just like candy there will always be ones who gets to taste it early and YouTube channel Digital Foundry was recently invited by Microsoft to get an exclusive first look at the Scorpio's guts and what they found is quite impressive.
Among other improvements, the new Project Scorpio features significantly updated CPU, GPU, and memory subsystems.
Manufacturer
Microsoft
Model
Project Scorpio
Xbox One S
Xbox One
CPU
8 Custom x86 Cores @ 2.3GHz
8 Custom Jaguar Cores @ 1.75GHz
8 Custom Jaguar Cores @ 1.75GHz
GPU
40 Customized Compute Units @ 1,172MHz
12 GCN Compute Units @ 914MHz
12 GCN Compute Units @ 853MHz
Memory
12GB GDDR5
8GB DDR3/32MB ESRAM
8GB DDR3/32MB ESRAM
Memory Bandwidth
326GB/s
68GB/s (DDR3) / 219GB/s (ESRAM)
68GB/s (DDR3) / 204GB/s (ESRAM)
Storage
1TB HDD, 2.5″
500GB/1TB HDD, 2.5″
500GB/1TB HDD, 2.5″
Disk Reader
4K UHD Blu-ray
4K UHD Blu-ray
Blu-ray
Early on, it's been pretty much confirmed that Microsoft is sourcing the CPU from AMD. The elephant in the room now is which one? While some have speculated that it will use the cores of the new Ryzen CPU, Project Scorpio is actually expected to utilize heavily customized Jaguar cores with a bumped up clock speed. The customized cores along with software optimizations should bring a significant boost in compute performance.
The single biggest upgrade to Project Scorpio is the GPU. Sporting 40 customized compute units running at 1.172GHz, it not only features 2.3x the compute units of its predecessor, but it's also running at a significantly higher clock speed as well.  This allows Microsoft to push 4K content on Project Scorpio.
Memory is also seeing a significant change as Microsoft is making the switch to a unified memory structure rather than the combination of DDR3 and ESRAM. In total, Microsoft is packing Project Scorpio with 12x 1GB GDDR5 chips with each sporting a 384-bit memory bus. This makes up a total of 326GB/s memory bandwidth, which is a substantial increase over the previous generation.
The only component that doesn't seem to be getting an upgrade is the storage subsystem. Project Scorpio is expected to continue using a 1TB 2.5″ HDD, so don't expect breathtaking loading times.
On the software side, Microsoft is optimizing their GPU command processor with a DirectX 12 solution, giving programmers better direct access to the GPU. This is expected to help reduce CPU overhead.
Overall, Microsoft's Project Scorpio is shaping up to be a powerhouse of a gaming console for 2017 and we're sure more information will continue trickling out in the next few months leading up to E3. Stay tuned!