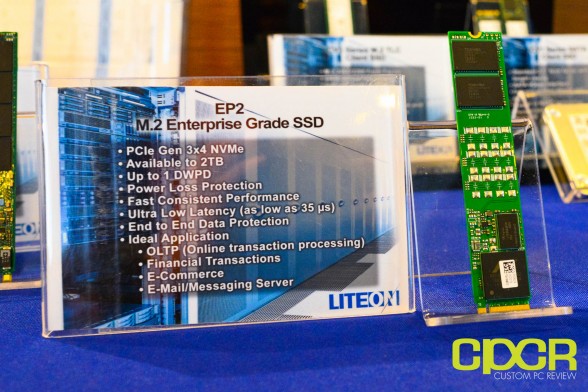 For FMS 2015, Lite-On's biggest showing was the EP2 SSD designed for enterprise and datacenter applications. The Lite-On EP2 succeeds the Lite-On EP1 with improved performance, reduced latency and capacities up to 2TB.
Internally, the Lite-On EP2 is powered by Marvell's 88SS1093 "Eldora" controller along with Toshiba 15nm MLC. The Marvell 88SS1093 is a new high performance 8 channel SSD controller with support for PCIe Gen 3 x4, NVMe and LDPC ECC. Performance on the Lite-On EP2 is rated at up to 2,200/1,300 MB/s sequential reads/writes and 250,000/25,000 IOPS 4K random reads/writes with ultra low latencies of 35 μs. The EP2 will also feature full enterprise power loss protection and end to end data protection. Endurance is rated to be 1DWPM for 3 years.
The Lite-On EP2 will be sampling by the end of this year.
Along with introduction of the EP2, Lite-On also introduced a similarly equipped client SSD in M.2 2260/2280 form factor. The CX2 Series SSD uses the same Marvell 88SS1093 "Eldora" controller and Toshiba 15nm MLC as the EP2, but will come with a different firmware package, no power loss protection circuitry and capacities up to 1TB.
Lite-On is expecting to begin sampling the EP2 soon and we're told that Plextor, Lite-On's consumer brand, is expected to launch the consumer equivalent of the CX2 series, the Plextor M8e, by the end of this year.