As 2016 comes to an end, T-Mobile CTO Neville Ray once again shares their end-of-year network update with some very promising results.
The biggest news is that T-Mobile's LTE network now reaches a total of 313 million people with 250 million people covered under their 700MHz "Extended Range LTE" which allows for better range and building penetration. Total coverage for the T-Mobile network is now just a million short of Verizon's 314 million covered by their LTE network. Considering T-Mobile had a grand total of zero people covered under their LTE network just 3 years ago and 304 million people covered back in 2015, T-Mobile's network modernization is one of the fastest and most impressive for the notoriously slow evolving wireless telecom industry.
In addition to catching up in coverage, T-Mobile is also proud to have rolled out what they claim to be the fastest, most advanced LTE network despite Verizon making a huge deal about their recent "LTE Advanced" network improvements. According to Ray, T-Mobile has consistently claimed the crown for the fastest LTE network speeds from user test data generated through Ookla's Speedtest app for the past 3 years in a row.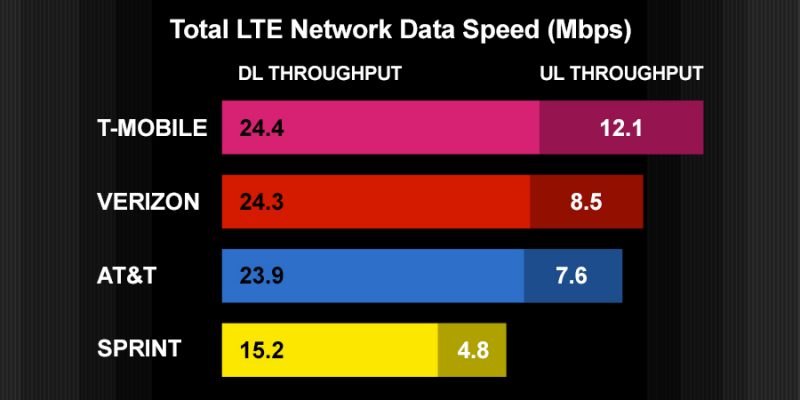 T-Mobile customers also already have access to a whole host of LTE technologies such as Wi-Fi calling, VoLTE, HD Voice, RCS based Advanced Messaging, 4×4 MIMO, 256QAM, and more as well as new advanced LTE technologies such as VoLTE with eSRVCC, Carrier Aggregation, CoMP, SON, HetNets, EVS and higher order modulation. Ray also touched on their recent T-Mobile DIGITS announcement which is the first wireless carrier level technology allowing multiple phone numbers on one device and multiple devices to use one phone number.
T-Mobile also released a video demonstrating a yet to be released smartphone capable of throughput up to 1Gbps using three carrier aggregation, 4×4 MIMO and 256 QAM – all with technology already available on T-Mobile's LTE network.
Speaking of yet to be released, T-Mobile also gave us a little glimpse of their impressive vision for 5G, which includes a combination of mobile VR/AR, artificial intelligence, and other services that are still yet to be imagined to drastically change the landscape of mobile communications, information delivery, and entertainment. For the first time, T-Mobile also shared some of the results of some of their internal 5G testing. In the announcement, T-Mobile claims they've demonstrated mobile speeds up to 1.8Gbps, fixed speeds up to 12Gbps with latency under 2ms, 8×8 MIMO, and the capability of streaming four 4K video streams simultaneously.
Overall, it appears that T-Mobile has had a very good year with more great things to come in 2017. T-Mobile is expected to reveal their next Un-carrier announcement at CES 2017 so stay tuned!
Source: T-Mobile