Leaked Nvidia GeForce GTX 960 Specifications, Launch Dates Surface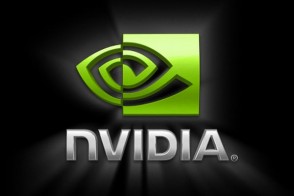 New information has recently surfaced on Nvidia's highly anticipated midrange graphics card, the GeForce GTX 960.
According to GPU leaks site, Videocardz.net, a recent phone conversation with Nvidia CEO Jen-Hsun, revealed that the NDA for the Nvidia GTX 960 will officially lift on January 22nd at 6:00AM PST.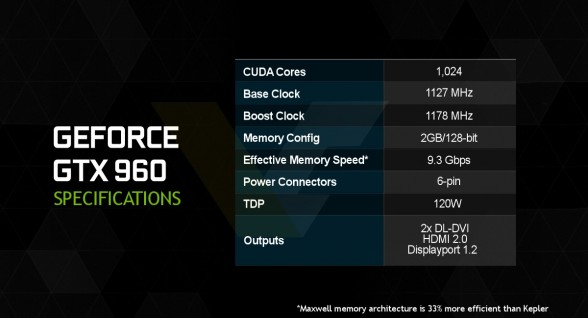 Spec wise, the GeForce GTX 960 is expected to be based on Nvidia's new 28nm Maxwell GM206 GPU. That's not new. However, it was recently uncovered that the upcoming graphics card will feature 1024 CUDA cores, 2GB of GDDR5 memory, and a 128-bit memory interface. The core clock is expected to be set at 1127 MHz with a boost clock of 1178MHz.
While many were worried that the 128-bit memory interface may be a bit narrow compared to the 192-bit or 256-bit memory interface used in previous generation cards, it'll still have a memory bandwidth of 112 GB/s thanks to Nvidia's new 3rd Gen Delta Color Compression algorithm. Furthermore, Videocardz.net claims they were told that the GeForce GTX 960 will have an effective memory clock of a whopping 9.3GHz, which is unheard of on a consumer range graphics card.
Aside from that, the upcoming card is also expected to have all the new features introduced with the GTX 970 and GTX 980 such as Dynamic Super Resolution, 3rd Gen Delta Color Compression, Multi-Pixel Programming Sampling, and Multi-Frame Sampled Anti-Aliasing.
The TDP of the card is expected to be a mere 120w which is very power efficient for a graphics card of this class and while it will require external power, a single 6-pin is all that's necessary.
The GeForce GTX960 is rumored to be quite a capable overclocker as well, similar to most cards in the Maxwell lineup. Nvidia claims that the GPU should be able to push core clocks close to 1.5GHz.
While there have been plenty of information regarding its specifications, we haven't heard anything concrete regarding its price. If I had to venture a guess, the low $200 price range is probably where it'll drop at. More information as it becomes available.
Source: Videocardz.net