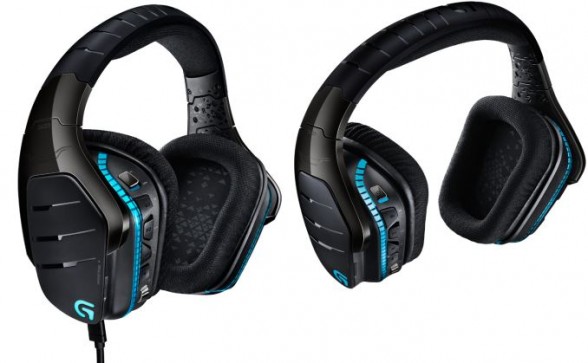 Logitech has just introduced the G633 and G933 into its gaming headset line with the aim of replacing its ageing G35 and G930 gaming headsets.
Because they're both products of the same family, the two new headsets share several distinct design characteristics. They both have large rounded rectangular ear cups, foldaway microphone, G key macro buttons on the side, full 16.8 million RGB lighting accents, and interchangeable customizable side plates. Even the new Pro G 40 mm drivers found behind the thick ear cushions and Dolby/DTS 7.1 surround sound features are the same for both pairs of headsets. Note that the DTS feature will be made available via an update coming in October update to the Logitech Gaming System software.
The main difference between the two is that the G633 exclusively uses a wired connection while the G933 has the additional option of using bluetooth connectivity. Both headsets will come with a USB port as well as a 3.5mm jack. Not only does the user have the option of choosing between the input method, it also allows for mixing audio from two different sources (three for the G933 since it also has Bluetooth). The ability to mix channels translates to being able to listen to multiple sound sources simultaneously. For example, you can take a phone call while playing the latest triple A title by plugging the USB end to your PC and the 3.5 mm jack to your phone. Because the headsets themselves have a degree of passive noise isolation, this helps in reducing the number of missed calls in the heat of combat. The versatility makes the Artemis Spectrum G633 and G933 particularly appealing for enthusiast users seeking a jack of all trades audio solution.
As they're Logitech's premium products, the G633 and G933 are appropriately priced. The G633 and G933 are available now with an MSRP of $149.99 and $199.99 respectively.
Source: Logitech