As some of you may already know Thermaltake has been running the Thermaltake CaseMOD invitational, with a total prize pool of 15k, at their computex booth, they've displayed the finalists builds! One of the most interesting builds from last year is "TheTower" by the owner of WaterMod, Mathieu Heredia who gave a speech on his experience there.
"Every time I mod, I try to do something different from my other friends and modders. When I was invited to the Thermaltake CaseMOD competition, I completely rethought the Core X9. I wanted to build fully functional case with a unique design, and in the end I created Project The Tower. I was surprised when Thermaltake recognized the spirit of this project, and was even more shocked when they decided to mass produce it. Thank you Thermaltake for making my dreams come true. I hope that this design collaboration will be a great success!"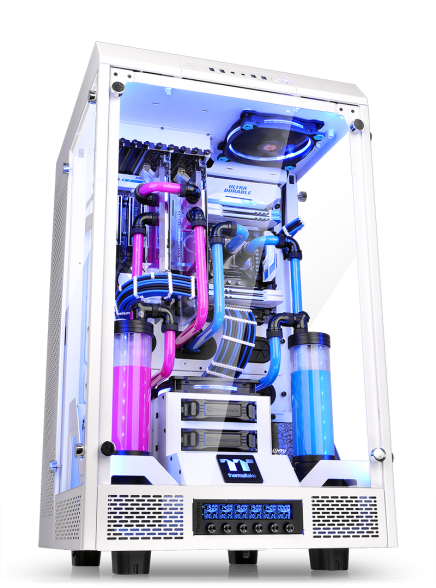 Yes, you read that right, Thermaltake will be mass producing one of their modders case designs, pretty awesome right? Also CEO of Thermaltake Kenny Lin had this to add.
"At Thermaltake, we have positioned ourselves as a key player in the
Casemod market. We are always on the lookout for modding enthusiasts whose
spirit is consistent with our company values. It is a great honor for us to
announce our strategic cooperation with Mathieu and Watermod France. We
complement each other, and share the same values of Excellent Quality, Unique
Design, Diverse Combinations and Boundless Creativity, to provide a high
performance PC product for every enthusiast."
An entry from this year we found quite interesting was the TT D3sk by L3pje a case modder from the Netherlands known for his Desk PC's, using two Thermaltake Core P5 and a lot of radiators. He's built one of the most visually pleasing mods we've seen, if you would like to see more images you can see the post he shared on reddit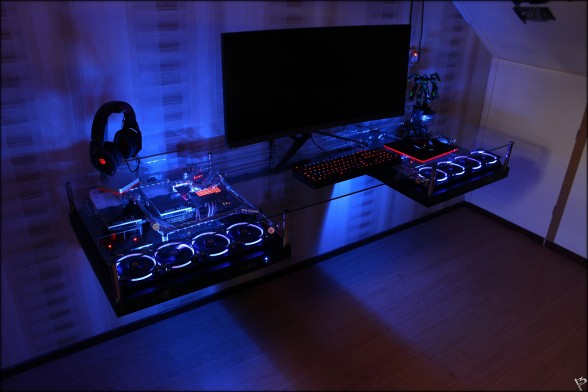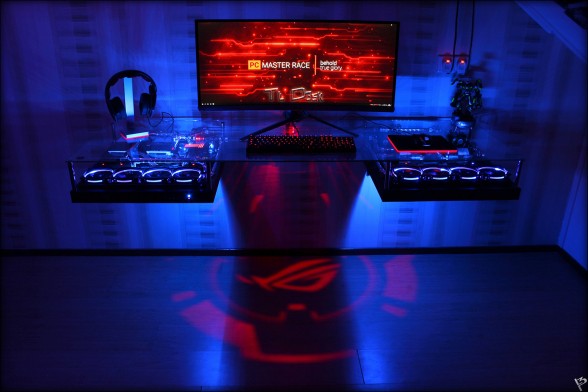 For more information on the CaseMOD competition you can check Thermaltake's Website
Thermaltake Toughpower DPS G RGB Titanium Series and Gold Series Smart PSU
Thermaltake has also jumped headfirst into the RGB trend by releasing the first RGB PSU, their lineup consists of the Titanium rated line with wattages of 850W, 1000W and 1500W, while their Gold series will come in wattages of 650W, 750W and 850W.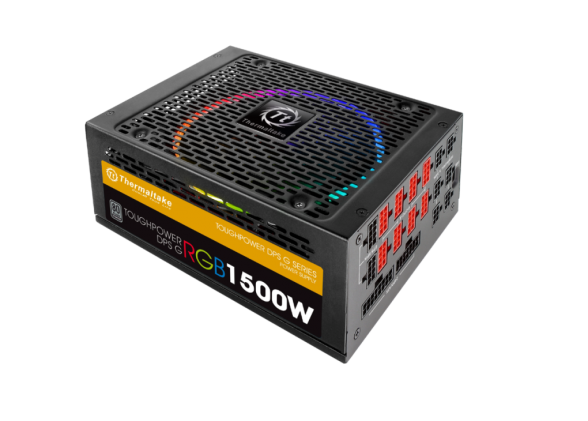 Digging into the press release we received, they boast using 100% Japanese capacitors and continuing the Toughpower tradition with a 10 year warranty. They also are compatible with Thermaltake's Smart Power Management helping understand the status of your PSU, with ECO report, Energy Saving Plan and Efficency/Wattage User behavior report. Pricing and release date were not announced.

Riing 12 LED RGB Radiator Fan TT Premium Edition
Thermaltake also showed off their LED circular 256 multicolored 120mm radiator fan with a Digital Fan Hub and RGB accompaning Riing Software. Thermaltake also boasts The digital fan hub allows users to connect up to 48 Riing RGB fans.

Using their Riing software users can adjust fan speed and color, the "FAN MODE" Bar allows you to switch between Performance and Silent Preset. It also allows choosing the color of your choice from a palette, it allows a RGB Cycle mode as well. Thermaltake also has this to add from their Press release.
"Regarding the fan design, the patented LED Riing maintains color and brightness uniformity. The lighting effect is visible from all sides and angles. To achieve the best cooling performance, the fan blades are optimized to generate large air volume. In addition, the Riing RGB fan features hydraulic bearing which guarantees ultra-low noise while operating. The four corners of the Riing fan are also designed with anti-vibration pads to strengthen the stability during operation."
Stay tuned for more Computex 2016 articles this week!