CM Storm QuickFire Pro Mechanical Gaming Keyboard Review
QuickFire Rapid's Bigger Brother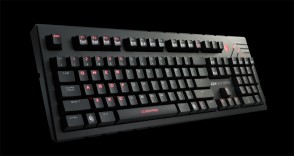 If you follow computer hardware at all these days, you should be well acquainted with the Cooler Master brand along with their gaming sub brand, CM Storm. Recently, Cooler Master has been putting a lot of effort into their CM Storm sub-brand and one area I've personally seen a ton of improvements in is their mechanical gaming keyboards. Previously, I've reviewed their flagship mechanical keyboard, the CM Storm Trigger, which I found to be an excellent product and today I'll be reviewing their mid tier mechanical gaming keyboard, the CM Storm QuickFire Pro.
As a step up of the QuickFire Rapid, Cooler Master has put in a lot more features into the CM Storm QuickFire Pro such as a making it a full sized keyboard instead of a tenkeyless, added NKRO over USB, added partial crimson LED back lighting, adjustable polling rates, and more. Like the other CM Storm mechanical gaming keyboards, Cooler Master is offering the QuickFire Pro in all the most common Cherry MX mechanical switches (black, red, blue or brown) for more flexibility.
For those unfamiliar with Cherry MX mechanical switches, black switches have the greatest actuation force and absolutely no tactile or auditory feedback (straight travel). Red switches are the same as black switches in that they have no tactile feedback, but they actuate at a lighter force. Blue switches on the other hand has both an auditory and tactile feedback, which makes them quite reminiscent of a type writer. Finally, brown switches offer a middle of the road actuation force along with tactile feedback. Today, I'll be reviewing the QuickFire Pro with the Cherry MX Brown switches.
Now that you are ready to continue, lets delve deeper and find out what this keyboard has to offer.
Features & Specifications